Social media is the one of the best ways to reach out to potential patients. Many plastic surgeons are investing in social media marketing to engage with more potential patients. Having a strong presence on popular social media channels allows people to find the plastic surgeons, check on their previous work, and communicate about the procedures and their outcomes. So, social media is an excellent platform if you want to grow your plastic surgery practice, gain new clients, retain your existing clients, educate them about your services, provide them offers etc. Associate with a reliable provider of healthcare digital marketing services to promote your plastic surgery practice on social media channels, showcase your work, post content consistently to engage with target audience etc.
According to a study conducted by PubMed, out of 1000 respondents, 28.2 percent of respondents used social media in their practice, while 46.7 percent used it in their personal life. In the coming years, the number of plastic surgeons using social media to promote their medical practice is expected to increase. Today, when you scroll through social media apps, there are thousands of posts that show body transformation after plastic surgery, smile correction, glimpse of the procedure etc. Social media channels such as Instagram and TikTok focus on visual content more than written content and plastic surgeons are filling the feeds with before and after images of cosmetic procedures, videos of clients etc. This has made a significant impact among the people. A survey of Facial Plastic surgeons found that 55 percent of surgeons reported seeing patients who requested to improve their appearance in selfies. This trend is known as "Snapchat Dysmorphia". This is a psychological phenomenon of patients where they bring filtered selfies to their surgeons to show the desired surgical changes they want to achieve. This shows that social media presence increases engagement between the plastic surgeon and the potential patients.
But Why Is It Worrying?
Although social media is an effective marketing tool, there are some risks involved in plastic surgeons using social media. Today, with the Internet and advanced technology, potential patients can openly communicate with plastic surgeons and even schedule a consultation online. But this open communication, the nature of technology, the speed and magnitude by which communications occur can sometime go wrong.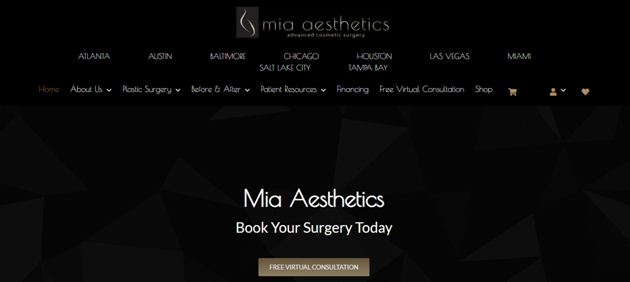 Source: miaaesthetics.com
Recently, the American Society of Plastic Surgeons published "Guiding Principles: Online Communications for Plastic Surgeons" to address many of these unfortunate situations. With all these latest technologies and social media apps, it is quite natural for both patients and plastic surgeons to connect well, but there exist many concerns like:
Safeguards that should be considered when engaging with patients online
Is there a need for difference in place when it comes to communicating with new clients?
Things to consider when staff engage in e-mail communication with patients or manage the practice on social media
To ensure the confidentiality of the patients, all you need is proper documentation, and be HIPAA compliant. This is useful in case of any legal proceedings.
As stated earlier, social media platforms give importance to visual content like posts, images, videos, short videos etc. So, many plastic surgeons post images of the procedures they perform, or the before and after images of patients. However, it is very important to get the consent of the patient before posting such images. The patient must give his/her consent for filming before the surgery. Most patients are happy to help and they like their images being shared on social media platforms because it helps them compare and enjoy their transformation. In some cases, patients may request the photos and images to be shared on social media. But in some cases, the patients themselves may film the procedure and post it on social media.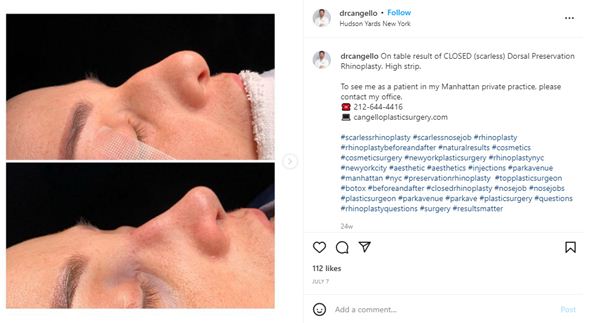 Source: instagram.com/drcangello
Sometimes, some plastic surgeons post videos of the procedure in real time. But this can cause misconception about the surgery and even confuse the patient's decision-making process. It is important to understand that even after the patient's consent, there is no way to control where all the content may appear, once it is posted. It can be easily manipulated and redistributed on social media in no time.
What to Do
The images that are posted on social media have a tremendous impact on people's life. So, plastic surgeons should not just understand the advantages of making a post but also realize the risks involved. So, the best method of posting a picture is to ensure that all the pictures are taken in standardized and clinical manner with the same lighting and in the same positions which shows the effectiveness of the procedure. This enables those prospective patients who are researching plastic surgery options on social media, to maintain realistic expectations.
Similarly, plastic surgeons are already told about training and educated about the ethical decency and respect that all patients deserve. As plastic and reconstructive surgeons, they are governed by a code of conduct from these regulatory bodies to guide ethical and respectful practice.
So, if you are a plastic surgeon who wants to build a strong social media presence to attract more people and expand your medical practice, it is best to reach out to a reliable SEO agency that can guide you and provide the SEO for plastic surgeons and implement the right social media marketing strategies that will help grow your customer base and your business.