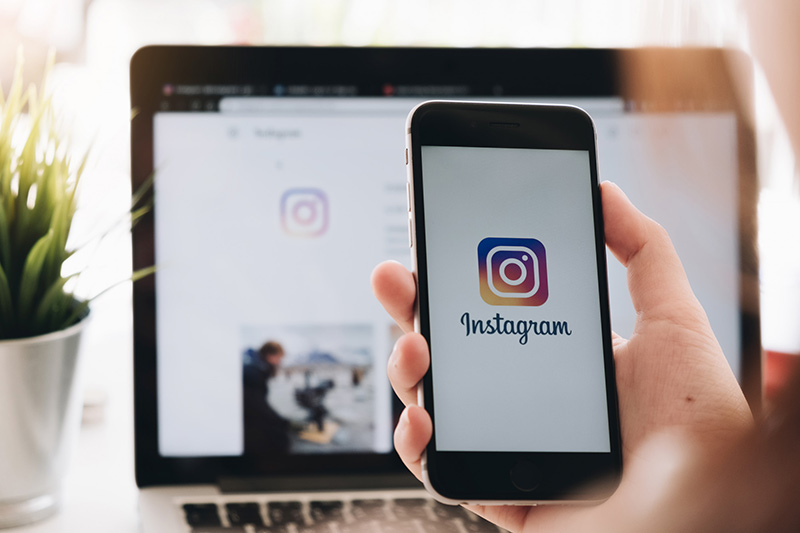 Digital marketing for plastic surgeons via social media is a challenging task and involves the huge responsibility of keeping patients happy and engaged. With every passing year, the role of social media in digital marketing is getting bigger. The growth of social media platforms at an unprecedented rate has enabled plastic surgery practices to promote their brand and services, improve visibility, and engage with potential customers. Choosing a specific social media platform and merging all the healthcare digital marketing tools will yield good results. Among all the major social media platforms, Instagram's exceedingly visual interface has taken the social media marketplace by storm since its launch in 2010. With over 1 million monthly active users, Instagram can make an exceptional marketing platform for any plastic surgery practice or surgeon – if used correctly. Incorporating certain effective Instagram social media marketing strategies can help increase the brand following, thereby connecting with more and more people each time a post is made.
Instagram is a great way to make a plastic surgery practice visible in front of thousands or millions of potential patients. The world of plastic surgery is constantly changing, with several advanced techniques requiring less recovery time and producing stunning results. One of the best ways to make a plastic surgery practice stand out is by showcasing the services and treatments that make them unique.
What Makes Instagram Different from Other Social Media Platforms?
When it comes to patient engagement, Instagram platform tends to excel every other social network. It is estimated that patient engagement on Instagram is 15 times higher than other social networks, including Facebook, Twitter and Google+. This is mainly because the photo-sharing platform has evolved beyond just a social media platform and is a key channel for marketing and patient engagement. The visual nature of Instagram makes it quite different from its counterparts. The ability to be a part of a platform that offers visually pleasing content improves patient engagement. Graphics and images are known to evoke emotions, which allow healthcare practitioners to create strong connections with their target audience.
Instagram offers a free tool that plastic surgeons can utilize to market their cosmetic surgery procedures. In fact, many plastic surgeons are utilizing Instagram to engage with a wide group of audience. Currently, about 80 percent of Instagram users follow at least one business page. On the other hand, digital marketing is shifting its focus from wordy content to videos and pictures. This highly visual medium is a perfect platform for any board-certified plastic surgeon hoping to promote his/her plastic surgery practice. Sharing content via videos or pictures is a great way for plastic surgeons to build brand awareness and generate leads.
Capturing Plastic Surgery Leads through Instagram – Tips
As a social media platform, Instagram continues to skyrocket in popularity and extended reach. Even though plastic surgeons consider Instagram as a powerful advertising tool, the main question that arises is that – how do they effectively use this photo-sharing platform? They leverage the platforms content-rich feeds to show their audiences the quality of their treatment procedures and thereby attract followers. Here discussed are some useful tips or strategies on how a plastic surgery practice can successfully generate leads on Instagram –
Create an Attractive Business Profile – Generally, business profiles offer Instagram users tools that regular profiles don't include. All the major data that Instagram offers through business profiles can help a plastic surgery practice optimize posting. Make sure to add business address and contact information to a profile. Instagram posts can be made more engaging through promotions and "Learn More" buttons. Use of imagery in the form of emojis helps attract the eye to important text and fits the playful feel of the platform well. In fact, these tools are unique to business profiles and give a plastic surgery practice an edge over competitors.

Source: www.instagram.com/gothamplasticsurgery

Feature User-generated Content (UGC) – In most cases, people tend to trust friends, family and peers more than businesses and advertisements. This is the primary reason why user-generated content can be a powerful tool for a plastic surgery practice. A free word-of-mouth marketing, UGC is the best way to gain patient loyalty, and even small surgery practices can make good use of the same. A surgery practice must never ask or compel followers to post a picture or video. Rather, their strategy should be to gently convince them towards creating content citing either a product or their experience at the plastic surgery practice.
Create Effective and Interactive Hashtags – When it comes to a plastic surgery practice, hashtags are ubiquitous these days. Having an interactive hashtag makes instant engagement quick and easy. However, identify the proper way to use hashtags before starting. Start the search for hashtags by scoping out the competition. It may also help analyze Instagram influencers' profiles. Influencers connected to other plastic surgeons will use effective hashtags related to the industry. Online tools can be used to discover popular hashtags. For example, Hashtagifyme.com generates common and popular hashtags related to a specific keyword. For instance, if we plug in the keyword "liposuction", the tool will generate related terms like – #weightloss, #tummytuck or #lipo. In addition, these tools also offer metrics related to hashtags.

Source: www.instagram.com/coolspanyc

Create Content That Conveys Stories – The Stories featured on Instagram is a key component to engaging the target audience group. Users tend to engage almost 40 percent more with Instagram Stories than they do with feed posts. Stories allow audiences to get a 15 second or less peek into what a plastic surgery practice is up to. These posts only last in Stories for 24 hours, but can be added to highlights for eternal viewing. The story feature allows audiences to quickly and easily interact with the content as well as expose the content to new audiences. Make sure to always add location when you want your story to be seen locally. Creating stories helps a surgery practice establish a thread of consistency by creating their own branded quote template and use it to post a quote each week.
Be Consistent in Posting Content – A plastic surgery practice must try to publish content frequently, but not too often. The frequency of sharing content will depend on the specialty treatment that the practice offers and the nature of content. Make sure to post daily or even two to three times a day. Always aim for the frequency that leads to optimal engagement. Remaining consistent in posting will help establish credibility and allow a surgery practice to maintain a schedule.
Join Instagram's Influencers Trend – Influencer marketing is considered one of the best-performing online customer acquisition channels available to marketers. This technique can prove particularly useful to cosmetic surgeons using the Instagram platform to market their services. The results of the many cosmetic procedures performed are shared effectively through visual mediums such as Instagram. However, when influencers are sharing those pictures, the results become more trustworthy.
Linking to Text-to-Chat – Linking an Instagram profile to a phone number is particularly useful to plastic surgeons who wish to text with prospects and patients. Instagram provides an option whether prospects call a business or text it. In fact, prospective patients are more likely to text a business than call, if given the option. By linking the business profile to an SMS-friendly phone number, a plastic surgery practice is expanding their reach and removing friction in the lead conversion process. However, the native SMS text messaging apps are not HIPAA-compliant. A plastic surgery practice should not encourage the sharing of private health information via text messaging. Always ensure that a chat provider is HIPAA-compliant before adding their product to the website.
Host Giveaways – Instagram giveaways are a perfect blend of user-generated content and marketing. For instance, a plastic surgery practice could ask their followers or patients to upload a picture of them getting a procedure done at their surgery center and integrate a customized hashtag. A few winners could then be selected and a gift card, or a free service, or a discount card will be given to them.
Post Good-quality Images – Patients always search for details about plastic surgeons, and the nature of their work. A cosmetic or plastic surgeon can generate serious leads from their Instagram account by posting – before and after images of patients, images of a surgeon performing a procedure on a patient (with the patient's permission) and behind the screen shots of the office, employees, happy patients and families.

Source: www.instagram.com/gothamplasticsurgery

Integrate with Other Networks – It is easy to incorporate Instagram into an existing healthcare strategy as it will make multi-tasking easier. With one click, you can share the same content on other networks like Facebook and Twitter. Creating an Instagram account will help post pictures and content on your existing social media accounts. This will help save time as a surgery practice need not create a separate post for each platform.
Instagram's plastic surgery community is almost a unique world unto itself. Regardless of the size and location of a plastic surgery practice, Instagram is an effective channel to market the practice. An active Instagram presence is a powerful tool to connect with the current and potential local patient base. Creating visual images is one of the top benefits of Instagram which helps to communicate with people quickly. Implementing the above-mentioned Instagram marketing strategies can help meet your healthcare and social media optimization goals.