Are you a plastic surgeon having trouble reaching potential clients to grow your business? Then consider PPC or Pay-per-Click advertising, one of the top ways to advertise your plastic surgery practice online. With many users looking for medical data on search engines like Google on a daily basis – that is, according to cardinal digital marketing, daily health-related searches total 70,000 a minute, which is more than a billion healthcare-related searches a day – having a strong online presence is more important than ever for your medical practice. By using the right strategies such as PPC advertising, you can ensure that your website is on top of the search results page instead of getting lost among millions of results. Reach out to a reliable medical SEO company that can help implement an effective strategy to reach your target audience and attract new clients.
What Is PPC Advertising?
As, today, more and more people are seeking healthcare professionals and medical data online, conventional methods of advertising simply don't work anymore. No matter how large or small your plastic surgery practice is, you need to increase your practice's visibility, and be at the top of the search engine rankings. And for that to happen, you can use two options: build an organic SEO strategy, or introduce your practice to PPC advertising on the most prominent search engines. Though both are feasible digital marketing strategies adopted by many plastic surgeons, SEO might take a longer time to show measurable results. But with PPC, you can expect increased site traffic, brand awareness and leads in a day.
In SERPs (search engine result pages), the top slots are reserved for ads that align with the search query, which are the first results seen by users, and often, the first options they'll click on. These ads are examples of pay-per-click advertising. It is an internet marketing advertising system that only charges you when a potential user clicks on your online advertisement. For instance, if you have placed a PPC ad for your practice online, you'll have to pay a small fee whenever a patient clicks on your ad. Basically, PPC ad is a way of purchasing visits to your website, rather than trying to "earn" those visits organically. There are many types of PPC ads – including local search ads, search ads, remarketing and display ads – but one of the most common types is the paid search ad.
Paid search ads appear when people search for things online using a search engine – like Google, Bing, Yahoo Search Marketing, and so on. Regardless of the search engine or your ad type, your ad post will usually look similar to other, non-paid posts. The only difference is that PPC posts will appear higher in the search engine results list and will labeled as "sponsored" or "promoted."
What Is PPC Advertising for Plastic Surgeons and Why Should they Consider PPC for Their Practice?
PPC advertising for plastic surgeons also targets lead and click generation. However, it is not limited to search engines; digital marketers can help plastic surgeons target PPC ad campaigns across social media platforms, including Facebook, LinkedIn, and Twitter.
Apart from generating clicks and (potentially) leads rather quickly, PPC also offers some other benefits to plastic surgeons, such as:
Making the practice's website more visible to potential patients.
Allowing the use of PPC retargeting campaigns to show ads to people who have visited particular pages on your website.
Launching highly targeted campaigns based on competitive, high-intent keywords, and audience personality.
The ability to target very specific audiences.
The availability of rich and deeper data that can be used to optimize campaigns.
The ability to quickly launch new campaigns.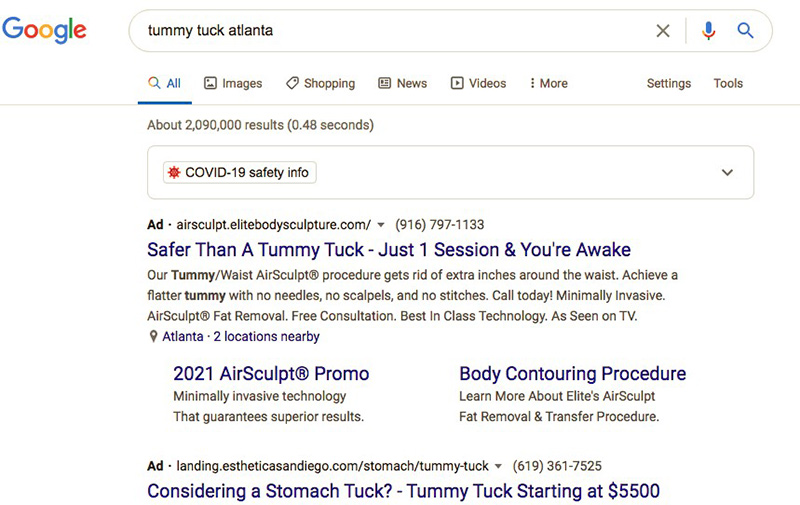 Image Source:
https://i0.wp.com/www.cardinaldigitalmarketing.com/wp-content/uploads/2016/09/word-image.png
However, PPC is part of a wider online marketing strategy called Search Engine Marketing (SEM), which also includes SEO. You can use PPC along with these strategies as it helps to increase traffic to your plastic surgery website and ensures that your website reaches as many prospective patients as possible.
Though PPC ads help you drive leads, doing so efficiently requires a targeted and smart strategy. Plastic surgeons should also manage their PPC strategy closely to increase its value. Let's check out some best practices that would help to get the most out of your PPC campaigns:
Target Your Audience: For a successful and effective ad campaign, target your audience personas – ranging from age and income to physical location, gender, as well as behavioral tendencies. This is very important because, most paid search campaigns include certain components such as targeted keywords, the ad text/messaging and landing pages – that not only convey the language that your audience uses during their searches but also brings them valuable, timely, authoritative information that suits their plastic surgery needs. These components pave the way to an effective paid search campaign. So, whenever you are placing a PPC ad, ask yourself:

Who is your target audience?
What are the obstacles that prevent them from choosing a plastic surgery procedure?
What type of procedure are they looking for?
How do they search for plastic surgeons and practices?

Answers to these questions will help you refine your audience's traits and characteristics, complete with basic demographic information, as well as their considerations, top priorities, and any obstacles that prevent them from choosing a particular plastic surgery procedure or services.

For better insights, try to talk to your actual patients and listen to them about how they navigated their patient journey.

Utilize Social Media: As we mentioned above, like search engines, many social media platforms – such as Facebook, Twitter, LinkedIn, Pinterest, Instagram, Snapchat and so on – offer PPC advertising, which is named as social PPC. There are now plenty of online advertising options to run alongside Google AdWords such as Facebook has its ever-expanding advertising options, Twitter has rolled out promoted tweets and profiles and cards, LinkedIn has its advertising and marketing solution, even Snapchat has now begun its advertising offering.Luring people from social media to your practice through social PPC ads increases your brand awareness and helps to gain trust with potential patients. This is easy with social PPC ads because your ads and practice name will follow the patients most interested in plastic surgery around the internet and they will already know your name.

Like PPC ads, social media ads often have a lower cost per click and it tends to convert more than traditional PPC.

Choose the Right Keywords: The foundation of any successful PPC campaign is keyword research. Be it a plastic surgery practice or any other business, if you are deciding to place PPC ads for your website, then choose the best keywords that are most likely to result in clicks and conversions. Ideally, a well-organized PPC campaign will include a number of different types of keywords with different levels of intent, such as brand, commercial, broader, low-intent, long-tail and competitive keywords. All of these keyword types can and should fit into your PPC advertising strategy.
Focus on Geo-Targeting: Geo-targeting, also known as local PPC, is a paid advertising strategy that is designed to target an audience within a specific area. It plays a vital role when it comes to creating highly targeted, customized campaigns. By focusing on geo-targeting PPC strategies, you can deliver your plastic surgery services to your prospective customers based on their geographical location. If the majority of your clientele reside in a specific area, you can target your campaign solely there, instead of wasting your ad budget targeting the entire city. Through this strategy you increase your ROI by targeting the people most likely to convert.Another effective geo-targeting option is "geo-conquesting", which targets people who are at or near a competitor surgeon's location.
Optimize Your Ads for Mobile: With more than 3 billion smartphone users worldwide (statista.com), more searches are being conducted on mobile devices these days. For instance, according to Insider Intelligence report, people spent 23 additional minutes per day on their smartphones in 2020. So, if you want to generate more leads, utilize all of the available platforms that Google Ads provides, which includes setting up PPC Ads for mobile and optimizing them.
Image Source
https://i0.wp.com/www.cardinaldigitalmarketing.com/wp-content/uploads/2016/09/Image20210121110515-768×838.jpg
Mobile PPC advertising is a lot easier to convert users who click on your ads than desktop PPC ads – whether on the search networks or display networks – because of the level of intimacy that a smartphone provides.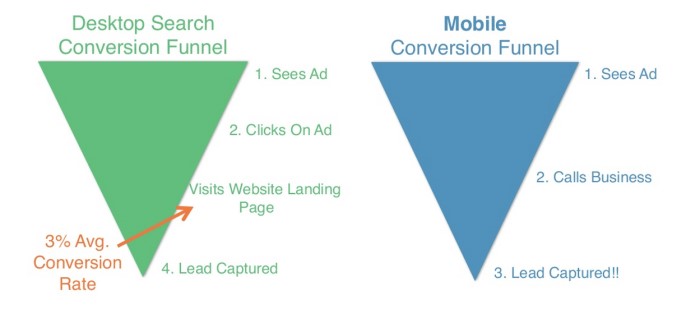 Image Source:
https://neilpatel.com/wp-content/uploads/2015/07/image41-700×314.png
However, one of the most important things to remember while optimizing your mobile PPC ad campaigns is to optimize landing pages for mobile devices. You can't send your PPC leads to a landing page designed for desktop leads.
Being an evolving strategy, PPC advertising will promote your website and provide a multitude of data that can be used to refine and retarget your paid search ads. Moreover, there would possibly be thousands of people within your specific target area that search online for plastic surgery options and services. This creates a great opportunity to tap into this search demand through PPC ads, get your brand and services seen, and drive highly qualified leads to your practice. Plastic surgeons also will always have the option to expand their keyword targeting strategies or to test new ad copy. You can also rely on a professional PPC marketing agency that can offer you the right PPC campaign to increase your website visibility, traffic and conversions.