Hope you've read our blog on the benefits of upgrading to Google Analytics 4 (GA4). An experienced digital marketing agency in U.S., MedResponsive stays up to date with trends that are gaining traction to help client businesses improve leads and sales.
In October 2020, Google rolled out Google Analytics 4 (GA4) or "Mobile + Web," which replaced Universal Analytics (UA) or GA3 as the default for digital analytics measurement. On March 16, 2022, Google announced that it will discontinue Universal Analytics from July 2023, which means that GA4 will be the only option for tracking. Marketers will have to decide whether to upgrade from Universal Analytics to Google Analytics 4? [UA to GA4].
The Universal Analytics (UA) platform became the standard for tracking website traffic in 2013. A beta tracking App+Web Property was added in 2020, which could track both App and Web visits in a single Google Analytics property.
Clearly, there are some important differences between Google Analytics 4 (GA4) and Universal Analytics. It's important for every web marketer to be fully aware of these updates and understand how they differ to make the right decision on whether to switch to GA4.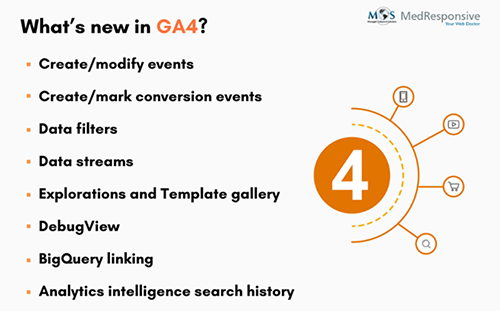 Universal Analytics Vs Google Analytics

Here are the major differences between these data models.
Measurement model
UA or GA3 uses the measurement model, which is based on sessions and pageviews.
GA4 uses the measurement model, based on events and parameters. In GA4, any interaction can be captured as an event, even Pageview. Instead of creating a new session when a user returns to a site, GA4 records all events completed. This allows Google to more accurately deduplicate users and emphasizes what users actually do on your site, rather than just caring that users get there.
While GA3 uses Tracking ID to set any tracking, GA 4 uses measurement ID for the same.
Unlike UA, a Google Analytics 4 property incorporates User ID natively across all reporting, analysis and insights and does not require a separate User-ID reporting view.
To get a singular view of users across app and web, it is important to make sure that the implementation of User ID on the web is consistent with the implementation of User ID on the app. Check whether the same identifier is used to track users on app and web and whether the values passed for User ID are of the same type across app and web.
Hit types
UA hit types include page hits, event hits, eCommerce hits, and social interaction hits.
In contrast, GA4 data is event-based, with the principle that any interaction can be captured as an event. As such, UA property hit types translate to events in a GA4 property.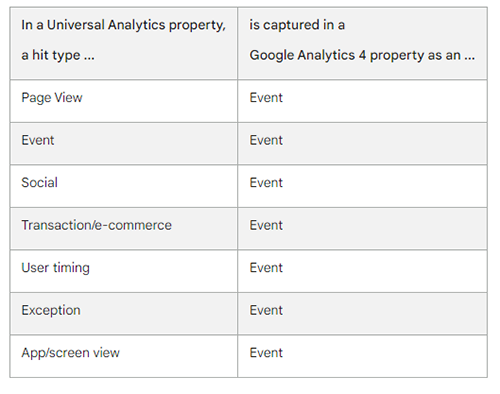 GA4 has removed monthly hit limits. Another difference is that the free version of UA had a monthly limit of 10m hits. But, GA4 has a limit on the number of different events that can be captured (500).
User Metrics
While Universal Analytics highlights two User metrics as Total Users and New Users, GA4 focuses on three User metrics — Total Users, Active Users, and New Users. Active Users refer to the number of users that have been active within a 28 day time period.
Pageview/ Screenviews
UA counts the total number of pages viewed, including repeated views of a single page. But, GA4 counts the total number of app screens and/or web pages users saw, including repeated views of a single screen or page.
(The Views metric found in the reporting interface is the combination of pageviews and screen views.)


UA allows for additional filtering options, but Google Analytics 4 properties currently do not support filters. Google recommends taking the additional app traffic into consideration when comparing pageview metrics between both web and app data. Differences in session count between UA and GA4 can vary from business to business depending on several factors such as geography, use of UTM tags on owned websites or apps, and use of filters. In GA4 properties, a screen view event is triggered each time a user views a screen.
Sessions/Traffic based Acquisition Metrics
Traffic acquisition metrics can be found in the Traffic Acquisition report.
Sessions refer to a period of time a user is actively engaged with the web page or app. In UA, a session includes multiple page views, events, social interactions, and eCommerce transactions. GA4 session metrics are derived from the session start event, an automatically collected event. The duration of a session is based on the time span between the first and last event.
While the user activity is detected automatically in GA4, UA relies on manual instrumentation. For instance, by launching an app, the user will be considered an active user in GA4, but not in UA. This may lead to higher active user counts for GA4.
When it comes to session counting, a new campaign will start a new session regardless of activity in UA. But in GA4, a new campaign does not begin a new session, as this may lead to lower session counts in your GA4 property.
UA processes hit if they arrive within 4 hours of the close of the preceding day. In GA4, events are processed if they arrive up to 72 hours late and this may lead to seeing higher session counts in its property.
Free Connection to BigQuery
GA4's free connection to BigQuery makes a big difference. BigQuery, a cloud data warehouse allows users to run highly performant queries of large datasets. Users can export all of the raw events from GA4 properties to BigQuery and then use SQL-like syntax to query that data. This feature was earlier available only to GA360 customers. For those not familiar with BigQuery, it enables very large and complex data sets to be queried very quickly. If you have ever tried to create complex segments in GA you will be aware of the issue that sampling can have on your ability to analyze data. BigQuery enables very large and complex data sets to be queried very quickly.
Content grouping
In UA, content grouping allows the grouping of content into a logical structure, and then viewing and comparing metrics by group name. GA4 properties have one predefined event parameter for the content group that populates data into the "Content Group" dimension. Additional Universal Analytics content group dimensions may be implemented and operate separately in GA4 as event-scoped custom dimensions.
Conversions
While UA counts only one conversion per session for each goal, GA4 counts every instance of the conversion event. If a user submits the form twice during the same session, two conversions will be counted. UA supports five goal types such as – destination, duration, pages/session, smart goals, and event goals. But, GA4 only supports conversion events.
Need Support with GA4 Migration?
Google Analytics 4 (GA4) is here to stay. We can support your GA4 migration and help you leverage its potential for your marketing campaign. Being an experienced search engine optimization company in U.S, we can help you with ethical, strategic and proactive digital strategies to build your online visibility and brand, and bring in more customers.
Talk to us at (800) 941-5527!