Twitter has launched 3 new ad products. Twitter is a powerful tool for businesses to achieve their marketing goals. The holiday season is the most crucial time for brands to enhance their outreach. Brands mostly rely on social media marketing to grow their business, engage their audience, build community, and deliver spectacular customer service. To meet the holiday season advertising requirement, Twitter recently shared three key product launches: Website Conversions Optimization, Dynamic Product Ads, and Collection Ads. These ad products will drive mid- to lower-funnel results for advertisers and improved relevance for Twitter users.
Advertisers on Twitter can test these new ad features and options to focus on those users who are most likely to take specific actions. Though these updates were announced in August, they were released late in November, just before Thanksgiving.
Twitter said that, "To build a more effective performance advertising business, we are increasing our investment across various initiatives, including updates to our optimization models, conversion options, and measurement solutions "
August Ad Measurement Solutions
In August 2022, Twitter had launched three other measurement solutions to all advertisers globally – Improved Twitter Pixel, Conversion API (CAPI), and App Purchase Optimization.
Twitter Pixel is a new measurement solution that enables conversion tracking, which is the backbone of performance advertising. This solution is ideal for advertisers to measure their return on ad spend by tracking the actions people take after viewing, clicking or engaging with ads on Twitter.
Conversion API (CAPI) enables advertisers to connect to Twitter's API endpoint and send conversion events to Twitter from their servers without using third-party cookies. This solution also improves value for businesses while maintaining the company's privacy and security commitments by relying less on third-party cookies. It also helps improve optimization and ad targeting without the need for a Twitter Pixel. This means an advertiser can connect data to see conversions without placing a tag on their site.
App Purchase Optimization makes Twitter the right place for driving lower funnel outcomes for performance advertisers. This solution enables advertisers to deliver ads to people most likely to install an app or make a purchase by using machine learning to identify audiences that are more likely to take an action.
November Ad Products
New ad products launched in November 2022 are –
Website Conversions Optimization (WCO)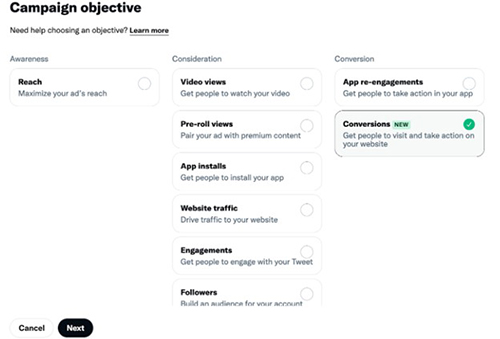 Image Source
This ad campaign will improve the way advertisers reach customers who are most likely to convert on a lower-funnel website action such as click on add-to-cart or purchase. To optimize, WCO requires use of the Twitter Pixel or Conversion API (CAPI).
While using this campaign, marketers should first identify a specific goal beyond the landing page visit, such as –
add-to-cart
purchase
leads, or
subscribers
Twitter has mentioned that, "Our user-level algorithms will then target with greater relevance, reaching people most likely to meet your specific goal — at 25% lower cost-per-conversion on average, per initial testing."
Dynamic Product Ads (DPA)
This new ad product helps advertisers to showcase relevant products to the right person, at the right time, based on their activity both on and off Twitter, which will further help drive sales or conversions.
While DPA Retargeting allows serving ads to targeted consumers, featuring products they have engaged with on your website but haven't yet purchased, DPA Prospecting helps acquire new customers who haven't visited the website via ads featuring specific products that are most relevant to them.
The third stage is Integration, where the advertisers can get their product catalog onto Twitter through integration with Twitter Marketing Partners.
Twitter's initial testing showed 30-88% improvement in cost-per-acquisition for advertisers who used Dynamic Product Ads. DPA Retargeting requires use of the Twitter Pixel or Conversion API to optimize with behavior from your site and DPA Prospecting performance benefits from Twitter Pixel or Conversion API implementation but does not require it.
Collection Ads
Collection Ads allows advertisers to deliver a collection of product images through a primary hero image and smaller thumbnail images below it, creating an immersive and visually-forward experience for people on the platform.
Twitter says, "The primary image remains static while people can browse through the thumbnails via horizontal scroll. When tapped, each image can drive consumers to a different landing page."
The initial testing of this ad product showed a 42% increase in average click-through rate and a 54% increase in average conversions per impression.
These three new advertising options are designed to get people to visit and take action on businesses' websites. Earlier, Twitter advertisers optimized campaigns only to focus on clicks, site visits, and conversions. Now, they can further optimize for page views, content views, add-to-cart, and purchases.
Need support with Twitter marketing? MedResponsive, an experienced digital marketing agency in the U.S, has extensive expertise in social media marketing. Talk to our team at (800) 941-5527.