This is an update to the blog Top SEO Tips to Promote Your Virtual Events (Part-1)
So, we've discussed a few strategies to promote your online events in our previous blog. SEO campaigns that use multiple marketing channels are the most effective way to promote your event online. Consider the effective event SEO strategies provided by experienced digital marketing agencies, which could prove immensely beneficial.
Here's something more you can use to increase engagement.
Use Email Marketing
Why not try effective email campaigns that can improve engagement and thus increase event registration? For any event marketing strategy, email marketing is also quite important. According to a report from Campaign Monitor, event-related emails generally see a 28% open rate, but increasing the sense of urgency in the subject line or using the recipient's name can significantly increase that number.
First, create a list of recipients that you want to invite to the event. Send a sequence of emails to your existing subscribers.
Take time to craft your email content carefully. Make sure to add a compelling and attractive subject line. The body text should explain your event clearly, in a concise manner. Do not make it too long, as readers may not be that patient enough to read the whole content.
Here's an email that I received from MDM related to their DIGITAL DISTRIBUTOR SUMMIT (week 2)
The banner itself highlights the event in clear. The content in two short paragraphs further explained what the session will be about and what it will tackle. B2B eCommerce experts who participate in the session were also imaged. Certain best practices to promote events via email marketing include:
Make sure to add a clear call-to-action and highlight it so that people can easily register for the event without any confusion.
Send emails as early as possible, even before your tickets are ready for sale or before registration is open, as this would generate interest and curiosity. Also, come up with follow up campaigns to encourage your subscribers to act fast.
Send emails that encourage your subscribers to invite their friends and family and thus spread the word about your event. You can include social media share links to make sharing easy. Provide exclusive offers so that readers will not wait too long to register or book tickets.
Provide options to contact you and encourage readers to reply to your emails. Attach a contact form or contact number to use, if they have any questions.
Send regular emails to remind them about the event and to share any specific details about the occasion.
Paid Search and Ad Campaigns
PPC and social advertising campaigns provide great results when it comes to promoting events, meetings and conferences. Most social media platforms offer paid ad options, which you can use to improve your event's visibility in SERPs.
For each event you set, make sure to create new campaigns
Always enter an end date when setting up event promotion campaigns, so that your ads will not be active once the event is over.
To make your Google ads stand out from the competition, make sure to use Ad customizers, which allow customizing the text of search ads automatically. Even a single text ad can have hundreds of variations and the most relevant variation will be shown to each potential customer. You can also highlight different locations. Here's how you can use customizers to advertise limited-time offers for specific products at different locations.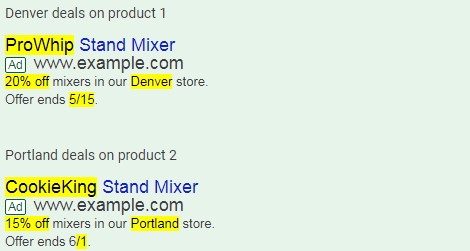 https://support.google.com/google-ads/answer/6072565?hl=en
Except the URL, any part of the ad text can be customized. You can have real-time content visible in ads. Through customizers, you can let the readers know that your event is soon heading up or event promo is expiring soon.
With the concerned event coming closer, consider making your ads unique with a countdown ad set or find ways to prompt your customers.
Influencer Marketing
Consider working with influencers to promote your events. Influencer marketing is proven to be an effective technique for event promotion. Influencers can promote your brands and products through sponsored posts on social media.
28.1% of professionals surveyed said they choose to work with influencers mainly for events, second only to product launches with 41.6% (LAUNCHMETRICS 2018 Influencer Marketing Report)
49% of consumers are influenced on their purchases by recommendations from influencers (Twitter)
But to get this marketing strategy right –
Make sure you research well and choose an influencer related to your brand and they should align with your target audience and event attendees.
Plan for effective influencer marketing strategies and prepare a contract that makes it clear what you from them as a return for your investment. Most influencers have their own way of doing things and check whether you're flexible and are getting expected results.
Use influencers to generate pre-event hype, as this will raise awareness about your event before it begins.
https://grin.co/blog/how-to-use-influencer-marketing-to-promote-your-events/
Influencers create content, not only before the event but also after the event ends. This helps to increase your credibility and engage existing audience. Make sure to share professional photos on social media and post blogs on how successful the event was. Sharing event experiences may drive more people to attend your next event.
Bonus Points
Key event promotion strategies you can't ignore
Include keywords in your URL, page title, headers and subheads, meta description, alt text, video descriptions etc.
Keep the URL of your events page as simple and clear as possible. Also, include the name of your event.
Add informative and short meta descriptions, usually under 150 characters, that give search engines as well as potential viewers a clear idea on what your page is about.
For any image featured on your Events page, remember to write alt text and a brief phrase that describes the image.
Invest time to find groups or communities such as Reddit or Quora online that might be interested in your event and add relevant content here.
Make use of paid social media options including LinkedIn's sponsored content that allows promoting your event to the specific audience of your choice.
Jargon Buster
Google ads – Google's online advertising platform to display brief advertisements, service offerings, product listings and more.
Sponsored content – Promotional content paid by an advertiser, but created and shared by another brand, influencer, or publisher.