Technical SEO tools play a crucial role in optimizing a website and improving its visibility in search engine result pages. These tools provide businesses with valuable insights into their website's technical performance, enabling them to identify and fix issues that may be impacting their search engine rankings.
In an experienced SEO outsourcing company, experts use advanced technical SEO tools to analyze a website's structure, identify issues such as broken links, duplicate content, or missing meta tags, and improve mobile optimization. By using these tools to identify and address technical issues, SEO specialists improve website navigability, speed and security, and ensure that business websites are optimized for both search engines and users, which can lead to increased traffic, engagement, and conversions.
5 Top Tools to Optimize Your Website
Here are 5 top tools to optimize your website:
Screaming Frog


Image source
Manually checking every page of a large website can be extremely labor-intensive and lead to missing important issues like redirects, meta refreshes, or duplicate pages. This advanced SEO site audit tool can quickly crawl both small and very large websites. It improves your website's search engine rankings by identifying technical issues and recommending optimizations. It continuously gathers and updates crawl data in its user interface, allowing easy viewing, analysis, and filtering of the data. It allows exporting key onsite SEO elements (URL, page title, meta description, headings etc) to a spreadsheet so it can easily be used as a base for SEO recommendations.
Using Screaming Frog involves the following steps –
Start a crawl via default 'Spider' mode, or 'List'

Configure the crawl by choosing 'Configuration'
View crawl data in the 'Internal' tab
Find errors and issues in the right hand window 'overview' tab
Export all data into spreadsheets from the crawl
Google Search Console


Image source
This complimentary tool from Google allows monitoring and improving your website's SEO performance, troubleshooting technical SEO problems, enhancing rankings, and managing your site's online presence. It provides valuable insights into a website's performance and helps identify and diagnose technical issues that can affect ranking and visibility.
Using this tool involves the following steps –
Verify site ownership
Check Index coverage report
Review mobile usability errors
Submit a sitemap to Search Console and
Monitor site performance
The Search performance report shows how much traffic you're getting from Google Search, including breakdowns by queries, pages, and countries. It shows important metrics such as – how your search traffic changes over time, which queries are made on mobile devices, and which pages have the highest (and lowest) click-through rate from Google search results.
Google Analytics
Google Analytics allows you to track website traffic, monitor website speed, get insights on monitoring website crawlability, website errors, and mobile traffic. Google Analytics measures technical SEO results by –
Creating a custom Google Analytics dashboard;
Generating custom reports based on the metrics specific to business
Filtering data by organic traffic
Creating assisted conversion reports, and
Tracking demographic interests
Fixing technical SEO issues help to improve user experience and boosts your website's search engine rankings.
Google PageSpeed Insights
PageSpeed Insights (PSI) is a free performance tool that generates reports that evaluate the user experience of a webpage on both mobile and desktop devices. It provides suggestions on how the page may be improved to enhance user experience.
With Google's PSI tool, users can enter any URL into the toolbar and press Analyze. To evaluate a page's performance, two types of data are collected. Field Data obtained from the Chrome User Experience Report (CrUX) provides insights into the page's real-world performance. The second type of data collected via the Lighthouse API, is known as "Lab Data." This type of data measures the speed and performance of the page in a simulated, controlled environment, using a mid-tier device and mobile networks. It helps to eliminate some of the variables that may impact a page's speed and performance.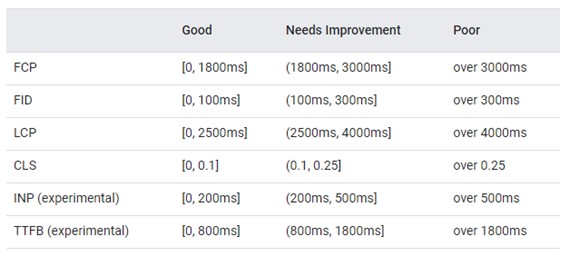 Image source
By analyzing PSI reports, website owners and developers can identify areas of improvement for their pages. The reports offer insights into page load speed, time to interactive, and other crucial metrics. The recommendations provided by PSI can help optimize images, reduce render-blocking resources, and improve caching.
GTmetrix Page Speed Report
This web-based tool provides an analysis of website speed. It allows testing pages on a real Android device or on over 30 different Simulated Device options. Users can monitor various aspects of a site's performance, such as its load time, size, and number of requests, and generate a score along with recommendations to enhance its performance.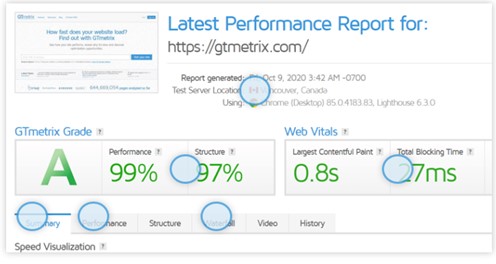 Image source
This tool evaluates site performance and identifies areas where changes can be made to optimize its performance and improve the user experience. The different tabs within GTmetrix are – performance tab, structure tab, waterfall tab, video tab, and history tab.
With support from professional digital marketing outsourcing companies, businesses can leverage these technical tools to take their digital marketing efforts to the next level. Whether it's effortlessly optimizing a website's SEO or generating compelling content, these tools have the potential to enhance outcomes with minimal effort.
Need support from experienced technical SEO professionals?
MedResponsive team can help you implement effective SEO strategies and attract more web traffic!
Contact us at (800) 941-5527!