SEO is a vital part of any digital marketing strategy. However, the use of social media, especially Instagram, has also become an integral part of business marketing. Instagram is a visual platform that allows you to post pictures and videos to attract potential customers and get them interested in your products or services. However, you must get professional help from an organic SEO service to optimize your Instagram account if you want to attract more people to your profile page.
Optimizing your business Instagram account helps you to increase your visibility, reach a wider audience, improve traffic, and boost sales. You can increase the number of likes on your posts, comments, and followers. All these factors ultimately affect your ranking on search engines and bring more people to your profile page or website. You can also create a strong presence on social media.
According to Backlinko, there are about 1 billion monthly active users in 2022. Many users tend to spend more time browsing their Instagram feed rather than reading blog posts or newsletters. This makes it easier for businesses to connect with consumers on a personal level and promote their products in a visually appealing way. As Instagram continues to grow and evolve into one of the most popular social media platforms, more and more businesses are looking to jump on the bandwagon. But this is not enough, your business Instagram account should be optimized.
Ways to Optimize your Business Instagram Account
Choose Instagram Business account: There are millions of users on Instagram, so make sure to choose a business account. Unlike personal accounts, a business account provides users analytics on post-performance and follower growth. In a business account, office location and hours are included in a section separate from the regular Instagram bio for business users. As 80% of Instagram users follow at least one company, Instagram allows business accounts to include a contact button that sends a message to the brand's representatives by Instagram direct message, email, or SMS. This makes customer service on social media easier than before. Last but not least, business accounts can enhance content. Regardless of the article you choose to promote, this is relatively modest paid advertising that assures that you reach a larger audience. In simple terms, having an Instagram Business account gives social media marketers more options when it comes to building a strong Instagram presence. Most importantly, current Instagram accounts may easily transition to a business account with only a few taps.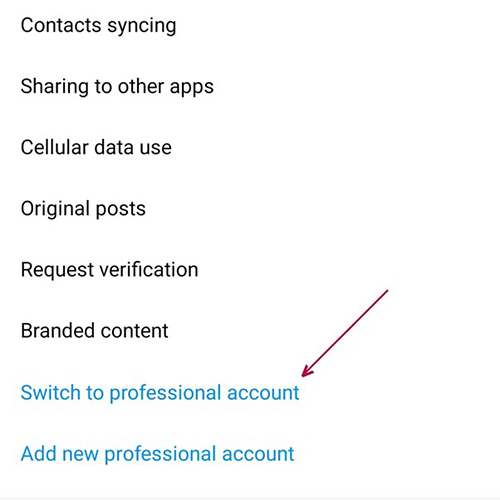 Consider profile tracking links: Knowing that Instagram only permits social media marketers to share one live URL across the whole platform, the link in an account profile is vital. Many marketers, however, continue to make the mistake of putting a non-tracking link in their Instagram profiles. It is difficult to know how many website visits or buyers were referred from Instagram if the link can't be traced. Marketers can analyze how Instagram users interact with the link in the bio by using an Instagram analytics tool or a custom URL builder like Bit.ly.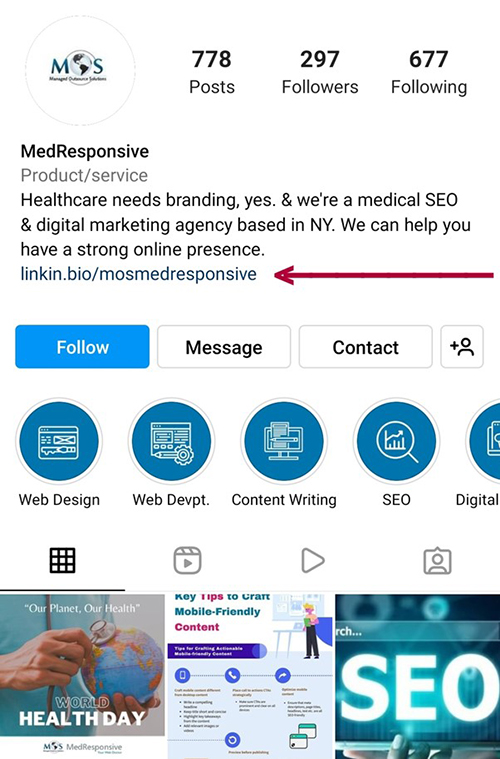 Pick a catchy handle: Take your time to come up with the perfect Instagram handle. The greatest approach to swiftly establishing a dedicated following is to use an on-brand handle. If the handle you like is already taken, you might be able to buy it from the owner for a fee.
Make a statement with multigrid images: Instagram marketers should create a profile that is bold and also makes a statement. The best way to accomplish this is to make a multi-grid collage that generates a readable image. This strategy is used by popular brands like Rolls-Royce to share huge photographs that might not appear good when edited to fit within a single post. Best of all when marketers post a sequence of incomprehensible photos, it can pique the interest of followers. Many people will go to your Instagram page to check out the entire photograph.
Test Insta bio with A/B testing: It can be difficult to tell if your Instagram bio is helping you achieve your social media marketing

objectives.

An A/B test is the most effective technique to determine whether your bio is beneficial. To begin, you will need to first choose a measurable dependent variable. Tracking link URL clicks is a popular dependent variable.
Next, make a variety of Instagram profiles that are clearly different and rotate them evenly so that each bio gets seen by roughly the same number of people for around the same period of time. Finally, examine the URL performance data to see which profile was most successful in generating URL clicks.
Use Instagram analytics: You can tell if your Instagram strategy is working only if you have the data to back it up. While an Instagram Business account can provide some basic performance data, third-party analytics systems can provide a variety of data that would otherwise be unavailable. A third-party analytics tool is vital for improving your Instagram profile and strategy, from calculating the performance of the tracking link in your Instagram bio to evaluating which posts resonate the most with followers to pinpointing the best time to upload new content.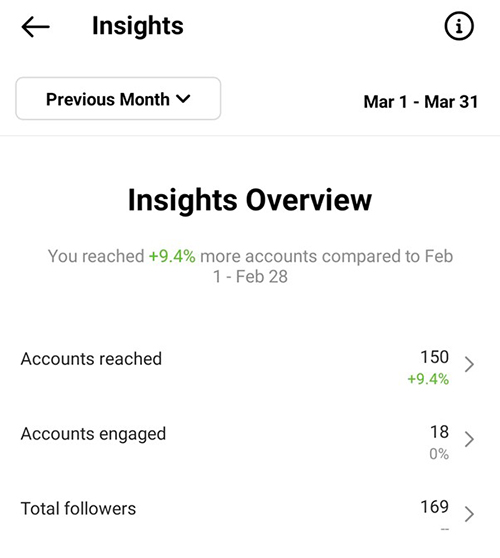 The quality of followers is more important than quantity: Having a significant number of followers is always considered important for a completely optimized Instagram profile. After all, the larger a brand's following, the more genuine it appears. However, a quick peek at the Instagram accounts of some of the world's most well-known brands reveals that follower quality is more essential than quantity. There are hundreds of thousands, if not millions, of "clickbait" Instagram profiles out there. These accounts have significantly more followers than Salesforce, a firm with a market capitalization of $74 billion. Despite their smaller follower count, no one in their right mind would mistake Salesforce for a small business. Social media markets should aim at developing a strategy that engages the target audience instead of increasing the followers just to project fake credibility.
Create a thoughtful content calendar: Instagram content is not really buried in one's profile like any other social networking channel. Instead, every post dating back months, if not years, is easy to find. Marketers should be aware of this and design a planned series of unified Instagram material to establish a profile that tells a compelling brand story.
Use hashtags: Long-tail hashtags are more specific and add context to your article.
Using hashtags before certain items matches them to comparable tags, but the latter by some related posts, resulting in your material being seen by more people through likes and comments. Every minute, new posts are uploaded to your comparable hashtag, making your post more prominent. These are called Long-tail hashtags.
Instagram notification should be activated: Turn on Instagram notifications to ensure that you and your team are prepared to reply to your target audience at any time. Showing your Instagram followers that your brand is available at all times is an excellent approach to boost brand awareness and engagement.
Monitor messaging channels: On a variety of social media channels, many customers anticipate near-instant customer service. Additionally, the average consumer will tell 16 of their friends about a bad customer service encounter.
As Instagram's popularity grows, it will become increasingly crucial for businesses of all kinds to deliver excellent customer service to its users. Since Instagram Business profiles allow profile visitors to contact firms with the click of a button, customer support demands could arrive at any time of day. Given this reality, social media marketers might consider delegating the task of monitoring incoming Instagram messages during business hours to someone.
Keep your Instagram Profile up to date: Most Instagram marketers don't consider updating their profile, but it's a great way to keep it current and relevant. Adding logo variations or designs specific to a marketing campaign can motivate followers to visit your profile more often than they would otherwise.
Get a blue tick to increase credibility: Just like Twitter, Instagram also enables established brands to earn verified account status, which is indicated by a blue tick mark. This checkmark will give your Instagram followers peace of mind, as they will know that your account represents your company's official voice.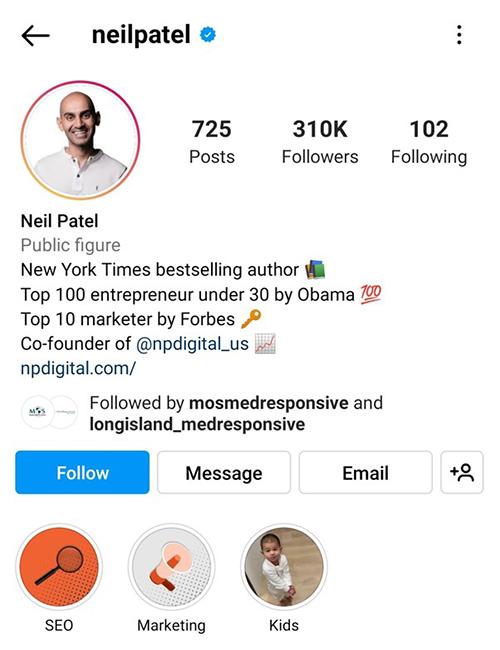 Image Source
Review your profile on different devices: Instagram is a mobile-first startup, similar to Facebook. There was an iPhone and then an Android version of the Instagram app before there was ever a desktop or tablet version. Instagram marketers should test their company profile on a number of devices to ensure a positive and consistent experience across all platforms.
Link to mobile-optimized website: If you want to drive website traffic from your Instagram profile to your company's website, make sure the entire site is mobile-friendly. The majority of Instagram users will visit your page from a mobile device, therefore making a bad first impression can decrease your chances of converting the visitor into a loyal customer.
Page speed on all platforms should be lightning-quick in addition to providing a mobile-optimized experience. According to one survey, mobile sites that take three seconds or more to load lose more than half of their visitors.
Include emojis: Instagram is all about having a good time with different types of media. Using emojis in your company bio on Instagram is one method of making your profile fun. Emojis can be used in place of words, allowing you extra space to compose a fascinating bio. It also demonstrates that your company is capable of connecting with younger people, of which there are a lot on Instagram.
Instagram is a great platform to build trust and credibility with your audience, making it easier for them to buy from you in the future. The visual nature of Instagram allows business owners to connect with their customers on a more personal level by sharing photos and videos that showcase the products or services they offer. Implementing all the above-mentioned steps will help businesses to optimize their Instagram business accounts to attract the target audience. Businesses can also work with organic SEO services to optimize their Instagram business account to boost engagement, grow followers, and improve sales.
Let Us Handle Your Instagram  Business Accounts
Leave the complexity of handling your business social media accounts to MedResponsive! Whether it is a new account creation, review generation or paid advertising, our social media digital marketing company can handle all aspects of developing your brand's social presence. We handle optimization for all social media platforms.
Call (800) 941-5527.