If you are on a frantic health content marketing spree and not quite sure where to begin, start by building Frequently Asked Questions (FAQ) content. Providing answers to FAQs can improve online marketing effectiveness and drive highly targeted traffic to your medical website. Search engines and website visitors love the frequently asked questions (FAQ) pages. No matter how perfectly designed and optimized your website is, people may still be asking questions and expecting answers when searching for different topics online.
Why an Effective FAQ Page Matters
People no longer have the patience to poke around online on multiple pages of a website to get the information they need. The importance of creating a FAQ page becomes evident at this point. It offers a way to directly respond to the needs of your clients and their search queries. Well-written FAQ pages are a unique platform to show online clients how much you value their queries and enquiries. FAQs can help people to trace your website even from outside your web page. Carving out a niche space on your website for FAQs gives people a place to turn to when they are in need and looking for answers.
Voice search has become very popular, with about 20 percent of searches being voice-related. This shows that people are looking for easier and faster ways to get answers to their queries. Posting well-crafted FAQ content on your web page can save time, attract more traffic, show your expertise within your practice area, and build trust with readers (from the very beginning), thereby improving overall healthcare SEO.
The following strategies can help build your FAQ resource and make it both focused and comprehensive –
Collect Relevant FAQs – The process of developing an FAQ resource for your website requires cautious planning and strategic work. The most important part of any FAQ page is actually answering the right questions. Go through the website emails and contact forms to see what type of questions rise to the top and make a list of questions on that basis. For instance, if you have customer support, the frontline employees must be getting several service-related queries. Understand what specific questions are regularly asked. Providing answers to these will help educate online clients about your specific products/services and generate more demand.
Collect user's feedback – Feedback collected from clients and website visitors is a good practice to improve your business. Various online survey tools can be used to create an online survey questionnaire and identify the main concerns of your target audience. Supplement your content with unique data and keywords. Keyword research/suggestion tools (like SE Ranking) can help you detect the most popular keywords people use in Google or other search engines. By inserting these top searched keywords in your FAQs along with other tools like search volume, keyword effectiveness index, etc – you can create a good, medical SEO friendly FAQ page.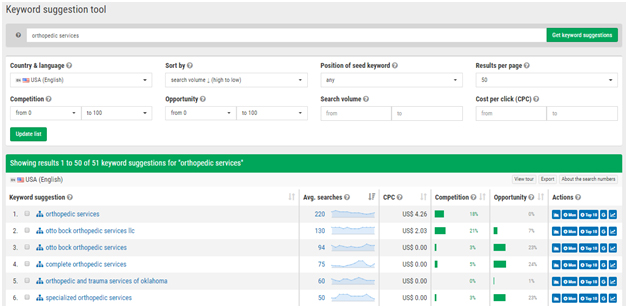 Check out online forums like Quora and Reddit, competitors FAQ pages, and product reviews for items in your niche to understand the most trending questions at that time. Adapt their best experiences and improve your FAQ page.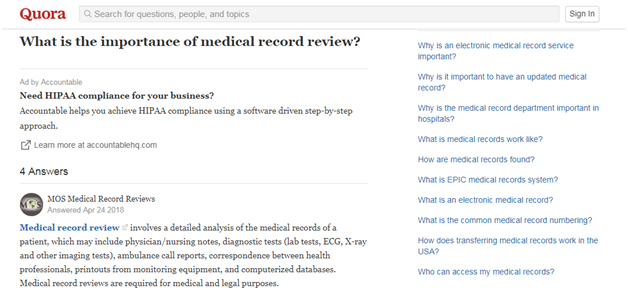 Implement Structured Data – In order to appear visually appealing in search engines, it is imperative to properly structure the data on your FAQ page. Recently, Google added support for FAQ structured data in both search and Google Assistant. By implementing this, you can make your content eligible to show questions and answers directly on Google search and Google Assistant. Further, FAQ pages can be used for single pages that provide official questions and answers. To track FAQ issues and search appearance, Google also included a new enhancement report in search console which displays warnings, errors, and valid items related to your FAQ pages.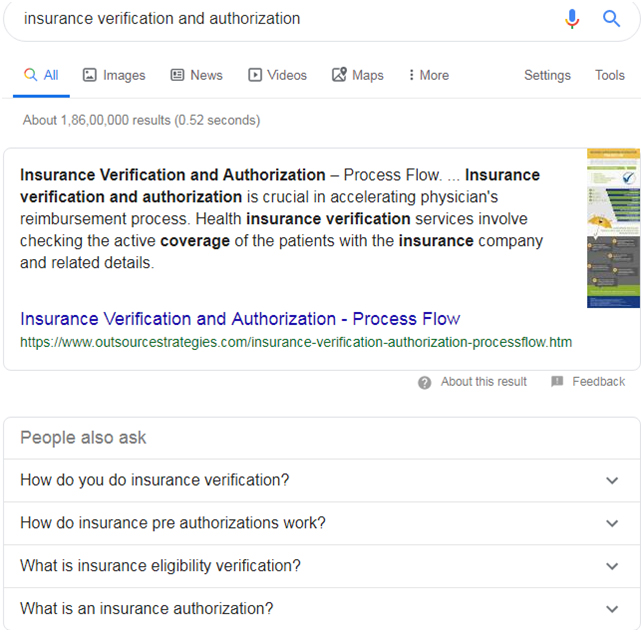 Use Visual Techniques – Never limit your answers in FAQ pages to text. Instead, use striking and well-designed visual illustrations like charts, images, graphics or explanatory videos that describe in detail the entire procedure. Adding more visual appeal to your FAQ page can make it easier for visitors to get clear answers to their questions.
Don't Make Your FAQ One Page – Do not make your FAQ section one webpage with short answers. Using one webpage as the FAQ section will cause you to lose out on a lot of search engine traffic. Instead, break out each specific question and corresponding answer into its own webpage. Create an entire webpage to answering a single question as thoroughly as possible. If possible, use images, screenshots and explanatory videos related to the point explained. For instance, instead of answering questions on the FAQ page itself, you can link the entire question to a dedicated blog post. Following this approach allows you to take a deeper dive into that subject matter and provide your visitors with much greater details. 
Include a Call-to-Action (CTA) – A call-to-action (CTA) is a button or link that you add to your web page in order to guide your visitor and tell them what to do next. CTAs usually lead to a landing page where the visitor can fill out a form and become a lead. Adding a call to action button, such as a live chat option, contact form, phone number etc can dramatically increase your conversion rate. CTAs designed need to grab the attention of your visitors and really entice them to click. Make sure to include persuasive text and strong visuals while designing CTA buttons. Also, these should be easy for visitors to find and create a sense of urgency among them.
Create a Manageable FAQ page – Ensure that the FAQ page size is manageable. List down only the questions and include links that can take readers to the answer pages. This is a great health content marketing strategy that will bring in more web traffic to many pages on your site, and your page views will also increase. Google measures content quality through such techniques. Include SEO friendly URLs on FAQs so that users can directly land on your website page for an exact answer. In addition, poplar social media platform pages can be used to spread word about your FAQ page.
Make it Navigation Friendly – No matter how well-written a medical website FAQ page is, it is not going to bring in the desired impact unless your prospective users are able to navigate it easily. Giving a definite structure to your FAQ section will improve user satisfaction and medical SEO on the whole. If your website has a long FAQ page, divide questions into different categories and sub-categories with informative headings. This will help users find answers to their questions instantaneously.
Check Analytics on a Regular Basis – After creating your FAQ page, it is important to start with the analytics of your medical website. Check whether your webpage is getting listed or ranked for the high-traffic keywords or phrases used. Also check for details like –

What types of users are visiting your FAQ page and how long do they stay?
Where do the users go after looking at the FAQ page?
What paths are they taking?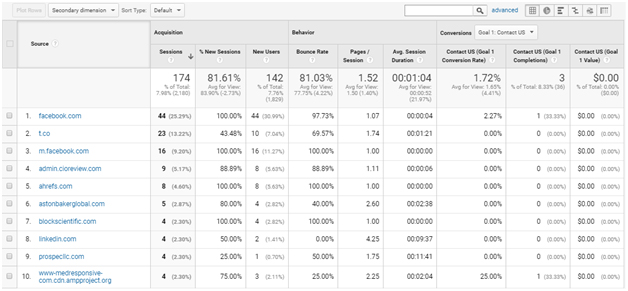 Getting data on these areas can help make some minor changes or in some cases rework your entire web page to drive in more number of visitors to the FAQ section.
The success of a Frequently Asked Questions (FAQ) page depends on considerations such as the number of pages, questions, answers, and the design. When creating FAQ questions for your medical website, educate your support team about the services you offer. Answers should be written with your readers in mind, not your business. The purpose of this page is to move someone from a reader to a client. Do not stuff the page with low-quality content just for the sake of covering all important areas. Instead, make the page scannable and readable. Try to avoid jargon and keep the content precise, to the point, and bulleted. Including the right type of questions in your FAQ pages can improve healthcare SEO rankings and attract more organic traffic. Partnering with a professional SEO company in Long Island is a great option for medical practices to attract targeted traffic and earn new eads.