Marketing your dental practice on social media and keeping your patients happy can be a huge responsibility. Reports suggest that the dental industry is projected to be worth around $36.8 billion by the end of 2021. Now, that's a lot of teeth for the tooth fairy. But, if your dental practice wants to attain profit, it's important to build a strong social media presence within your specific industry. Choosing a specific social media platform and merging all the healthcare digital marketing tools will yield good results. Among all the major social media applications, Instagram's exceedingly visual interface has taken the social media marketplace by storm since its launch in 2010. Maintaining the most consistent rate of growth among new users, this photo-sharing platform is projected to capture more than 50% of American users by 2018. Not only has it been able to change the way people communicate and share information online, but it has also become one of the unique platforms for product promotion and customer engagement.
If you happen to ask any social media marketer what their number one Instagram concern is – majority of them will say – how to get more followers. The bigger audience means – the more potential customers you are able to reach. Instagram's user base is primarily comprised of millennials. It is estimated that about 90 percent of its active daily users are in the age group of 22-37 years. In order to build substantial online presence, dental practices need to shift their focus to a younger target audience. A substantial online presence means higher search engine rankings, building trust in the eyes of your patients, and a stronger authority in your field. Never forget, Instagram can work wonders in creating your brand awareness and general credibility among patients.
What Makes Instagram Different from Other Social Media Platforms?
The "visual effect" that the Instagram platform offers is one of its major competitive advantages. Visuals are known to invoke emotions, which allow dental practices to create deep connections with their target audience. When compared to other social media networks, Instagram offers a higher level of anonymity to its users as they feel free to like, comment and engage with posts more freely without the fear of being judged publicly. The "anonymity"feature makes Instagram one of the top mediums among people to explore issues that one might be cautious of on other social media platforms.A solid medical SEO strategy and dedicated effort on your part will undoubtedly reflect in the number of followers in Instagram, and the size of the community you have built. Here discussed are some important tips to increase Instagram followers and improve your dental practice's social media reach –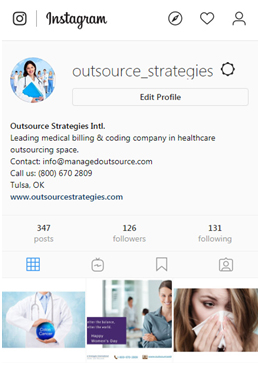 Make Your Account Local and Branded -Initially, when you plan to setup an Insta account for your dental practice, make sure that you include all the necessary information for people to find your office. It is important to include your dental practice's name, location – city and state, phone number and a link to your website.Including all these important information will make it easier for the local people to connect with your practice.
Make Regular Posts – Once your Instagram account gets activated, dental practices should get into the habit of posting relevant content at regular intervals. Generally, most visible brands on Instagram post 1 -2 times per day, and they post around the same time each day. The most effective way to determine the best time to post on Instagram is by testing how your photos perform at different times of the day. For instance, if you happen to notice that the photos you post in the morning are consistently earning you more likes, comments, or followers than those posted in the afternoon or evening, then adjust your content schedule accordingly. By posting content at regular intervals, dental practices can easily interact with patients, keep them engaged thereby increasing the total number of followers.
 
Post a Variety of Content – The content you post on Instagram should be unique and depict the personality of your dental practice. Avoid posting too many photos of one single subject. Post variety is important to keep your audience entertained and coming back for more. Follow the 80/20 rule – which means 80 percent of your posts should be useful and entertaining, while the other 20 percent should be aimed to promote your dental services.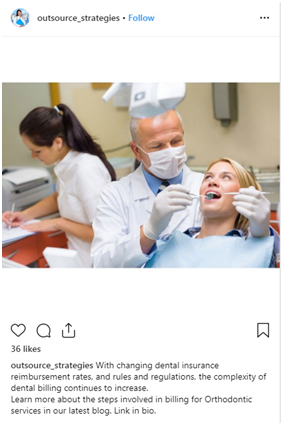 Attract your audience's attention by sharing oral health tips or dental jokes. Report the success stories of your patients with before-and-after images. Give them a glimpse of what it's like to be your patient, and make them feel comfortable about having you as their dentist.
Create Videos – Creating and publishing videos on Instagram is an important strategy for social media healthcare marketing. Live video is one of the most exciting trends on social media right now. Creating live videos is one of the best ways to engage your audience and expand your credibility as a dentist. Video options like Instagram Stories – wherein the dental practices can "go live" and pass on their message using video – allow you to go beyond standard dentist ads and have genuine conversations with your audience. Hosting live Q&A sessions wherein you can answer your followers in real time may prove to be highly effective. Other video ideas to connect with your followers include

Create videos to greet your patients and team members for their birthdays.
Share patient testimonials.
Live-stream during local events or dental conferences you attend.
Record and share 360 video tours to show off your office.
Conduct social-media contests.

 
Use #Hashtags– Hashtags are important because they turn into links, which allow users to see every post that the hashtag was used for. According to social media experts, posts and images with at least one hashtag will result in 12.6 percent more engagement than those without a hashtag. Posting content with the correct combination of popular and trending hashtags on Instagram will maximize the exposure of your post to a wider customer base. However, using too many hashtags can increase spam activity on your profile. Try to use 3-5 quality hashtags that describe your post, and get your dental practice local exposure. Also, keep an eye on all the hashtags that your competitors are using. Always add location tags to enable potential patients to find you when searching for your dental practice.For instance, you take a photo of a child undergoing laser dentistry and your office is located in Dallas, Texas. Your hashtags may be – #KidsDentistry, #LaserDentistry, #HappyTeeth, #HealthySmile, #DallasDentistry, #DallasKidsDentistry, #TexasTeeth.
 
Focus on Visuals – Use visually striking photos that convey your team culture. Along with snapshots of patients and team members, share photos of anything visually interesting in and around your practice. For example, if your dental practice offers a relaxing, spa-like patient experience, you can share a photo of the floral arrangements or aromatherapy candles you have in the waiting room. Snap a photo and share its story. Anything in your dental marketing can be interesting with the right perspective.
 
Host Contests – Running a contest on Instagram is an excellent way to reward your current followers as well as attract new followers to your brands page. Hosting contests will create a buzz around your brand and will have a significant impact on increasing followership. Ask your audience to post a relevant photo on Instagram and have them use your custom contest hashtag. With this method, you're not only holding a contest, but building a community through those engaged with the hashtag. Some other ideas for Instagram contests include –

Commenting contests- wherein participants have to comment to enter

"Like" or "Share" to win contests – participants enter by liking or sharing your photos

 
Pay Attention to Your Engagements – Once your dental practice has been making regular posts on Insta for about a month, it is important to review all the content posted and  look at all of the most popular posts. Try to note what has made them so popular – was it a photo or a certain hashtag?Try to find out why some posts get more likes or shares and repeat that success with similar photos. If you have an Instagram Business Profile, you can do this by selecting the "insights" button on your profile page.
Creating an active Instagram presence is one of the best ways to market your dental practice. Implementing the above-mentioned Instagram marketing tips will help meet your healthcare and social media optimization goals.