Over the recent years, dental practices have seen significant transformation. You need to be able to connect with your patients in all of the ways they search for you; providing excellent service is only one part of it. Therefore, an increasing number of dental offices are using social media to enhance their marketing initiatives, interact with current patients, and draw new ones. Dentists can reach more people and spread awareness of their services by building a strong online presence and excellent interaction on social media sites such as Facebook and Twitter. Social media marketing services assist in the implementation of social media marketing strategies that increase the visibility of dental practices on social media platforms and draw more patients.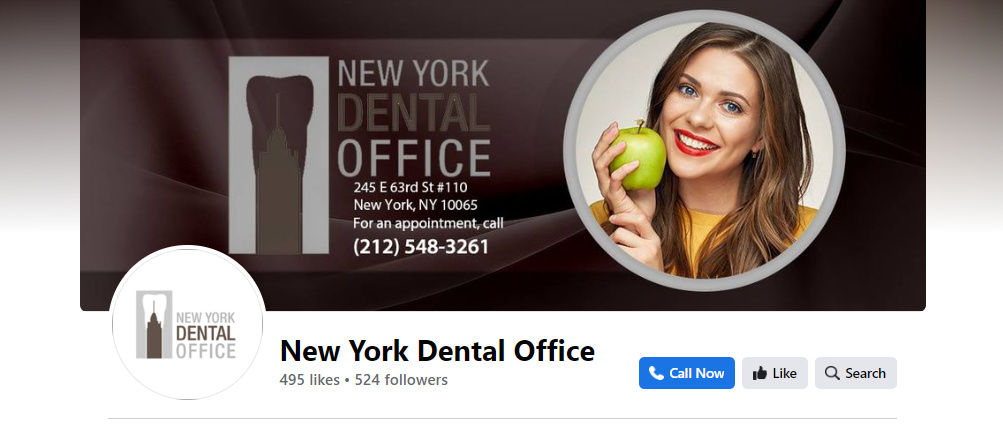 Image Source:
Importance of Social Media Presence for Dentists
Social media is a fantastic tool for reaching out to potential patients. It has great potential for lead generation. Consumers are more likely to believe the information they find using this method, which is the most common approach to search for goods and services. Also, social media gives you the chance to connect with your target market in real time, which is an efficient way to raise brand awareness. Social media sites like Facebook and Twitter are great platforms for business promotion. These platforms can also be used by dentists to communicate with current patients. In addition, they can advertise new products, services or even offers on their channels to let people know what they are providing. Importantly, they can even entice past clients to return if it has been a while since their previous visit.
The following are some of the reasons why dentists should have a strong social media presence.
Use social media to attract new people: Social media is used by billions of people, so even a small portion of that audience would be fantastic. You will gain the trust of visitors to your page when you continuously share engaging and informative content regarding dental procedures and oral health in general on social media. These same people, especially those who live in the city where you operate, are probably going to remember the name of your office and choose to stop by for a visit because they saw you regularly share your knowledge on social media.
Increase brand recognition and credibility: Maintaining patient loyalty and attracting new patients both depend on credibility and trust. One of the finest locations to promote your business, demonstrate your subject-matter expertise, and establish yourself as an authority is on social media. One of the first things patients do when searching for a dentist is look up comments and reviews on social media. They are more likely to visit your dentist clinic and use your services if they find your social media posts are knowledgeable, helpful, and you have many positive patient reviews. They might even recommend you to relatives and friends who need a dentist.


Image Source:
Make your brand more relatable: A website is excellent for exposing your practice and the services you provide to the broader public, but it frequently falls short of capturing the essence of your brand. Websites often have a professional vibe, and they can only carry so much data before they start to look cluttered and disorganized. Social media is like a freedom wall that lets you broadcast whatever you want, allowing people to know you better and more openly. Sharing images and videos of your dental practice and staff, responding to discussions and comments, and hosting live Q&A sessions are all easy ways to engage audiences and foster a sense of community.


Image Source:
Build relationships with your new and existing patients: Social media is a great tool for establishing and fostering relationships with both current patients and potential patients who haven't yet visited your office since it allows you to interact with audiences as honestly as you can. You may persuade patients through your social media posts that even though some operations might appear terrifying, they will be treated with the utmost care when they have them done in your clinic. You can provide illustrations of the outcomes of your efforts and client testimonials. You can respond to criticism personally and reassure potential patients that everything will be alright.
Great tool for teaching people about dental health: People have grown increasingly interested in and careful about dental treatment alternatives, whether it be for general dental care or cosmetic dentistry. So, individuals typically try to read up on and learn as much as they can about a dental operation on the Internet before having it done when they feel anything is wrong with their teeth or want to improve their smile. Social media platforms are a perfect venue for dental professionals like you to impart knowledge and give expert thoughts on pertinent dental topics because of their enormous reach and influence. These and other similar small gestures can go a long way towards improving your reputation and winning the confidence and trust of your audience.
Monitor the success of your dental practice on social media: Social media gives you more than just the ability to engage with current and potential customers. You can determine whether your dental practice is operating effectively or whether there are any areas that might use improvement with the help of the comments and evaluations that you receive. Social media users are typically honest about their thoughts, so your interactions with them will help you get a clear image of how your dental business is doing.
Your rivals are also using social media: Consider all of the dental offices in your city; chances are high that they promote their services on Facebook, Twitter, Instagram, and other social media sites. So, if your dental practice lacks a social media presence, your rivals will benefit from everything it has to offer while you will be left out.
Social media marketing is more cost-effective: There was a time when the only marketing alternatives available to dental businesses looking to draw new patients were conventional media such as TV, radio, print, and billboards and using conventional platforms was expensive for them. Even though they spent a lot of money on traditional advertising, there was no guarantee that their messages would get through to the relevant audiences. But advertising dentistry clinics through social media is an economical strategy. In addition to the wide reach it offers, it also enables dental offices to target the appropriate market, all at a price significantly cheaper than what dentists have been paying on conventional methods.
With the influence of social media, it is now safe to state that it is no longer a choice for business owners, including dentists. A social media presence is now required to have a better chance of success. You can manage your own social media accounts, but bear in mind that it will require a lot of time and effort. Dentists would therefore be best served by investing in social media marketing services. Thereby, experienced marketing professionals will help in achieving your objectives with their social media know-how, and also regarding the goals of your dental practice.

MedResponsive is a leading search engine optimization company in the USA that can assist your organization in establishing a strong online presence on social media platforms. Call (800)941-5527 for a free SEO consultation.