With an ever-increasing number of internet users, a robust online presence is important for medical professionals. Today, most patients search online thoroughly before booking an appointment with a doctor. This shows that it is vital for medical practitioners to project themselves as the best in their specialty and maintain a good reputation online. According to Advanced Web Ranking, the top Google result in any search boasts a click-through rate of about 31 percent. So, make sure to have a good SEO strategy in digital marketing for healthcare.
Google Updates
You may have a good website and it may have performed well on Google for a long period of time. But suddenly your traffic starts falling and eventually your ranking also gets affected. If you have experienced such a situation, then you must learn about Google updates.
According to the latest stats, 90% of the total search market has been consumed by Google and its other search properties. So, to improve the search experience for users and to provide the best results, Google keeps updating its algorithm. When there is an algorithm change, a top site can suddenly drop off the first page of Google whereas a previously low-ranking website may get to the top position.
Google Medic Update – August 2018
Most Google updates generally aim at improving the significance and quality of the search results. In mid-2018, there was a significant algorithm change that affected the health and wellness websites and the algorithm change was called the medic update. As per John Mueller, Google Webmaster Trends Analyst, in an August 2018 Webmaster Hangout, it did not target the health sector but the medic update has disproportionately impacted the doctors. Many e-commerce sites selling health/medical related products were also affected.
MedResponsive has earlier discussed Google's August 1 core algorithm update or medic update and how it affected certain health-related sites.
Many sites in the diet, nutrition and medical device niches were greatly affected. It seems that with this update, Google has tried to show results that better match the intent of the search.
Based on the reports from SEMRush, drops in the diet and nutrition sites were highlighted as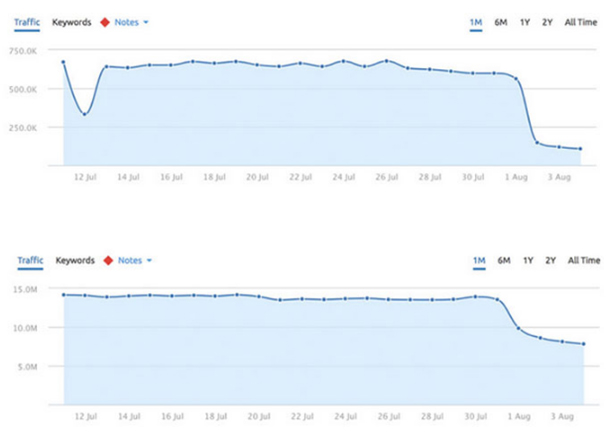 Certain sites also noted gains, after the update.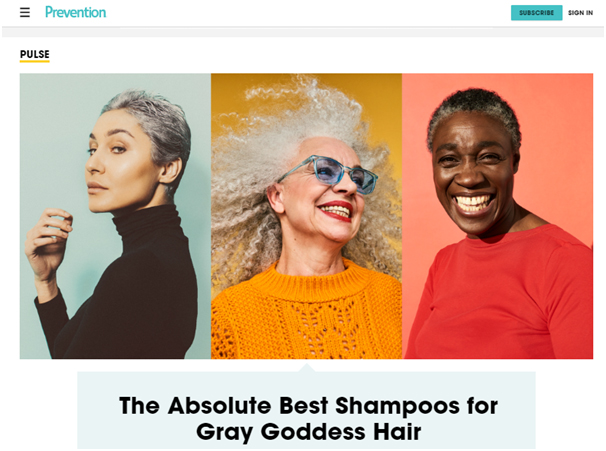 According to Moz data, of the top 30 affected websites, five of the ten websites listed as top losers cater to the health or wellness industry. Of these websites, www.prevention.com has lost 66.9% position between July 31st and August 7th.
Nobody has any clear answers regarding why the medic update made a negative impact on medical websites. But Search Evaluator Guidelines (used by Google's quality assurance employees to assess search results) provides some insights which are as follows:
YMYL and EAT
Medical websites fall under a special category called YMYL (Your Money, Your Life). As per Search Evaluator Guidelines, YMYL is any webpage that has the potential to impact people's safety, financial stability, health, or happiness. The guidelines further state that such websites are held to higher Page Quality ranking standards. Google determines page quality on the basis of primary factors like expertise, authority and trustworthiness (EAT).
Tips to Enhance E-A-T
Google focuses on high quality medical information content but the problem is that the term "quality" is subjective and Google might not be as good at detecting it as they think they are. Let us consider the factors that qualify for EAT.
Reputation: According to Search Evaluator, it is vital to have extensive reputation research, including reading as many reviews and ratings as possible and a minor negative reputation in any sector, or a mixed positive and negative reputation in YMYL websites, is considered a low-quality search result. So, make sure that your patients leave a positive review and get back links from relevant websites whenever possible.
Author biography: Google focuses on high quality content and they are not interested in knowing who owns the website but they are interested in knowing who wrote the article on any given page. This is especially applicable to multi-author websites, such as blogs. The personal E-A-T of the main content creator is paramount. So make sure to add author bios in blog posts and remove low traffic pages that are attributed to non-medical experts. Include doctor bio(s) detailing credentials in the website.
Security of the website: Google ensures that their users are not sent to malicious websites and so Google does not favour websites with poor security. Its own browser (Chrome) flags any website lacking a SSL certificate as "not secure." So, make sure that your website uses HTTPS instead of HTTP and web masters must take appropriate measures to prevent hacking or any other malware.
NAP: NAP which means Name, Address and Phone number are important for any website. For a physical business, Google wants contact and location information. Ensure that your contact information is consistent across the internet. You may lose or dilute the authority these links offer if information you provided is inconsistent or inaccurate. Always keep your profile on Google My Business and other directories up to date and check for spelling or incorrect address or contact number.
Expert consensus: This could be the major challenge for biological, holistic and alternative medicine websites. Google strives to fight the distribution of wrong or misleading information online. Medical websites that have information different from the accepted scientific consensus are bound to suffer. The Search Evaluator Guidelines lists "YMYL content that contradicts well-established expert consensus" side-by-side with fictitious news items and discredited conspiracy theories, as the lowest quality of search result. Therefore, check the accuracy of any content you put out online to ensure that it is not wrong or misleading information. In case yours is an alternative medicine website, acknowledge that whatever information you provide differs from the general scientific consensus.
Quality Content, the Solution
Google has said that there is nothing you can do to fix your site, except providing a great user experience by offering better content and making your website more useful.
Google's algorithms are also often intended to find content that matches the queries of users. If you notice a drop in the rankings following any Google update, adding new and informative content to your website that suits your target audience is regarded as the best SEO strategy. You can also consider adding high-quality blog posts about your industry to give Google new content to index for your site.
While demonstrating your domain's expertise, authoritativeness and trustworthiness (E-A-T), you must also make sure that the content quality matches the level of required E-A-T and the intent of the user's navigation to that page.
Certain tips discussed in SEMrush include the following.
Every page in a website must have an intention and that purpose must be able to benefit the user
Understand that some pages require higher levels of E-A-T than others due to their specific subject
YMYL pages can have a direct impact on the readers' lives and they need the highest E-A-T possible
Google is the king of search engines and keeping up with Google algorithms is important. For medical businesses, getting found online when potential patients type in a phrase or keyword is now very important and it can even lead to a rise or fall of the medical business. So, ultimately the aim is to use best practices in SEO and local search marketing and provide what your target audience wants. This will boost your ranking and the chances to grab the top ranking in Google SERP. So, approach a medical website design company that has an experienced team of experts to improve the Expertise, Authority, and Trust worthiness of your website and also optimize your medical website in such a way that it will attract more targeted traffic and ensure more conversions.