Hope you have read our blog on mobile health app trends for the healthcare industry.
Ranging from healthcare to lifestyle, there is an app for everything now. In the healthcare sector, mobile app development has a key role to play in managing health. Mobius MD reports that most smartphones owners have downloaded a mHealth app and nearly every physician brings a smartphone to work. Mobile health apps can now provide diverse benefits such as –
bridge the gap between patients and healthcare providers
allow for prompt addressing of medical emergency
provide access to healthcare even in remote areas
reduce medical expenses
enable to pay bills easily, without spending hours in a queue
eliminate the risk of poor diagnosis
enable patients to monitor their health themselves
There are also specific apps for making appointments, getting appointment reminders, requesting prescription refills, accessing medical records, and for tracking weight and height changes.
Trends such as real-time health tracking, telemedicine services, Internet of Things (IoT) in the mobile health sector, artificial intelligence in health apps, blockchain technology in the healthcare industry and big data specific apps are changing the healthcare outlook in 2019 and in the future. Artificial intelligence (AI)-based healthcare apps are also available now to help tracking and managing personal health. Even patients suffering from chronic conditions can monitor their vital statistics daily for better health management.
For instance, Wave App developed by Treatment Technologies & Insights, Inc (TTI) makes it easy to track and record important aspects like symptoms and side effects, medications, sleep, and physical activity. With this app, users can also share health updates with their doctors, family members and care providers.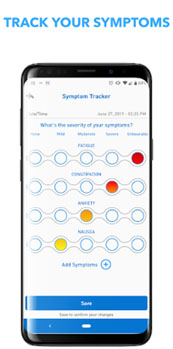 https://play.google.com/store/apps/details?id=com.waveapp.android
Its artificial intelligence(AI)-enabled unique feature called "My Insights" provides personalized insights on how certain actions and encounters are related to each patient's overall wellbeing (condition, symptoms, and mood) as they go through treatment. The app was designed for patients fighting more than 175 chronic diseases including diabetes, heart disease, arthritis, stroke, addiction, depression or mental illness.
Two years ago, TTI, Inc. created chemoWave, a mobile app for cancer patients to manage their treatment. This app provides patients and their caregivers with personal data-driven insights to better manage the physical and emotional rollercoaster of chemotherapy.
Safety concerns
Though healthcare apps are convenient and affordable, there are certain drawbacks too. Each and every detail of the user including health details, prescription, credit card details and address will be collected from the moment they sign up for an app. There are also possibilities for data breaches and all such data may get compromised. A new research done by health app evaluation organization, ORCHA concluded that only 15% of healthcare apps meet minimum safety standards. The report also highlights the need for reliable regulatory standards and accreditation frameworks to be applied to healthcare apps.

According to the Chief Executive of Patient Safety Learning, to improve the safety of these mobile apps, three fundamentals are essential such as – a digital hub with a dedicated learning platform for patient safety; better data and insight to measure and improve safety performance; and a partnership with patients to inform the development of apps.
Practices that handle protected health information such as medical records, claims information, and lab results fall under HIPAA and when partnering with app developers, they need to make sure that they follow all HIPAA rules and regulations. It is crucial for the app developers to ensure that the data collected in the app is carefully safeguarded through a robust cybersecurity system. The HIPAA Privacy Rule requires the individual's written authorization for any use or disclosure of his/her protected health information (PHI).
Medical App Development – Key Tips to Consider
Focus on user experience
Make sure you develop user-friendly apps that provide flawless access to both the patient as well as the doctor. It should also offer a simple user interface. Provide a transparent environment where patients can access all relevant medical data, let that be related to their health or information on a medical expert. An ideal healthcare app must also provide access to patient data to the doctor as and when required. Also, make your app as easy as possible for your end user to find and download.
Know the requirement
First, figure out the purpose of your app. Remember that the end goal of your app is to assist its users. Know your target audience and understand their requirement clearly before developing an app. Also, based on users' needs, add features such as tracking, scheduling and easy payment. Make sure that your app provides the best solution for a prevailing problem.
Do proper testing and get feedback
Releasing an app without testing it properly can result in many negative consequences. Once the development is over, make sure to evaluate your app's performance by testing security and authenticities such as – HIPAA compliance, Personally Identifiable Information (PII) and Protected Health Information (PHI), accuracy of geo-location services as well as app performance and compatibility on different platforms. Get feedback from the users and make changes accordingly. This improves user satisfaction.
Compliance and security
Make sure that the design and development of your app complies with all legal requirements and HIPAA security standards that protect sensitive health information and this helps to avoid data breaches. Have a clear about the FDA rules in developing medical mobile apps (MMAs).
Healthcare providers can partner with experienced SEO companies providing custom medical app development solutions along with organic search engine optimization service in Long Island.