With the widespread technology evolution and digitalization, the healthcare mobility solutions market is emerging as one of the fastest growing industries in the world. Mobile app development field is creating waves by offering a strong platform to boost physician-patient interaction. Approximately 3.4 billion people use smart phones and tablets worldwide. According to mobile industry estimates, half of them have downloaded a health app. Earlier, these apps were considered a platform enabling real-time counseling between doctors and patients from outlands or in the absence of hospitals. But with the incorporation of IoT and AI, leading healthy lives is easier than ever.
Healthcare consumers nowadays want a mobile patient experience. According to a new survey conducted by SOTI (a provider of mobile and IoT device management solutions) more than half of U.S. physicians (57%), offer their patients a mobile app to schedule appointments, access personal healthcare information, and view lab results. Furthermore, 75% of all patients believe physicians who leverage mobile technology provide a faster and more convenient experience for patients, such as cutting down on physician wait times. Healthcare providers are adopting the use of mHealth in the form of mobile apps to ensure improved patient interaction with minimum complexity.
Can mHealth Apps Really Help?
Healthcare business is now at its peak due to the increasing popularity of mHealthcare apps in this industry. According to reports, the annual growth rate of the mobile health market is expected to reach around 41 percent, by the end of the year 2020. Moreover, about 80 percent of medical practitioners are expected to depend on technology for measuring blood pressure, monitoring sugar levels and likewise. And 71% of doctors have already adopted EHR systems, as per the latest health tech trend analysis. All these factors have brought an exponential increase in the number of health app users globally.
There are over 300,000 mobile health apps available, but it's important to know that the vast majority of them are not reviewed or regulated by the US Food and Drug Administration (FDA). The FDA does not review or monitor health apps unless they are connected to or meant to be used as a medical device. An app intended for maintaining or encouraging a healthy lifestyle, (and unrelated to the diagnosis, cure, prevention or treatment of a disease or condition), is not considered a medical device. Mobile health apps are of different types like those related to – nutrition, fitness, stress, medication reminders, sleep and apps related to quitting the habit of smoking or living with cancer.
Here listed are some top mobile health application trends that are expected to bring a profound change in the entire outlook towards healthcare –
Real-Time Health Tracking – Health and fitness mobile apps are motivating a large chunk of people to stay healthy. People now expect these apps to go beyond the conventional methods of tracking pulse rate, blood pressure, counting calories; sleep period etc. mHealth apps on the other hand, should maintain a correct record of patient health data. These apps can keep patients on track and motivated to stick to a fitness routine and diet program and offer guidance to improve their health indexes. Different types of health-tracking apps are available that people opt as a source of health information that fits in the palm of their hands. These types of apps have gained extraordinary popularity in recent years, as they have applications focused on maintaining a healthy diet.
For example, MyFitnessPal is one of the best apps for health tracking and motivation. Ranked as the number one health and fitness app on iTunes, this application pushes users to keep tabs on their diet programs through an easy-to-use database that offers nutrition information for over 5 million different foods.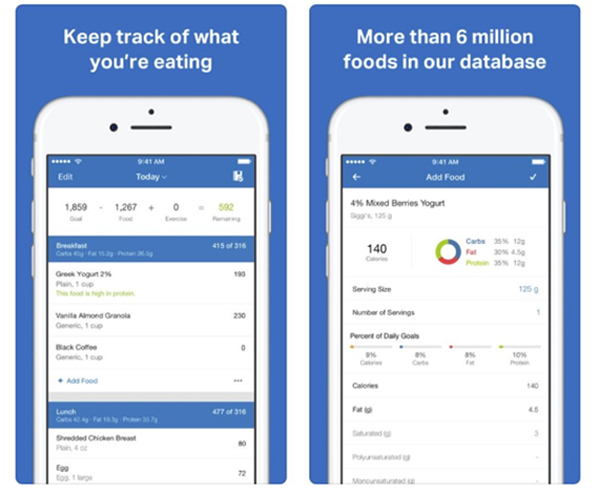 Source – https://www.menshealth.com/health/g22842908/best-health-and-fitness-apps/
Telemedicine services – Telemedicine services have already revolutionized the healthcare industry to a huge extent by covering the gap between the patient and the physicians or caregivers. Reports suggest that the number of telehealth patients has witnessed a considerable growth of around 7 million (2018 statistics). Nearly 71 percent of the patients today prefer their physicians to use mHealth Apps. And as per HIDA reports, 54 percent of the patients find it more comfortable to consult their physicians over a video call or email. A variety of mHealth Apps like – MDLive, MeMD, Mediciand Doctor on Demand let users contact medical professionals anywhere and at any time via text or video chat through their smartphones. These applications save time otherwise spent reaching the hospital or the doctor's office and waiting in line and generally make healthcare more affordable. The implementation of telehealth technology provides real time patient and doctor access in a way that prevention is taken before a medical emergency occurs. 
Internet of Things (IoT) – Mobile app features are user-friendly and efficient and that is the main reason why most mobile users spend a large amount of time on them. These distinctive features of mobile apps are enabled by the flawless connectivity offered by the IoT and present-day networks. IoT Healthcare Market is expected to reach $158.07 billion by the end of 2022. IoT can make useful contributions right from assisting the patients to monitoring their health to authorizing hospitals in administration, in recommending treatments, better patient care, and diagnosis. There are several examples of how healthcare is getting better with IoT which include – activity trackers, connected lens, ingestible sensors and closed loop insulin delivery.
Cloud-based technology – As per recent estimates, healthcare cloud computing market presents a $44.93 billion dollar opportunity to explore by 2023. Improved loading capacity, better power processing capability, reduced hosting cost, better storage and streamlined business operations are some of the top benefits that Cloud technology offers. In that regard, cloud based healthcare mobile apps have been offering a highly efficient mechanism for doctors and patients alike to access health information anytime, from the comfort of a few clicks. Popular cloud-driven apps include – Dropbox, Google Drive, AWS, and SlideRocket. Integrating electronic health records with cloud-based healthcare apps will make it easier for hospitals to access the patient's records, checking of e-prescription, healthcare insurance plans, and bills.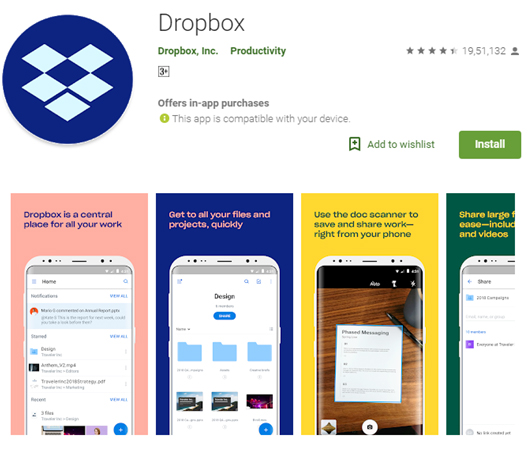 AR/VR – Healthcare based Augmented Reality (AR) and Virtual Reality (VR) are expected to become a $5.1 Billion market by the time we reach 2025. AR/VR plays a prominent role in medical app development in multiple arenas. However, their use in 2019 will not be limited to just gaming applications anymore. For instance, Google and Apple are releasing new AR demos on their latest devices which stress that the application areas of AR/VR is going to expand in the near future. In fact, these technologies are also predicted to be used on top social platforms for branding as well as targeting potential customers.For example, Snapchat and Instagram have already released their AR filters that can turn a human face into various digital funny characters.
For instance, Kimo – pain relief VR App for Children with Cancer (developed by Oncomfort) offers children a much needed distraction and form of escapism during chemotherapy sessions.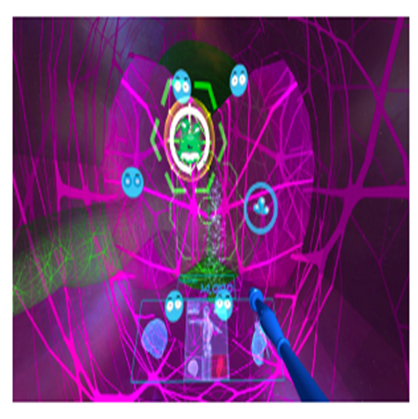 Source – https://arpost.co/2018/09/10/virtual-and-augmented-reality-healthcare-apps-and-experiences/?cli_action=1566296474.712
Artificial Intelligence (AI) -Although popular in the past years, Artificial Intelligence (AI) will continue to be a dominant technology trend that will change the complete outlook of modern day healthcare delivery. The AI inclusion in medical mobile apps is going to grow the AI healthcare market to over $6.6 billion by 2021. Artificial Intelligence has taken mHealth Apps to a different level in 2019 by significantly reducing the medical costs and clinic visits in the time to come.As, AI is expected to grow progressively more, we can see some major breakthroughs in the health care domain such as physicians conducting complex surgeries using AI, patients performing self-examination and much more.
Beacons – Beacon technology, which uses Bluetooth Low Energy (BLE) to communicate with Smartphones in close proximity, offers a diverse array of opportunities for healthcare. The BLE-enabled beacons provide an unprecedented opportunity for hospitals to revolutionize both the visitor and patient experience, thereby improving both hospital operations and patient care. The technology offers a personal touch to the users by enabling them to have customized content regarding their health issues as per the digitized health info details and phone history. Known as location-based technology, the beacon allows the healthcare professionals and patients to send and receive appropriate information with the use of geo-location at a suitable time. For example, when a patient gets into a hospital or health clinic, he/she can directly send their documents to the respective doctor on coming within the radius of a beacon. Hence, it wouldn't be confusing for the patients to deal with their health check-ups and thereby obtain proper care from the physician.
Mobile Payment through mHealth Apps – Friction less payment method is what today consumers wish to see in the mobile apps they plan to use. By using these mHealth apps, people can ensure smoother payment transactions, especially in emergency medical situations (that too in odd hours). Therefore, mobile wallets as well as payment gateway integration that offers the highest level of secured encryption will become the mainstream in all kinds of mobile apps. For instance, InstaMed has launched a mobile app called "InstaMed Go" that allows patients to make payments at the bedside or anywhere in the hospital.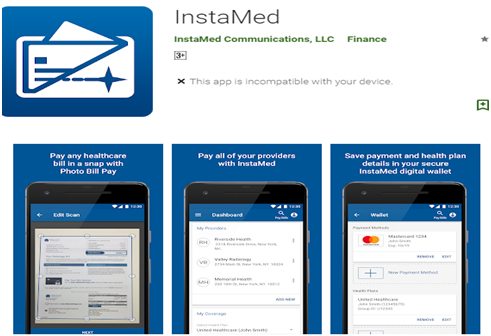 Source https://play.google.com/store/apps/details?id=com.instamed.consumer&hl=en_IN
Technology has revolutionized the healthcare domain. With an increasing number of people opting for online medicine stores and accessing mobile applications to contact physicians and clinics, mHealth apps are going to dominate the future of healthcare. Health and fitness apps are playing a dominant role in the improvement of health and fitness for a countless number of people all over the world. In most cases, a large portion of these people prefer taking essential lifestyle preventive measures instead of medications to stay clear of various chronic health disorders. Mobile health apps help people to stay informed about their health condition and take positive measures accordingly. However, while developing a new mobile healthcare app, the user's needs and interests must be given top priority. Application developers need to understand that their utmost motive should be to assist the user in obtaining the correct and relevant information that they need at a given point of time.
As there are a number of mobile apps in the market today, every business needs to incorporate innovative features in their apps to stay ahead of the competition. Medical SEO services include innovative mobile app development for healthcare professionals, hospitals, clinics, and other healthcare entities. Healthcare practitioners can therefore partner with an experienced mobile app development company to meet their app development needs along with digital marketing for healthcare.