With the changing plastic surgery trends – such as from traditional invasive liposuction to non-invasive Fractora or Kybella injections – digital marketing trends for this medical specialty is also changing. It has been long since the plastic surgery community adopted social media. Social media marketing plays a key role in plastic surgeon SEO, as the current social media platforms provide greater access to information on cosmetic surgery, creating more educated patients. According to the 2018 survey of members of the American Society for Aesthetic Plastic Surgery, about 70% of board-certified surgeons maintain an active professional social media account. Social media is proven to be an effective marketing tool that generates increased exposure and referrals.
Nowadays patients have started using social media to choose their plastic surgeon, making it critical for plastic surgeons to improve their presence on these platforms.According to a 2018 report in PubMed.gov, professional social media use is rising within plastic surgery. Based on an online survey of 6136 ASPS members with 454 responses, it was observed that
61.9% reported having an active professional social media account
79.4% active professional social media accounts were from respondents whose practice primarily consisted of aesthetic/cosmetic surgery
Private practice, younger surgeons are more likely to view social media as an acceptable method of reaching patients
Active accounts on platforms such as Facebook, Pinterest, Instagram, LinkedIn and others can educate, inform, and entertain followers and thusboost your practice's visibility exponentially.Sharing photos, video, articles and blog posts, and other information about your plastic surgery practice could also contribute to relevant social media conversations.
How Instagram Provides Fruitful Results – A Case Study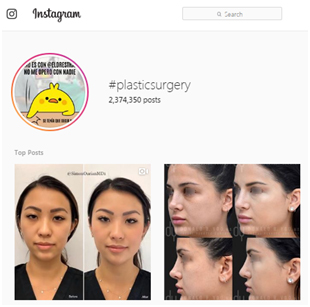 Vegas magazine recently discussed the case of a Las Vegas plastic surgery practice that was started in 2012, which used social media as a way to reach their target demographic without spending too much. The surgeon here created a Pinterest account, a Twitter profile, and a Facebook page for the practice and for the next 4 years they tried different content formats, posts, and platforms. But the results were poor and they failed to reach engaged users looking for plastic surgery. Things started changing in early 2016, with the surgeon developing an Instagram profile by naming himself as Doc Vegas, along with a modern, informal, and focused content strategy.
Within a year, @DocVegas had grown from 0 to 20,000 followers. Partnering with others, he produced and posted 1-minute edutainment videos that showcased all the plastic surgery procedures done in the operative room in full detail. Informative videos resulted in great response from viewers, resulting in thousands of new followers.
The surgeon was also invited to a panel meeting of the American Society of Plastic Surgeons (ASPS) to discuss about the "Hot Topics in Plastic Surgery" and the use of social media was one among them. After this meeting, more and more physicians, nurse practitioners, and medical professionals started following him, liking, commenting on his posts. This surgeon's Instagram page added new trends in medical website marketing, especially plastic surgery.
Thus posting edutainment videos, before and after photos and memes in all social media platforms including Snapchat and Instagram can attract new patient referrals.
Know How Patients Use Social Media
Even though many plastic surgeons use social media platforms as a marketing tool to attract potential patients, they often do not consider their patient's preferences, their preferred types of plastic surgery posts and how they use social media.A2017 study published in the Journal of the American Society of Plastic Surgeons to investigate patients' preferred social media networks and the type of posts found that Facebook had the greatest patient use and engagement, with YouTube second in use, and Instagram second in number of engaged users. It is also reported that patients mainly wanted to see posts on a plastic surgeon's social media platform related to practice information, before-and-after photographs, and contests. Providing what patients expect to see can improve the practice's relationship with them. Healthcare/ medical social media optimization services provided by an experienced SEO company can help plastic surgery practices gain greater ROI from their digital marketing investment.
Read our blog on tips to improve social media engagement.