Not getting as many views, clicks and subscribers as you expect for your YouTube videos? Wondering how to attract more people to click and watch your YouTube suggested videos?
In this social media-obsessed world, video marketing is at the heart of any SEO strategy. Videos are an indivisible part of our personal lives and have become a powerful tool for online business marketing. With more than 1.9 billion monthly active users, YouTube is the ultimate platform for video marketing. It is estimated that every day people watch more than a billion hours of videos. YouTube video creation and marketing are among the prime services provided by reputable Long Island web design companies. Videos are visually appealing and convey a lot more than words, and make a significant difference to the marketing strategies of businesses, making them more efficient and ROI-generating.
Reports suggest that an average viewer watches more than an hour of video daily just on their mobile devices. So, how do you make your video stand out and get the right exposure it deserves? By understanding your audience and keeping their search interests in mind when uploading your YouTube video, you can increase the chances of people finding and watching your videos.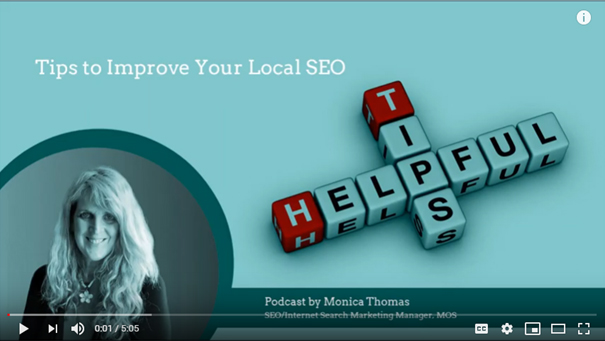 Why YouTube Click-through Rate Is Crucial
Reports say that about five hundred hours of video are uploaded on the YouTube platform every single minute, which indicates that the platform needs to be very selective about the type of content they intend to promote. Click-through-Rate (CTR) is one of the top metrics to focus on to improve the visibility of your YouTube channel. CTR is the number of people who click on your video when they see it appear on the channel. For instance, if your video gets 1,000 impressions and 100 people click on it, you have a CTR of 10%.If your CTR is very low, YouTube will stop suggesting your video to people. On the other hand, if it's high, the platform will give it more reach.
Click-Through Rate (CTR) on YouTube is generally built from impressions like – search, suggested view, home screen and the side bar. YouTube does not log your CTR when a video gets viewed on a website, through an end screen, when embedded in a social timeline and through push notifications. By publishing a new YouTube video, your primary goal should be to get as many clicks as possible within the first 48 hours.
Role of YouTube Watch Time and Audience Retention
Watch time is one of the key statistics to measure the quality of content published on the YouTube channel. For instance, a person may spend 10 minutes watching a video on "How to Start a Successful YouTube Channel for Your Business", but another video on the same topic only keeps watching people for 3 minutes. This data signals to the algorithm that the video with the higher watch time should be moved up in search rankings or suggested to more people. Longer view times signal better quality content. Furthermore, if someone else then watches another of your videos, it gives your whole channel more watch time, signaling to the algorithm that your channel's content is high-quality, too.
While the watch time is a signal that the longer videos may be of higher quality, the shorter videos could be actually better. To ensure YouTube doesn't promote a low-quality long video over a higher-quality short one just because it gets a longer watch time, it uses the measurement called audience retention. Audience retention is the percentage of a video that gets watched. So, if on an average people watch 20 percent of a 19-minute video and 90 percent of a shorter 3-minute video, it's a sign that the shorter one gave a better experience for viewers. YouTube uses watch time and audience retention together to help decide what it promotes.
But, no matter how amazing your video content is, without people feeling to click on it, it is not possible to build watch time or audience retention. This requires your video content to be exceptional on the platform which will prompt users to click on your content.
Here are some ways to increase the views or clicks of your YouTube video –
Use rich keywords and descriptive titles – The keywords and video title are one of the first impressions of the video. Its optimization increases the chances of boosting your ranking by providing the right context. Always use the right keywords, be clear, but also brief. Videos that have more views will have their title optimized around a popular keyword.
To make a perfect title, first create a list of potential keywords that you think people may use to search your videos. A descriptive and interesting title will do two things – provide keywords for the algorithm to sort for relevancy purposes and attract users and inform them about what the video is all about. Be sure to use the "Tags" field properly and add as many tags as you can think off. Optimizing your video content for the right keywords will help gain organic views by informing users and the search engine just what your video is about.
For example, if your video is about Local SEO and you use only the keyword "local SEO," then your video may appear when people search for that particular keyword. On the other hand, if you insert a network of related keywords like build citations, location pages, and local directory listings, there are more chances that people may find your video.  The more related keywords you place into your videos, the more opportunities it creates for people to find your video.
Posting videos multiple times per week – According to recent reports, YouTube channels that post more than once a week tend to perform much better and get more views. If you are starting out to build an audience for your page, make sure to post a video on YouTube three or more times per week. Keeping a regular schedule with multiple posts per week can help your channel perform well. This will also create a library of content that will lead viewers from one video to another, improving your watch time and giving viewers a reason to subscribe.
Have quality and keyword-rich descriptions – Use your video description space to inform users what exactly your video is all about. Try to both standout and remain generic in your video description. The description should be at least 250 words, with the keyword appearing within the first 25 words. Consider using the keyword at least 2-4 times. Be entertaining while describing videos and try to capture interest while still trying to rank for short-tail keywords. Attract users above the fold with your descriptions and optimize them correctly for the YouTube search engine as you would do with a normal SEO meta description. This will help increase the click-through-rate and thus the views, as users will know what to expect in your video.
For instance, here is a description of a video titled "Creating an Effective Content marketing Strategy for Medical Professionals" that is optimized around the keyword "content marketing" –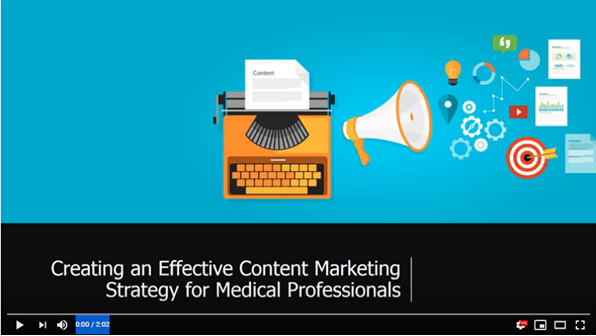 Use tags – Incorrect tag usage is one of the biggest mistakes that affect the growth of your YouTube video's organic promotion. Video tags help distinguish your video content and helps the algorithm understand what users will view when they see your video. Use a unique branded tag so that your videos are shown in related videos. For example, use your brand name in all videos. Use your main keywords as the video tag. Use a variation of your keyword as a tag (take help of the YouTube auto-suggest feature). Search for tags used by high ranking videos and use those in your videos.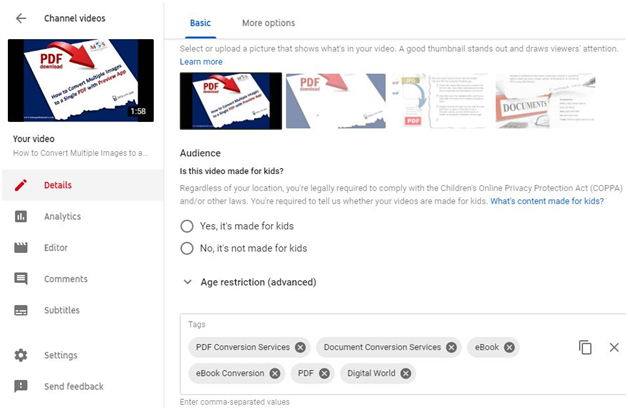 Use a compelling, custom thumbnail on YouTube – Suggested videos are the leading source of organic traffic on YouTube. Users, while scanning through a list of videos to watch are more likely to take a closer look at a video with a compelling thumbnail image. Rather than choosing one of the auto-generated thumbnails, it is possible to directly upload a custom image to attract potential viewers. In fact, ninety percent of the top performing videos on YouTube have a custom thumbnail. A good video thumbnail helps you stand out in the related video and suggested video section. Use high-quality images that feature readable and engaging fonts and facial-close-ups, if they are featured in your video. Moreover, if your video attracts clicks as a suggested video, its clickability is likely to register with the YouTube algorithm.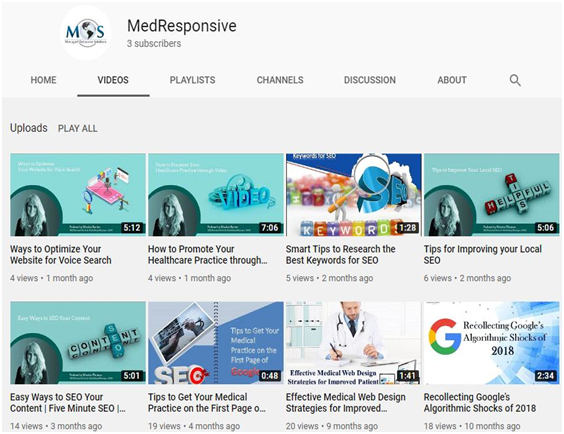 Create transcripts of your video – Captions or transcripts of your videos can help increase your YouTube rankings and make them accessible to a wider audience. Transcripts alert YouTube of what main keywords are featured in your video and greatly increase the chances that your audience will find you via YouTube search. However, closed captions can help get more YouTube views as they cater to international audiences and the disabled.
Use cards – Cards function like pop-ups that appear during the video itself. Creating cards can also help you acquire more channel subscribers, send traffic to your website, donate to a non-profit, or encourage users to participate in a poll.  These cards can be used to encourage users to visit your lesser watched content and subscribe to your channel. Behavioral analytics can be used to see at which point users stop watching your video and implement the card in advance to ensure it gets more number of viewers.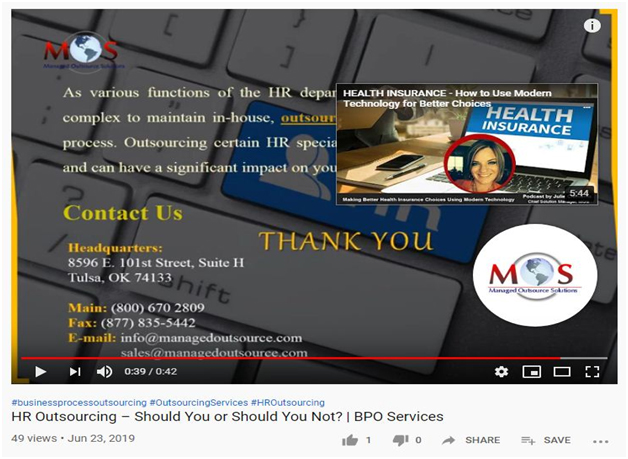 Create end screens – End screens (those last 15-20 seconds content) that appear at the end of the video provide users with all the relevant information regarding your channel, other playlists, recommended videos, and your verified website. End screens are mobile friendly and viewers can simply take the next move before the video ends and thus it keeps the viewer to go with the flow.
Add watermarks – Often called a custom subscribe button, watermarks allow creators to add a branded image (typically a logo) to all of the videos on that channel. Appearing in the bottom part, in the right corner, this YouTube feature allows viewers to directly subscribe to your channel from within the video itself by simply clicking on it.
Create YouTube playlist – Creating a YouTube playlist is a great way to get more views on your existing videos. After the first video ends, your next video will automatically play so that viewers can watch them consecutively. This will help get more number of views for each played video without them having to navigate off the player. In addition, you can embed playlists, post them in your channel, or have users share them to increase the total views for each playlist. Make sure that each playlist is unique and relevant with the order in which they are played.
Promote videos on other social media channels – Social media marketing can help build your brand, improve brand visibility and attract more viewers. Cross-platform promotion, with YouTube can do wondersin driving users to view it. Promoting your YouTube videos on your other social channels is the easiest way to grow your audience. If you have an existing audience on any other social media channels like Instagram, Facebook, LinkedIn, or Pinterest, let them know when you post a new video to YouTube. For instance, if you have an existing audience on Instagram platform and if you are planning to post a video directly on Instagram, try creating a teaser for the full-length video directing users to your YouTube channel (through a link in your bio) for the full video.
Start a blog for your YouTube channel – If you are a full-time YouTuber, try creating a blog that supports your video content as it is quite easy to embed YouTube videos in your blog and get more views.
Get social – Get social with your YouTube platform and respond to viewer comments (especially when someone asks a question). This keeps you engaged with your audience and will help establish your credibility as an expert in your niche. Also, search for other YouTube channels within your niche, subscribe to these channels and comment on their videos. Trying to get engaged authentically and directly can help your channels get accepted by the YouTube communities.
Increasing the total number of views on YouTube takes time. Always keep in mind that none of the above-mentioned tips will be effective in building your YouTube presence unless you are producing great content. Develop YouTube content with your viewers and the changing algorithm in mind. Make sure to create thumbnails that grab the attention of viewers and begin your videos with a catchy phrase; edit the content to keep it interesting. Professional companies offering digital marketing services can help reformat and recycle your content to get more value out of your marketing efforts. Such reliable SEO companies stay current with the changing search engine algorithms and digital marketing practices and help you extend your reach to new audiences.