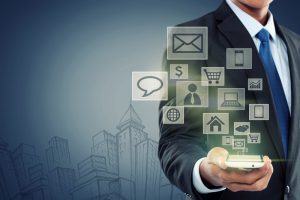 As hospital visits are not so safe during this situation, healthcare mobile apps could help patients avoid unwanted visits to the hospitals, thereby avoiding unwanted gatherings in the hospital. This makes healthcare mobile app development an important requirement. It makes things easy and secure for both the patients and healthcare providers. App store revenue growth remains strong in spite of the impact made by COVID-19.
According to appdevelopermagazine.com, the revised 2020-2024 market forecast published by the App Intelligence firm Sensor Tower states that consumer spending on mobile apps worldwide is estimated to reach $171 billion by the year 2024, whereas it stood at $85 billion in 2019. Also,
for the first time, the revenue from non-game apps is expected to exceed that of game apps by the year 2024.
by 2024, the downloads will be at 183.7 billion, which is 9% up from the forecast that was published before the emergence and spread of COVID-19, which initially contributed to 7 billion fewer installs.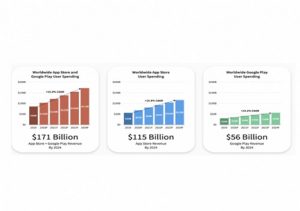 ImageSource:https://appdevelopermagazine.com/scripts/resize/?path=/multimedia/Interesting-Trends_fvuv8tkf.jpg&width=700
The use of travel apps and hospitality apps decreased; despite that, according to App Annie, when compared to 2019, people spent 20% more time using apps during the first quarter of 2020. At that time, consumers spent $23 billion in app stores, that was the maximum amount spent per quarter to date. During COVID-19, the winners are the apps in industries like remote work/communication, social media, education, and online shopping. During the outbreak, the daily active users and downloads increased phenomenally in North America, Europe and Middle East, resulting in a 110% increase in customer spending on these apps.
In North America, video chat and conference apps witnessed a 627% increase in downloads and a rise in daily active users by 121%. So, it means that the need of communication apps is critical.
The usage of some apps could decrease after the current lockdown but other industries may continue to stay after the pandemic. The following are the primary trends that influence the mobile app industry today.
Chatbots: Due to the lockdown situation, service providers have adopted digital ways to interact with their customers. Services like banking, healthcare, online shopping and food delivery work by incorporating chatbots into their apps. Chatbots make it easier for consumers to get the answers for their repeated queries without contacting customer support. 62% of consumers are interested in interacting with the chatbots and there is also the potential to save $8 billion for companies, and so chatbots are likely to increase in popularity and remain so for a long time to come.
Artificial Intelligence: AI is another technological advancement, when used with blockchain, IoT, and Cloud computing it will lead to a digital evolution. The integration of AI enhances the user experience for services like healthcare, banking, and many others. Currently, it is one of the prime tools being used for analysis and research. It provides personalized experiences with enhanced security, and more by way of mobile apps. According to a recent study, AI-powered bots are used by many companies to replace call center employees and are using some temporary workers to fill in their positions. Experts say that the impact of AI will be significant in the technological landscape and also in other fields. As it saves a lot of money and time, it may continue to stay popular in the future.
Augmented Reality and Virtual Reality: To meet the day-to-day needs, many people have turned to online shopping. The availability of 5G network provides a fast internet connection, decreases loading time, improves image quality that enhances the experience of AR/VR. This enables mobile app developers to integrate AR/VR mobile apps and provide users the best experience. For retail shopping, these apps provide a 3D virtual environment for the best experience. Healthcare apps can use this technology to provide medical diagnosis, treatment and therapy. This helps medical-professionals to conduct follow-up with their patients.

This technology provides benefits in many fields such as education, automotive industry, real estate, furniture apps, finance, etc. With the help of AR/VR integrated apps, customers can enjoy virtual shopping experience without stepping into crowded shops. This shows that there will be an exponential rise in demand of AR and VR technology.

Health: According to appdevelopermagazine.com, online consultation apps like Push Doctor, has witnessed at least 70% increase in consultations whereas the e-telehealth application Well, has observed a 400% rise in downloads. Medical apps are seeing growth not only in online video consultation but also in a large number of smartphone gadgets such as those that can monitor the patient's heart rate, sleeping habits, body temperature, body weight, and so on. There are so many healthcare apps available in the market to provide benefits to in health industry such as support to doctors and medical staffs, reduce the risk of wrong diagnosis and reduction in medical bill and expenses.
Beacons: This is a mobile app technology that is useful in location tracking and proximity marketing. This technology has found excellent use in the healthcare industry, museums, hotels, and other sectors. It provides a personalized experience for the user based on their location. For instance, the technology can be utilized by hospitality apps to allow secure check-ins and check-outs and also enables to access information on amenities, vacancies and more. During an emergency, Beacons can also be used to track patients or doctors and provide reliable directions.
Education: The technology and mobile apps have made it possible for individuals to continue learning online in spite of the lockdown, which means that the demand for education apps has increased at this time. In the future, students will start learning using the apps that are assisted with AI. Tests also can be conducted online. Downloadable educational apps like language learning apps have also witnessed a surge in the number of downloads.
At this time ravaged by COVID-19, it is very challenging for patients to meet their doctors. This has led to the growth of healthcare mobile app development, and reliable apps have become a relief for patients as well as healthcare providers. Users enjoy the experience they receive by avoiding unwanted travel expenses, waiting etc. Every operation that needs your actual presence can be done remotely. Digitization makes things easier, faster and comfortable and post COVID-19, you will see a lot more businesses with a mobile app of their own.