Online searches for companies are more common than offline searches, therefore it's critical to make sure your local company listing is prominently shown on Google and Google Maps. Making an excellent listing with a business profile only takes a few minutes and is free. A trustworthy SEO outsourcing company can assist you in setting up a Google Business Profile, which makes it easier for local customers to find your company, and also to promote your enterprise online.
In order to establish your brand's online presence, setting up a Google Business Profile is crucial. Business owners can control the mini-website or citation that appears on the right side of the Google search results page. Prospective clients are likely to turn to Google Search when they are experiencing a micro-moment or a time of need. They will be able to meet their demands as soon as possible if they do this. Therefore, having a Google Business Profile would assist potential clients to find and possibly get in touch with your company to meet their urgent needs.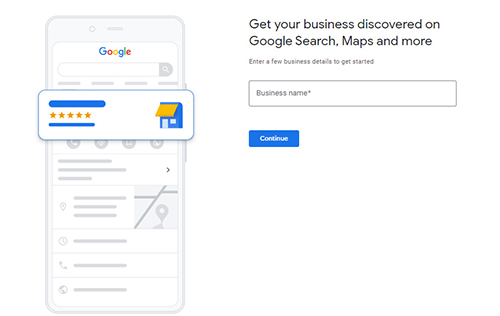 Image Source:
Importance of Setting Up a Google Business Profile
Google Business Profile (Importance of Setting Up a Google Business ProfileGBP) is not a substitute for your website. Instead, it is the supplemental marketing profile that can assist you in boosting website traffic. You may obtain information on how to draw and convert leads to your site thanks to its features, which play a big part in attracting, engaging, and converting clients. These are some advantages of having a certified GBP:
Establish communication with clients via messaging, answering inquiries, or taking phone calls
On Google Maps and Google Search, you can find images, products, and menu items
Demonstrates to you how users of Google Maps and Google Search engage with and interact with your brand and products
You need to first create or claim your Google Business Profile in order to take advantage of the aforementioned advantages. This procedure is easy to understand.
Steps to Create a Google Business Profile
Create a Google account for your business: You must first create a Google Account in order to build a Google local listing. Everyone can get a Google Account, and use it easily. To create your Google Account, you can either use an existing email address or create a new one. To get started, go to accounts.google.com and click on "Create an account."
Go to the Google Business Profile Gateway: Go to google.com/business and click "Manage now." Once you have your new email address, you can get started.
Look for the company: To start, enter the company name to determine if a profile already bears that name. If it does, you will see it show up as you type. Click "Add your business to Google" if the business name doesn't show up. Don't worry if the company already has a Google Business Profile created. You can ask to be given control over the profile's management. You will be taken through the procedure if you simply click "Request Access."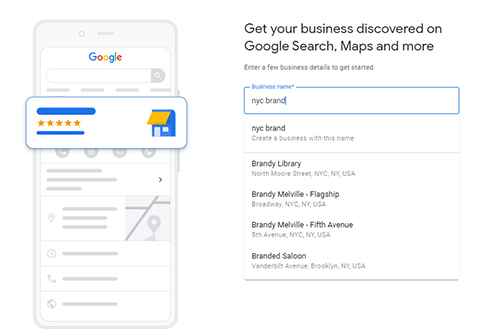 Include the company name and the category: The next step in creating a new profile is to add the business name and category. The name you give in the profile must be an exact match to your company's legal name. Avoid the temptation to include any keywords in the name because Google prohibits this. Select the category that best describes the business next. Don't worry if you're not entirely sure what to choose just yet. You will have the chance to update this within the profile later, as well as to add more categories.
Has the company established a physical location? You must now disclose this information if the company has a physical location that clients can visit for in-person interactions. If so, choose "Yes" and move on by clicking "Next." Choose "No" if the company only operates online or if it has a physical site but doesn't interact with customers there. Avoid the temptation to falsely claim that the company has a physical location to manipulate local rankings. This is violation of the rules and the listing could be suspended or even deleted in the future.
Go to the company location: The address can now be given if the company has a physical location. To verify the location, you might be requested to place a pin on a map. To avoid any client confusion or problems with the verification procedure, it is crucial that the address you provide is precise and comprehensive.
Does the company offer services or deliveries to homes? Select "Yes" on the following screen if this is a service-area business or if the company delivers goods to clients' homes. You must indicate the regions that the company distributes to or services if you choose "Yes." Each time your company grows, you will be able to add additional locations and change this information at a later time.
Add contact information: The business's contact information must be now added. In addition to entering the phone number, you can also include the company website. Tick the box on this page if the company doesn't have a website. You can add this information if a website is later developed.
Know your stuff: You will be asked if you want to receive helpful hints and recommendations from Google before proceeding to validate the business. You are under no duty to accept this information, but you might find it useful.
Check the company: You must select a verification technique at this stage in order to demonstrate that the company is actually open at the provided address. The most typical method of verification is to get a postcard in the mail at the business address, but you may also have the choice to confirm by phone or email. While verification is underway, you can still edit and update GBP, but Google will not display the profile during this time.

Postcard verification: All firms have access to this kind of verification. The company address will receive a postcard, which should be there in five days. The postcard will have a code on it that needs to be input in the right spot in the GBP account. You can ask for a replacement if you don't get the postcard.
Phone verification: While not all organizations have access to this option, some can verify their accounts over the phone. If you qualify, this choice will appear on the verification screen. If you choose to use this option, an automated phone call will call you and give you a code.
Email verification: The email alternative isn't available to everyone, much like phone verification. You can ask for a code to be sent to your inbox if you have the ability to verify by email. Only the email address linked to the GBP account will be able to do this.
Add your hours of operation: It is crucial to include your business hours so that potential clients will know when to come by or get in touch with you. The hours you indicate must be exact, and you must always update this information if your operating hours vary, whether they do so permanently or just temporarily. Your business's hours may temporarily change for a number of reasons, including statutory holidays or sick employees. It's a good idea to inform your customers in these situations.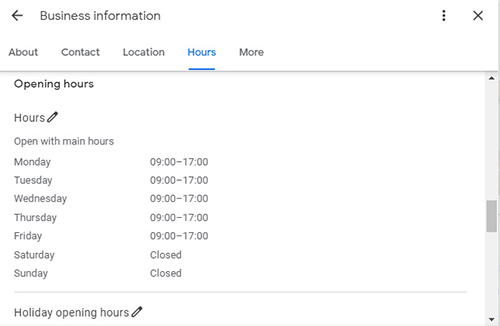 Include business description: Giving the customers a description of the company will enable them to determine whether it meets their demands and what it is all about. You have 750 characters to utilize in this part, so make the most of it by using them to succinctly and clearly convey the most crucial facts.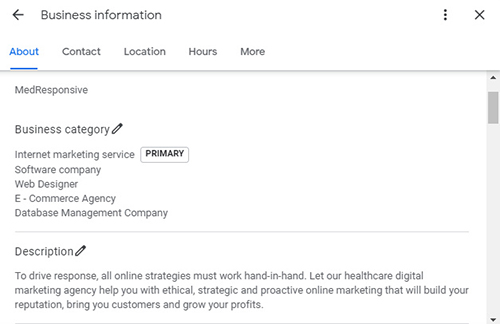 Add pictures: Including images is a great approach to give potential customers a better idea of the company and a taste of the brand. Customers have the option of adding their own images to the listing, and some will do so while writing a Google review for you. It's a good idea to mix in a few of your own images among the user-generated content because you won't be able to control the order in which photos appear on your listing. Make sure to highlight various features of your goods and services as well as various locations within your actual establishment.
New clients can access your goods and services online thanks to your Google Business Profile account. Use GBP to your advantage to begin enticing, engaging, retaining, and even converting new clients as soon as you can. For help in setting up a Google Business Profile, businesses can turn to a trustworthy SEO outsourcing company.