Medical practices and businesses need a medical website as part of digital marketing for healthcare. An optimized website design is essential to build a strong online presence. It helps to display your information and attract the target audience to your website. However, just having an optimized website is not enough. The dependency on mobiles has started to penetrate into the healthcare industry also and medical businesses are investing in mobile app development. This is with a view to providing better service to healthcare consumers.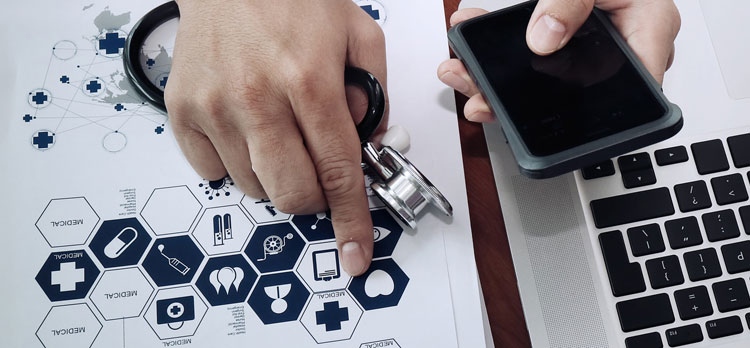 The global mHealth app (mobile health app) market is expected to grow to USD 102.35 by 2023 from USD 28.320 billion in 2018, according to Research and Markets. The driving factor behind the growth of mHealth market is the increased adoption of smartphones and heavy investment in the digital market. According to Accenture research, healthcare consumers continue to show strong use of digital technology and 75% of consumers surveyed said technology is important to managing their health.
The Right Technology for Your Web and Mobile App
The first and foremost step in choosing the right technology for your web and mobile app is to define your objectives, target audience and technical requirements. There are different types of apps – native apps, hybrid apps – and nobody wants to spend money on an app that can have negative consequences later. So, it is important to first understand how mobile apps and web apps work and understand the difference before using these for your business.
Native applications: Most of the mobile applications emerge from native applications. Native apps do not have multi-platform capability. An iOS application will not be compatible with Android, Windows or Blackberry phones. That means, apps have to be developed to suit each telephone, or you have to develop 4 unique applications. This could be expensive but ensures greater returns for your business. Native mobile apps can in most cases work with no internet connectivity based on the nature of the app. These can work much faster using the power of the processor. It can also access specific hardware such as GPS. Native mobile apps are distributed via app stores. Native apps can use push notifications to increase the app's use and encourage specific paths and goals within the app. They ensure a responsive, fast and excellent user experience.
Web applications: Web apps run on all devices, irrespective of the framework. However, web apps could experience issues showing well on a few programs and screen sizes. A web app works via a web browser on the smartphone but requires a cell signal or Wi-Fi to function. These apps can be more quickly developed and at significantly lower costs.
Hybrid applications: A hybrid application combines native and web app features and has multi-platform capability. These can function whether or not the computing device is connected. Major features include integration with the device's file system and integration with web-based services. A hybrid app has an embedded browser to improve access to dynamic online content.
Once you know the advantages and disadvantages of each application, you can choose apps that are most suitable for your medical business. Be reasonable when you choose a technology because a wrong choice can have a negative impact including financial loss.
Here are some important considerations when deciding on a mobile or web app for your business.
The budget you are working with
How fast you want the app to be developed
Your objectives in developing the app and the features you need to achieve those objectives
The experience you want to convey with the app
Whether you plan to develop the app in-house or outsource mobile app development
Technology is taking the lead in healthcare and the demand for mobile healthcare apps is growing day by day. Majority of the users now reach out to their mobiles to obtain information from the Internet. The mobile platforms have completely redefined the healthcare industry and also altered the traditional form of relationship among doctors and patients. It has become very important for medical businesses to have a mobile or web app to provide a unique consumer experience as well as stay competitive. A reliable mobile app helps physicians to monitor several aspects of their patient's health, and allows patients to communicate better with their care providers. This has made mobile/web app development an important part of digital marketing for healthcare.