Google recently rolled out their first big Core Update of the year 2020. This algorithm update was released on January 13, through Google's SearchLiaison Twitter account. With this update, the search engine giant continues its communication strategy of (pre-) announcing Core Updates on Twitter. Companies providing digital marketing for healthcare must be aware of any such updates and change their strategies accordingly.
During the release, it was said that this core update may take up to two weeks to fully complete. Danny Sullivan has confirmed that this will be a global update, which means that this update impacts all searches in all regions and in all languages – not just US/English. However, the impact of the January 2020 Core Update is not yet established.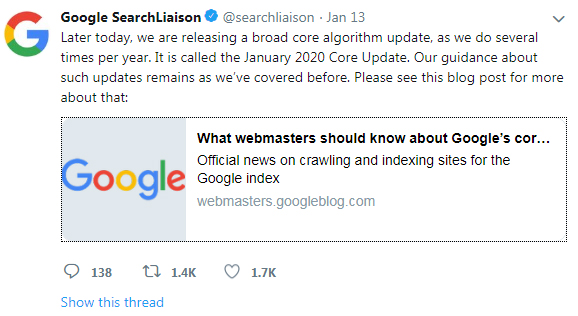 Core updates often affect the organic rankings of many websites. Google has released so many core updates in the past few years and some of those updates that had the greatest impact include the November 2019 update (November 7, 2019), BERT update (October 24, 2019), Site Diversity Update (June 6, 2019), Medic Update (August 1, 2018) and Mobile Speed Update (July 8, 2018).
Based on this update, the only piece of advice given by Google is to refer back to the August 2019 Google Webmaster Central blog so that you will get more idea about core updates.
What to do if your site's ranking is affected?
Have you noticed a sudden, significant drop in your site's rankings after a core update? Then, Google has explained what to do in their August 2019 blog post. In such a scenario,Google says that there's nothing wrong with those pages. What has changed is how its systems assess content overall.
What you can do is –
Make sure to provide the best quality content
To self-assess whether you're offering quality content, Google has already provided a set of questions to ask yourself about the content, which include
Does the content provide a substantial, complete or comprehensive description of the topic?
Does the content provide original information, reporting, research or analysis?
Does the headline and/or page title provide a descriptive, helpful summary of the content?
Is the content free from easily-verified factual errors?
Is the content free from spelling or stylistic issues?
Does the content have an excessive number of ads that distract from or interfere with the main content?
Does the content provide substantial value when compared to other pages in search results?
Focus on the EAT sections and quality rater guidelines
Consider reading the search quality raters guidelines and focus on the EAT sections. E-A-T refers to Expertise, Authoritativeness and Trustworthiness. Reading the rater' guidelines help to review how good your content is, based on an E-A-T point of view and you will understand the improvements to consider. Though rater data is not used directly in ranking algorithms, understanding how raters assess good content might help to improve your own content.
Google blog also explains that content that was impacted by one algorithm or update might not recover until the next broad core update is released. This highlights that improvements made by site owners will not recover the affected pages. Quality and informative content will rank high. Medical content writing services provided by experienced SEO companies will help healthcare businesses more effectively meet their SEO goals.
Improved Rankings for Our Websites!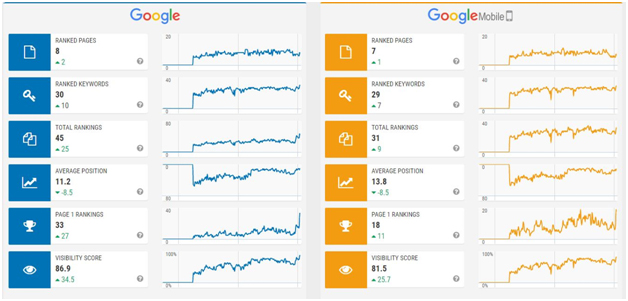 The January 2020 core update is expected to impact all search results on a worldwide scale. It has had a definitely positive impact on MedResponsive's own websites as well as those of our clients, whether mobile or desktop sites, in terms of both page rankings and keyword rankings. This is a very rewarding development, and our digital marketing team attributes it to our constant focus on unique content creation and timely updating of all types of content. We are gratified and consider it a payout for all the efforts we take in coping with the changing SEO standards and requirements. However, we understand that this is not the time to rest on our laurels, but continue honing our content marketing and other SEO strategies in keeping with all advanced search engine algorithm requirements.