Email marketing can seem like a waste of time to some individuals. However, many companies continue to utilize emails to drive sales, improve customer engagement, attract clients, raise brand awareness, and reward client loyalty. 86% of consumers want to get promotional emails from businesses they do business with at least once a month, according to HubSpot, with 15% preferring daily emails. Email marketing is popular across generations, according to Statista (June 2022), because it enables firms to reach large audiences efficiently and affordably. The easiest approach to publicize a sale, communicate corporate news, or remarket to past clients is via email. Given all of these facts, it is crucial that firms use organic SEO companies to execute efficient email marketing tactics.
Email Marketing Strategy Tips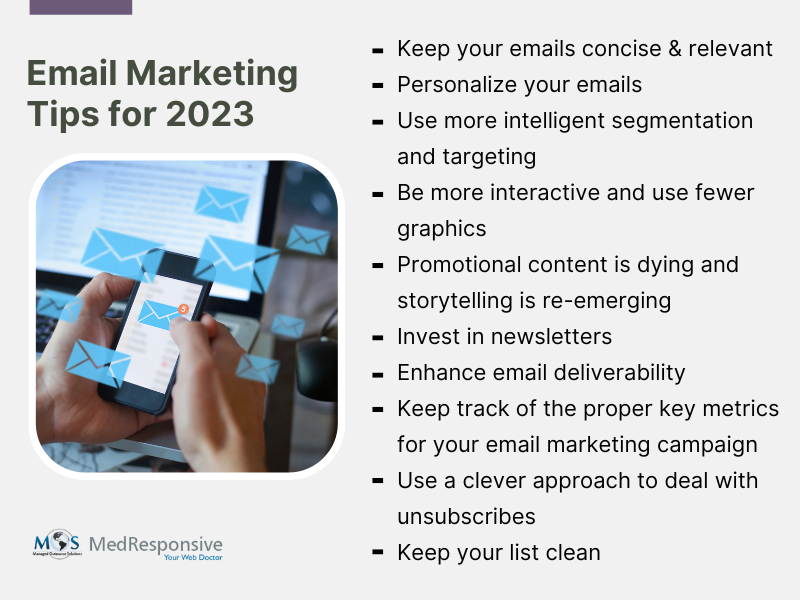 Keep your emails concise and relevant: Almost 120 emails are sent and received daily on average. Your email can be overlooked in the sea of others vying for the recipient's attention. Keep your emails topical to make them more relevant to your users and encourage them to open them if you want to stand out. For instance, if someone purchased shampoo, they are more likely than not to reply to an email that is specifically about shampoo or hair care. Thus, whether it's a follow-up email or a cold email sent by a platform for cold emailing, make sure it's pertinent and addresses the recipients' requirements and interests. You must categorize your users into several groups depending on their behaviors in order to enable contextualization.
Personalize your emails: Personalization is a great method to capture readers' attention, but your contacts may be accustomed to the standard uses of personalization. Personalization will continue to play a significant role in email marketing in 2023, just as it always has, but in more novel and attention-grabbing ways. Your copy will stand out even if you just use the reader's first name in the middle of a paragraph rather than the traditional greeting. The realm of personalization is your oyster if you are gathering useful information about your contacts. Personalizing your emails with mentions of the state you reside in, the thing just purchased from you, or the membership renewal date are some examples. Using personalization in unexpected ways rather than the usual ones is a terrific email marketing technique to add more value to your emails and surprise your contacts.
Use more intelligent segmentation and targeting: Email marketing systems' tools for audience segmentation and personalization are gaining superior position as they get better at gathering, combining, and using data. Marketing emails won't have a chance in 2023 unless they are sent to the appropriate audience, at the appropriate time, and with material that is pertinent to the recipient. You'll be able to set and forget email campaigns that will be sent to each contact at specific times and with specific content as long as you've embraced an intelligent email marketing platform. You need precise data to segment your database and identify whom to target with a particular copy. The following tools will be useful in this situation:

Centers of preference (replacing ordinary subscription forms)
Dynamic material (replacing static copy)
Engagement meter (further segmenting your contacts by how they engage with your brand)
Conduct-based triggers (sending emails to contacts based on their behavior)
Be more interactive and use fewer graphics: Graphic-heavy, website-like emails were once innovative and popular, but as email marketing has expanded across all brands and contacts are subjected to an increasing amount of promotional content, these graphic rich emails are now less successful at attracting readers' attention. Ironically, as email marketing has increased, it is the simpler, less graphically complex emails that stand out from the competition. In 2023, more companies have chosen to send emails that are primarily text with compelling calls to action and chances for interaction. For instance, a text email with a recognizable style, probably one graphic (header), and obvious buttons for interactive elements. Email marketing that is interactive will be more well-liked than those that only use one-way communication. This necessitates redesigning your promotional programs so that they behave more like journeys with lots of opportunities for the customer to engage with your business.
Promotional content is dying and storytelling is re-emerging: Your contacts will be much more selective email users in 2023, as was already mentioned. This is due to the fact that a typical office worker receives around 121 emails every day. Brands will need to create campaign journeys with numerous emails included rather than launching one-off promotional campaigns. For much more selective readers, these travels will need to communicate some type of story in order to capture and hold their interest. A strong personal voice is necessary for storytelling as well. So, in order to develop a brand's personality, you must create and maintain powerful tones. Storytelling should be simple with a strong brand identity.
Invest in newsletters: The year of the email newsletter will be 2023! It's time to devote more of your efforts on your newsletter. This might be a brand-new layout, new ideas, a new design, or a stronger focus on narrative. It's time to stop writing long newsletters; concise is better. More frequently, tell a story about your company or brand in chunks. Biweekly newsletters foster relationships with your readers and boost engagement.
Enhance email deliverability: Email deliverability has long been a problem for marketers, but now that email is a common marketing technique, the impact is considerably greater. Returning to segmentation and contextualization, you should only send emails to the groups of recipients who are most likely to open them in order to increase email deliverability. As a result, your emails are kept in the "updates" folder by the mailing algorithm, which is informed that they are not spam. Other, seemingly unrelated elements, such as content and inventiveness, have an impact on email deliverability. The reasoning for this is that emails that don't look or read well end up in the trash, which has an influence on future deliverability. Also, it is essential to select an email marketing platform or email marketing services with high overall deliverability rates.
Keep track of the proper key metrics for your email marketing campaign: The most important and well-known metrics to monitor are open rates and click rates, but there are a few more that shouldn't be disregarded, such as:

Deliverability and rate of delivery
IP reputation
ROI and conversion rate
Subscriber health
Use a clever approach to deal with unsubscribes: Considering how challenging it is to build an email list, an increase in unsubscribe rates might be demoralizing. Yet, it's crucial to provide an opt-out option for your email subscribers. Making the process challenging has a negative impact on the brand and customer perception. By allowing disinterested consumers to opt out, you can maintain a healthy email list that requires less maintenance.
Keep your list clean: If you didn't remove inactive subscribers in the previous years, it's imperative that you do so in 2023. Also, you should preferably update your email list twice a year. If you don't, it can affect how well emails are delivered. Your analytics will provide a more accurate picture because subscribers whose email addresses may have changed won't have an impact on them. It's great practice to send a win-back email before refreshing your subscriber list by eliminating inactive subscribers. It's worth a try; you might just attract a few people who wish to stay on your mailing list. You should remove from your list with no remorse anyone who doesn't respond to this email of re-engagement.
You may improve sales at a low cost by reaching and connecting with your target audience with a great email marketing approach. Depending on your demands, your infrastructure, and the competence of the company, it is a flexible and scalable solution to achieve complex marketing goals. All of the above mentioned tactics, coupled with help from organic SEO companies, can aid businesses in developing an email marketing plan that will increase sales.
Let's create impactful campaigns that drive results!
Contact us now and watch your email marketing soar.