Patients are relying on healthcare websites for many things right from symptoms checking, remote consultation, to locating nearby healthcare providers, scheduling appointments and paying bills. Therefore, it is important for healthcare organizations to design and develop a great medical website. A website is the first point of contact between a patient and a healthcare practice. It plays a key role in enhancing user experience. The first impression that this encounter imparts can create a long-lasting impact on patients and build brand reputation and profitability in the long run.
Hospitals often have a large amount of information to present on their website. Not following current design standards will make the website quite incompatible with or complex to browse on mobile devices and smartphones. Medical website design services provided by professional firms focus on creating innovative designs with unique content that helps a healthcare practice improve their online visibility.
Tips to Consider While Designing a Medical Website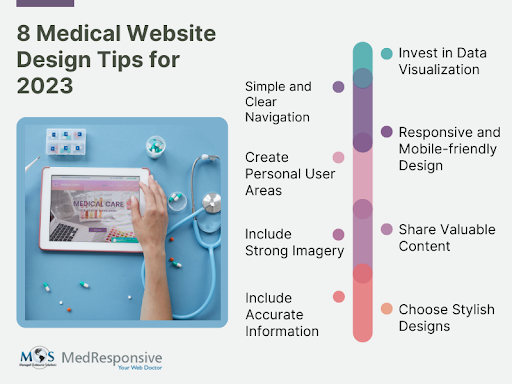 Invest in Data Visualization

Data visualization can help patients make sense of their health
It shows even complex information in easily digestible format

Simple and Clear Navigation

Clear navigation keeps visitors engaged with the content
Users will be encouraged to spend more time on the website

Responsive and Mobile-friendly Design

Make sure the website displays properly on all browsers and devices

Create Personal User Areas

Personal user areas keep the website more customer-focused

Share Valuable Content

Create and share valuable content to the patient base
Share valuable content in diverse content formats

Include Strong Imagery

Add strong visual content to enhance user engagement
Make sure that the images serve the overall goals

Include Accurate Information

Add working hours, location, and contact details
Ensure that the contact information is the same on all platforms

Choose Stylish Designs

Choose modern designs that can enhance the patient experience
To stand out among other competitors, it is important for practices to create a stylish and unique medical website design with valuable content. An experienced medical website design company can design an aesthetically appealing website for you with distinctive content. This will help increase search engine rankings and the patient acquisition rate dramatically. As the patient inflow increases, the competition among healthcare providers will also increase.