One of the most significant ranking factors still used by Google and other search engines is links. Links help search engines find new content, and they also contribute to their evaluation of the value of that content. A healthy link profile is viewed as a positive indicator by Google. Good links are similar to votes in that they attest to how valuable the material is. However, Google continues to modify their algorithm to identify erroneous connection patterns, which gives rise to a number of fallacies. There are various misconceptions around link building. Some people have lost faith in SEO as a result of these misconceptions, which limits rather than expand the potential available. In order to adopt the proper link building techniques, it is crucial to contact a trustworthy organic SEO service.
Want to improve your link building strategy and avoid falling for common myths?
Contact our organic SEO company and take your website to the next level!
Importance of Link Building
Building links to your website from other websites is known as link building. The objective of link building for search engine optimization is to increase the number of high-quality inbound links to a web page in order to improve ranking. As links are one of the key ranking factors used by search engines, link building is crucial. When they crawl a website, search engines like Google take into account the number of relevant inbound links to that page. A website will rank better the more links of better quality it has.
Myths about Link Building
Even though link building is one of the three pillars of SEO, there are myths and misconceptions about link building. So, here are some of the myths that you should be aware of:
A "Top" Google Ranking Factor Is Backlinks: This misconception originated from Andrey Lipattsev, a senior strategist for Google Search Quality, who claimed that links, content, and RankBrain were the company's top three ranking determinants in a Google Q&A. Google uses a variety of algorithms to determine the results of various queries for various user intents, making its ranking factors dynamic. However, the question is: Do these pages' high rankings result from their backlink profile, or do their high rankings result from their abundance of backlinks? Everything is relative. If a Position 4 result received twice as many clicks as a Position 2 result received twice as many backlinks, which outcome would win out in the end? How do Google and Bing compare each of these factors to the others? When most other parameters are kept constant, links may have a greater impact on first-page search results.
Links from irrelevant websites won't be counted: In a perfect world, websites in your industry would link to you naturally because it makes sense. These are frequently your rivals for many of you, as well as unusual connections to make. In a highly competitive world, widening the relevancy gap when seeking for link opportunities is frequently required to consistently build high-quality connections. When considering which websites to receive links from, investigate chances that are one or two steps outside of your primary market. By doing this, you can generate 10 times as many and ten times better link prospects, as well as find link-earning chances you might have otherwise overlooked. Consider that you sell life insurance. You may look for websites in complementary categories like healthy living and family planning, which are typically more resource-heavy, rather than attempt to only gain links from other life insurance websites. Finding strong domains to source links from (those with plenty of high-quality backlinks pointing to them) will enable you to transmit more link equity to yourself. To do this, you must create a comprehensive plan for linkable content that is targeted at these audiences and provides them with content that they will want to link to.
Internal linking doesn't matter as much: Many webmasters neglect internal linking optimization as one such area. It can be challenging to administer and maintain, particularly for huge e-commerce websites and other very large websites with frequently changing pages. In reality, optimizing your internal links is one of the easiest strategies to increase your SERP visibility, especially for mid- and long-tail keyword terms. You have the option to change the internal link anchor text for certain pages through internal linking, which will improve their ranks for a wider range of keywords. Early on in most SEO campaigns, internal linking optimization is often done, and it almost always results in a measurable increase in a site's share of search, which is measured by the quantity of keywords that rank in Google, the average ranking of those phrases overall, and the total amount of non-paid Google organic traffic that visits the site. And within 30 days of optimization, this frequently occurs. It enables you to manage the placement of links on your website and gives users and Google bot an alternative route to navigate. Linking related content and commercial sites together across your website is one of the first things you should do, especially if any of those pages have backlinks to them. This will not only contribute to the development of topic authority but also convey link equity to the most important pages.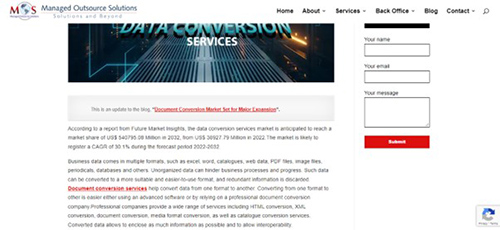 Image Source:
Use of link networks or guest blogging is useful: For many years, Google has been quite clear that using link-building techniques like guest blogging and link buying is against their webmaster guidelines. It's time to quit if you're currently acquiring connections of this nature, especially if they're many or make up a sizable portion of your backlink profile. It makes sense why so many people gravitate toward these strategies. They are affordable and simple to scale. They may even offer a temporary boost, but it won't be long before Google eliminates them, returning you to square one. The good news is that Google has chosen to just overlook these kinds of links in your backlink profile over the past few years rather than penalize you for them. However, there are still times when penalties are applied, so it is advisable to avoid risk altogether.
Link building is dead: In fact, Google has been making this claim for almost ten years. Google's link data and dependency on it to determine search engine rankings are two elements that have historically set it apart from every other search engine. That still holds true now. Nowadays, there are more ranking factors than there were ten years ago. In addition, Page 1 of Google currently seems very differently than it did back then. Links by themselves are insufficient for optimization. As they always have, Google probably wants to continue discouraging artificial link building, so it's not surprising to see this statement even today. Interestingly, consistent quality link building yields stronger outcomes over time, probably because Google keeps penalizing low-quality link-building strategies. The best things are always at the top. However, ranking a website for valuable keywords in a crowded industry will continue to be challenging for the foreseeable future without deliberate linking.
To pass value, links must achieve a minimum Domain Authority (DA) or other score: Webmasters frequently make the error of choosing link chances based solely on external indicators like Citation Flow, Domain Rating, or Domain Authority. The domain scores from different data providers frequently differ from one another. These solutions only have a small portion of Google's crawl. There are many things they overlook while calculating a site's score because their datasets and algorithms are all different from one another. However, none of these scores are taken into consideration by Google when deciding how to rank websites or handle connections coming from them. Use common sense rather than dismissing connection opportunities because of low DA. Verify whether the site is real, meaning free of SEO or commercial motive, and whether it would link to you in a natural way because your material complements theirs. If so, even with a low score, it's probably a chance you shouldn't miss. A link from a domain with low authority, such as a local library or a website with useful resources, can pass link equity. Additionally, it can direct traffic.
Link building alone is enough: Although links are frequently required to rank in the majority of competitive verticals, they are rarely the primary factor. Links are frequently thought of as the "magic solution" to improve one's ranking. And in certain cases, links are what they require the most. But there are numerous presumptions attached to links' capacity to convey maximal value. You won't gain fully from them if your website is full of technical issues, has poor content, or provides a bad user experience, even though they can be the biggest needle mover. The latter is particularly accurate when your website starts to appear on Page 1. If you offer a bad customer experience, you won't likely stay there for very long time. It's also crucial to note that Page 1 of Google is no longer comprised of the "10 blue links" of old. You're missing out on a lot of traffic chances if you don't optimize for a range of search elements, such as images, videos, People Also Ask, carousels, and so on. Especially on mobile, there are frequently dozens of results to click on before getting to the top organic result. Links by themselves won't help you get many of these placements, either. While organic rankings still come first, don't discount the other Page 1 real estate chances. To increase your SERP visibility, you must have a plan in place for optimizing your content, images, videos, and schema.
Building links is a dynamic but significant ranking element. A key component of any digital marketing plan should be constant link building if your company depends on SEO traffic. For your marketing effort to succeed, be able to recognize lies and adhere to the best link-building practices. Businesses can benefit from effective link-building techniques with the aid of a trustworthy organic SEO services..