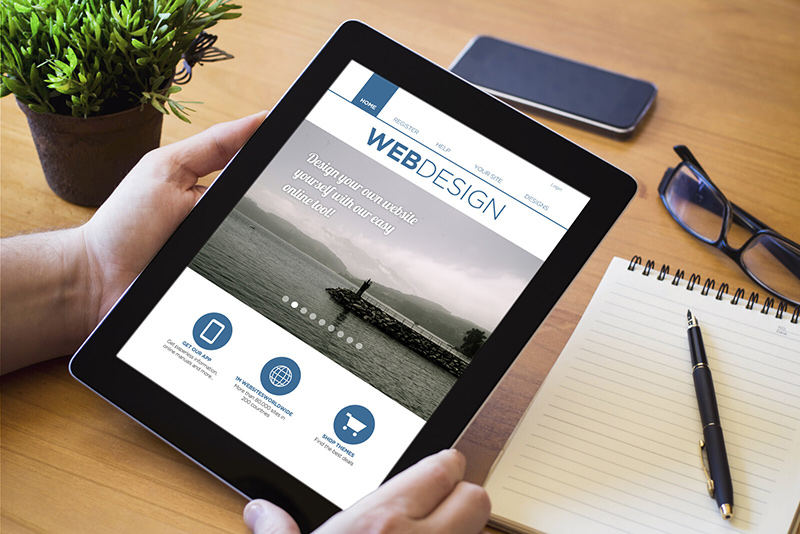 With changing times when people embrace new conditions created by the global COVID-19 pandemic, patients are increasingly depending on the internet to locate healthcare providers and avail services. Right from symptoms checking, remote consultation, to locating nearby healthcare providers, scheduling appointments and paying bills – patients are depending on healthcare websites. Therefore, building a solid web presence is essential for all healthcare organizations. A good medical website design plays a significant role in providing a great user experience. In fact, it is the first point of contact between a patient and a healthcare practice. A good medical website design provides a good user experience, and enables patients to easily communicate with their physicians.
Creating a responsive website design for a healthcare facility can be challenging. This is primarily because hospitals often have a large amount of information to present on their website, and struggle to do so in such a way that does not confuse or overwhelm their visitors. In other cases, many hospital websites were created several years ago and hence no longer conform to the present-day design standards, making them quite incompatible or complex to browse on mobile devices and smartphones. Medical website design services offered by reputable firms can help create innovative designs with unique content that help a healthcare practice improve their online visibility.
Why Do Hospitals Need Web Design Standards?
Each industry has its own set of web design standards and in most cases they are very similar. However, hospitals must be mindful of the fact that a large majority of people visiting their website must be experiencing an emergency or will need to find information very quickly prior to a visit. For this reason, it is important for hospitals to follow a set of web design standards like – easy navigation, present the most commonly accessed information and files (from a central location) and ensure full accessibility on mobile devices. When planning for website design for hospitals, it is important to keep these points in mind. Without these standards, the healthcare website may not be able to quickly and accurately serve those people who are in emergency situations, which may in turn lead to them visiting another healthcare provider.
Designing a Medical Website – Tips to Consider
A medical website is the first point of contact between a patient and a healthcare practice. The first impression that this encounter imparts can create a long-lasting impact on patients and build brand reputation and profitability in the long run. Here discussed are some of the top medical website design tips that may help improve patient experience and encourage visitors to spend more time on your website –
Invest in Data Visualization – A unique concept that many organizations in healthcare and other industry have started adopting, data visualization can help patients make sense of their health. In the healthcare industry, the data visualization concept shows user's complex information in easily digestible format so that they can quickly make sense of it without any assistance.
Simple and Clear Navigation – Navigation is one of the crucial aspects of medical website design. As most users browsing a healthcare website will be searching for information in a hurry, website navigation needs to be easy. Clear navigation will keep visitors engaged with the content and encourage them to spend more time on the website. This in turn can lower bounce rates and send positive signals to Google, which can boost search engine optimization (SEO) efforts. On the other hand, if it does not meet the required criteria, visitors are more likely to leave a website to find a similar site and thus go to a different healthcare practice. Preferably, a medical website must have a menu of about 5-6 "top-level" items that sit at the top of the homepage. When the visitor hovers over each item, the menu can then expand to show additional "sub level" items, all of which can be clicked for additional information. For instance, a medical website design may include items like "Visitors," "Patients," "Services," "Staff," and "Forms." When hovering over "Patients," the menu would expand to show choices like "Forms for New Patients," "Inpatient Procedures," "Emergency Information," and so on. This keeps the menu concise and the homepage clean, but offers a logical organization that can be followed by any visitor.


Source link – https://www.nicklauschildrens.org/medical-services

Responsive and Mobile-Friendly Design – Website design for hospital and medical organizations should conform to mobile-friendly standards. Responsive design is a nearly future-proof form of web design that allows a website to dynamically adjust its display properly on all browsers and devices of all shapes and sizes. It keeps patients and their families who often use their mobile phones in a hurry, from having to scroll and pinch-zoom to find a hospital's phone number or address. Investing in a mobile-friendly design ensures that the healthcare website provides a consistent experience to all visitors (both now and in the future), no matter what devices are released.
Create Personal User Areas – To make the medical or pharmaceutical directory more customer-focused, develop personal user areas. Developing personal user accounts helps patients schedule appointments, contact a physician or check test results. By creating user areas, a healthcare practice is adding more convenience to their site scanning. For instance, the "MyChart platform" designed by the Children's Hospital Colorado allows people to sign up by only requesting an access code and entering a few personal details.


Source link – https://mychart.childrenscolorado.org/MyChart/accesscheck.asp

Share Valuable Content – Creating and sharing valuable content to the patient base is a cost-effective opportunity that takes a healthcare website to the next level ahead of the competition. While this will encourage existing patients to regularly visit the website, it will also inspire first-time visitors to click through to other content on the website. If the visitors are likely to find that their medical needs match the healthcare practice level of expertise, they are more likely to schedule an appointment or reach out to learn more. Consider sharing valuable content in the form of regular blog posts and articles, Q&A sections, infographics and patient reviews – as this will serve as a solid foundation for their content marketing strategy.
Include Strong Imagery – Including strong visual content can help convert a medical website design from plain to engaging. In fact, content with effective imagery consistently outperforms text-heavy pages in terms of views and shares. In case of a medical website design, featuring high-quality and original images and videos them to showcase the quality of products and services that they provide, so that prospective patients can determine if the offerings align with their specific needs. Make sure that the images are up-to-par, serve the overall goals, and capable of converting visitors into patients. In addition, share images of physicians so that patients know in advance whom they are booking an appointment with.
Clear Working Hours, Location, and Contact Information – Place your operating hours (for specific departments or offices), full address, phone number, email addresses, and any other contact information on your website. In fact, this information needs to accessible via the home page in a "Contact Us" link in the menu and perhaps sitewide footer. By making these easily accessible and clear, it is ensured that those patients who are accessing a website in the event of an emergency can directly locate the hospital without searching around with the menu or additional pages to find the phone number or any other information. However, it is important to make sure that the contact information is the same across all areas like Google+ listings, social media pages, and even different pages on the original website.
Choose Stylish Designs – Nowadays, patients prefer medical websites with sleek and stylish designs. to create a compelling website design for a medical clinic, choose modern designs that take minimum time to load and have unique color schemes that enhance the patient experience.
Showcase Brand Message – Usually, people visiting a medical website are busy, which means they may not have time to search too in-depth or may give up quickly if the information they need isn't immediately available. Your medical website design must clearly convey your brand story, what kinds of services you offer and define what makes your healthcare practice unique from competitors in that specific area. Start by making it immediately apparent which specific medical areas that a hospital is specialized, type of services offered, and type of patients treated. This will make people feel more confident in choosing your healthcare practice for their medical procedures.
A medical website customized for a specific specialty and services is important to make your healthcare business visible to potential and existing patients. As the patient inflow increases, the competition among healthcare providers will also increase. To stand out and obtain dominance among other competitors, create a stylish and unique medical website design with valuable content. A reputable medical website design company can help create an aesthetically appealing website with relevant content. This will help increase search engine rankings and the patient acquisition rate dramatically.