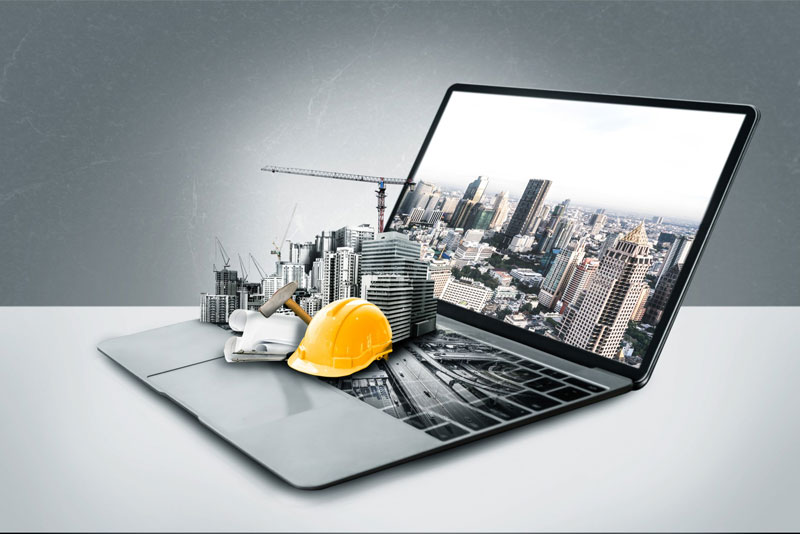 Tips on How to Implement an Effective Local SEO for Your Construction Business
Are you running a construction business and looking for innovative SEO strategies to implement to boost its online presence? Or are you a beginner in your industry planning to get a new website for your business?
The building and construction industry is extremely competitive. While some builders provide a wide range of services, there are others providing very specific services. In most cases, construction companies don't realize how powerful their website can be for business and hence pay little attention to it. In fact, neglecting a website means missing out on tremendous opportunities to showcase their expertise and prestige, and to expand to new markets.
The significance of leveraging local SEO to attract more customers becomes evident at this juncture. In simple terms, local SEO means optimizing a website to increase leads, traffic, and overall brand awareness that it would gain from a local search.
By not optimizing for local SEO, construction companies or businesses are not only missing out on a huge group of customers but also keeping themselves behind their competitors. In fact, local SEO for multiple locations is paramount for driving success for businesses with multiple branches or geographic footprints. This ensures that the business appears in the top search results when people in that area search for services related to the business' offerings.
Relevance of Local SEO for Construction Business
It is important for construction businesses to maximize their brand online. Here discussed are the benefits of local SEO for a construction business –
Better Lead Conversion – When compared to general searches, local searches have a better lead conversion record. It is estimated that nearly half of the people who run a local search on their phones visit the searched business the same day. Statistical reports also suggest that about 18 percent of local searches on the phone convert into a purchase decision within a single day. This is an excellent conversion rate when compared with other lead conversion rates.
Clients' Accessibility to Useful Information – Generally, a potential client of a construction company is more interested in knowing the office address, operating hours, and phone number than any other information. Local SEO makes sure all such information becomes readily available to users in relevant search queries.


Source: Google Search

Credibility and Prominence – Not just your business, any business cannot succeed without trust and credibility. Customers won't recommend you if they don't trust you and see you as a trustworthy business. The credibility of a construction company is an essential factor for Google to determine if they deserve a spot in top search results. Google uses several pointers to assess the credibility of a construction company and local SEO can play a major role in forming this credibility.

So how to build trust and retain credibility online?

No doubt, credibility cannot be established overnight, but you can engage in certain key strategies that will help build credibility more effectively.

The following tips are great for building your business credibility.

Focus on Communication and Transparency

The key point in building trust and credibility mainly is to stay honest in your business dealings and be sincere to your customers. They expect transparency and so you need to be straightforward about the business and your goals. The higher the quality of the content, the more valuable it is to your audience. Make sure your content is effective and transparent enough to communicate your ideas to your targeted audience. In-depth, unique, trustworthy and informative content help you stay on the top search engines results pages.

Succeeding in each project your company handles will lead to getting more recommendations and will automatically market your business as a credible one.

Share your Knowledge in the Industry

Whether you're a beginner or an established construction company owner, find ways to share your knowledge in the industry by publishing informative blog posts, articles, newsletters, white papers and more. Discuss the projects you handle in detail on a separate web page and highlight it in the home page. Here are two examples of how you can do it.


https://henegan.com/


https://www.gilbaneco.com/

Share and Celebrate each Achievement

Let that be serving your first customer or winning an award, or completing a long-term construction work successfully, make sure you celebrate and share your achievements. Showcase your wins and happiness to build your credibility. Let your targeted audience know what you do and what makes your service unique. Spotlight your achievements on social media as well as your business website. Share the images and videos of your projects on social platforms, where your potential clients are.

Ask for Reviews and Testimonials

Sharing your customer's experience is a golden marketing tool you can use to attract your targeted audience and improve brand awareness. Be sure to ask for reviews and testimonials from your customers, mainly if your service aptly addressed their concerns. Focus on your happy customers and communicate with them, which adds to your own credibility.

Relevance– As with any search engine optimization practices, search engines look at how relevant a page is to the keyword the user typed in – how well does the content on your site match the query?
For instance, a website optimized for "home construction" will appear first on pertaining keyword searches in comparison to a website optimized for other related keywords (e.g., construction services, affordable construction services, etc.).
As Google is always working to find the best and most relevant search results for its users, you need to need to focus on relevance too, let that be in terms of content, link building or even keyword optimization.
Link relevance is a key ranking factor for Google, and one of the ways search engines understand your website is by your links. They crawl to find what sites you're linking to, what sites are linking back and the internal links in your website, which makes it clear how relevant your business is. So, the point is to consider linking to authority sites that are relevant to your business.
In the same way, content relevance is another key factor, as links and text help Google understand your business. The best way that Google suggests to get high-quality, relevant links to your website is by creating unique, user-oriented content.
Content relevance is how well your content helps readers to meet their goals, let that be learning more about you or choosing the best construction company or any other topic. So, consider providing the most relevant answers for user queries, which increases the chance of Google highlighting them as featured snippet.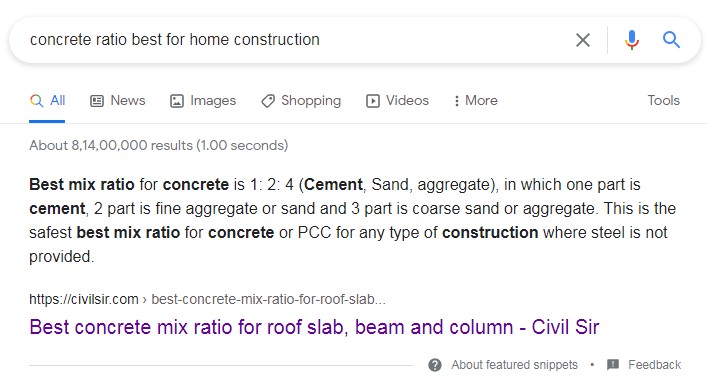 When people are searching for answers to their queries, they will consider you if your site offers what they want. So, craft your content according to the user intent.
Keyword relevancy is how relevant certain keywords or phrases used in each page of your website are. Consider targeting only a few keywords on an individual page basis. Add keywords that naturally fit to the page content or you could be missing out on ranking opportunities. Use only relevant terms and topics related to your business in your content. Use proven keyword research tools like SEMRush or SpyFu to find keywords that have some degree of relevance.
Step 1 – To do this first, type in your service and the location. If you are stationed in Ny look at the picture below. Look at the search and 2 construction businesses ranking.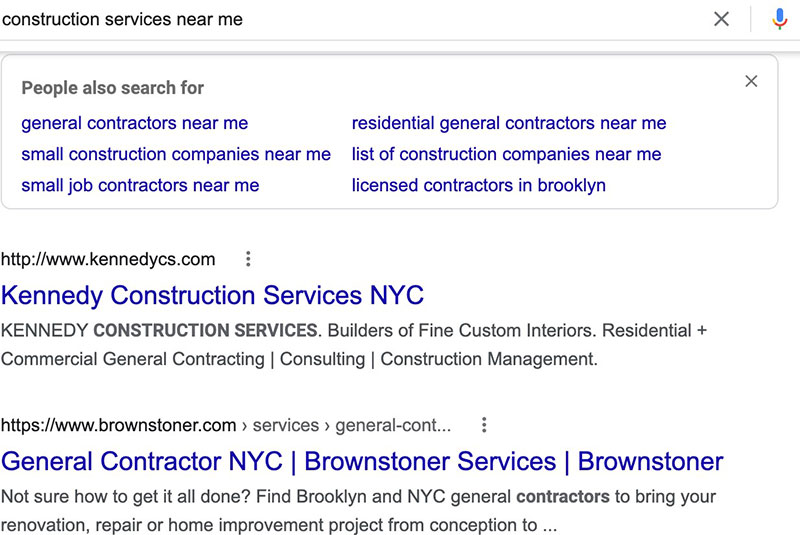 Step 2 – Spyfu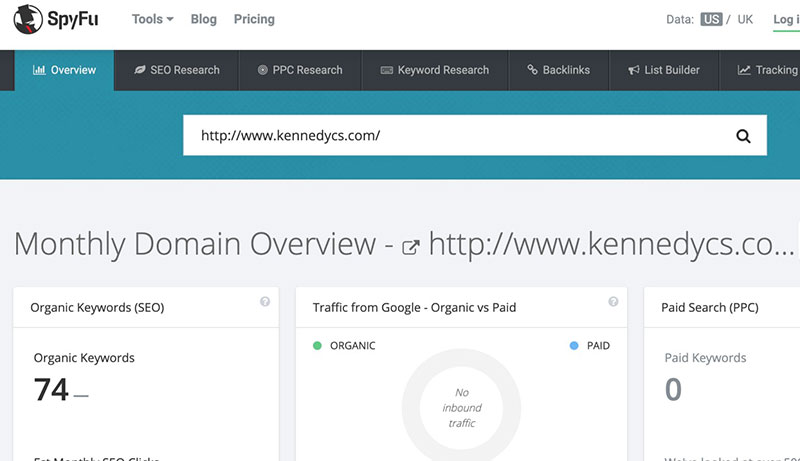 Now we type in the name of the company you see that is ranking when you did the first step.
Step 3 – you will scroll down until you see this section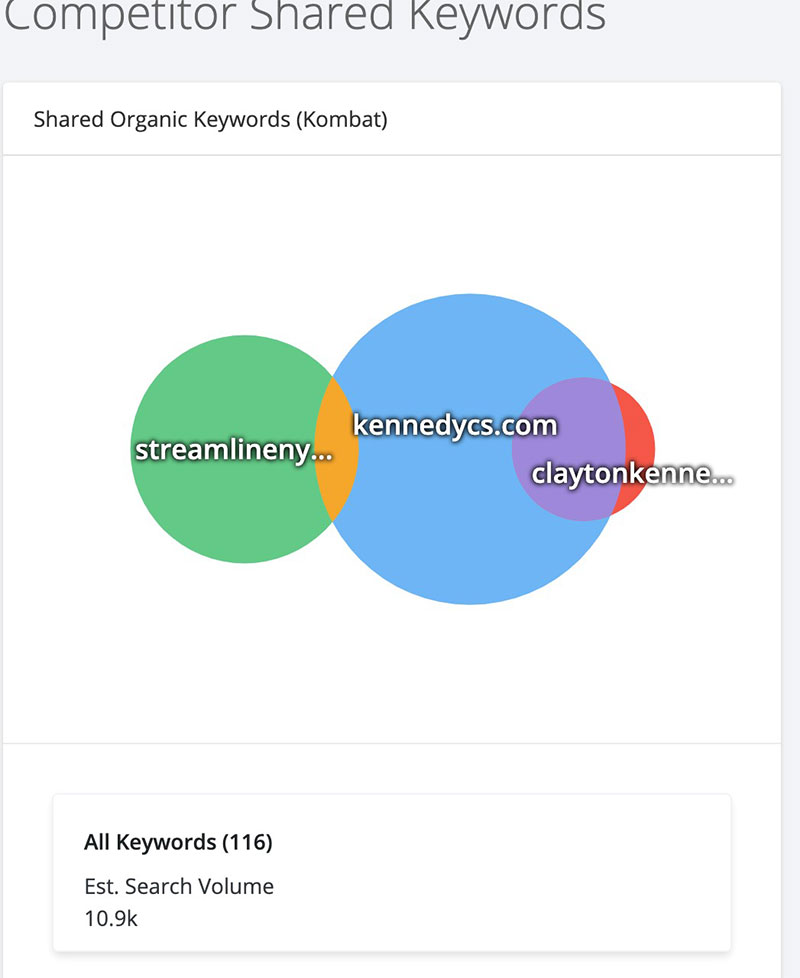 Click the All Keywords section, to see all the keywords this competitor and others are ranking for.
Step 4 – now that you are on the keywords your competitor(s) are using
And get all the info you can about all of them in one shot as you see below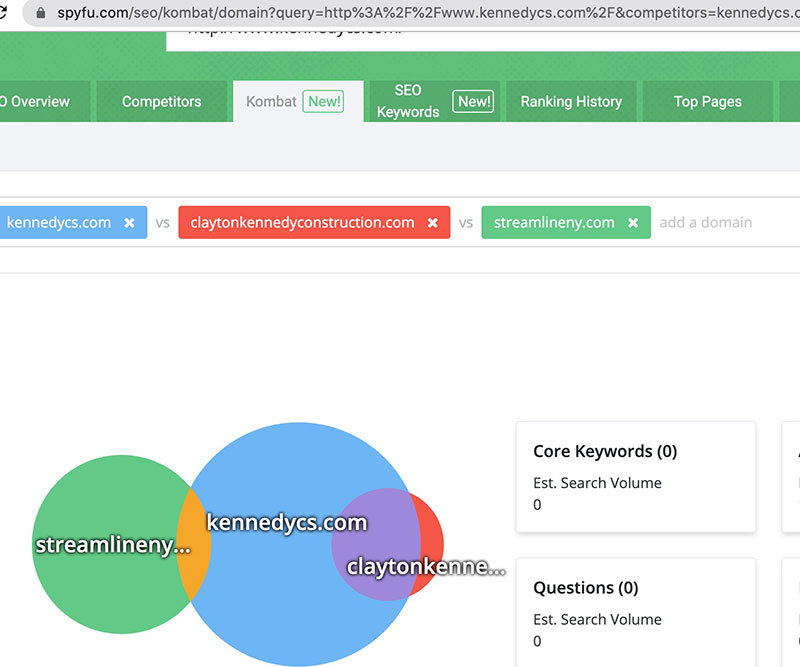 Here are the keywords for all these competitors (including the original competitor chosen)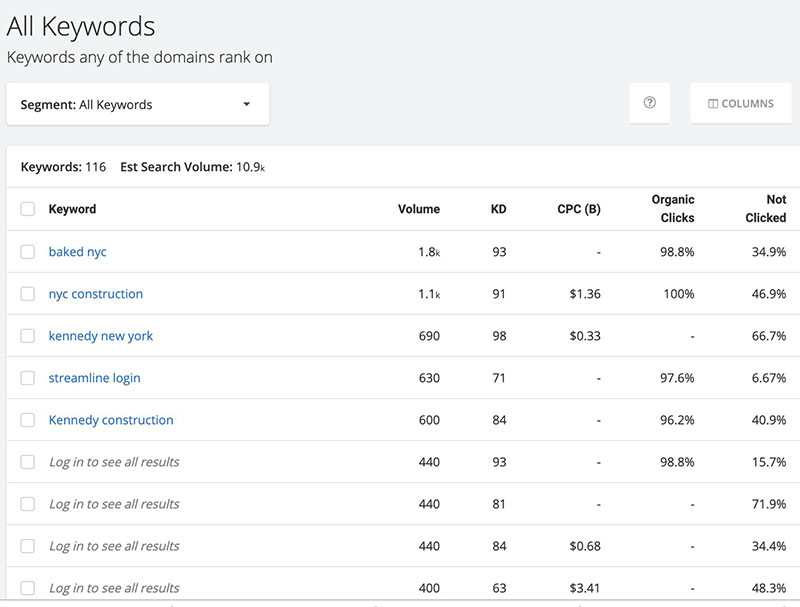 Distance – Google decides whether a company's name should appear in a local search query by assessing the geographic coordinates and the other companies based and listed in the same region.
How to Leverage or Implement Local SEO for Building and Construction
Local SEO for building and construction companies has become an integral part of marketing and advertising and requires a multi-pronged approach. Building a credible reputation for a construction business online involves incorporating several things simultaneously.
By highlighting a company's strengths locally, they can better create their own niche in the local building and construction industry. When this happens, it will reap the right results envisaged and the company will get more business locally.
You can't ignore Google My Business at all!
Seeking local exposure? Optimize your GMB listing.
To optimize your business for local searches, the first thing is to do is to set up your Google My Business profile and optimize the listing.
Consider these steps to set up your basic Google My Business profile.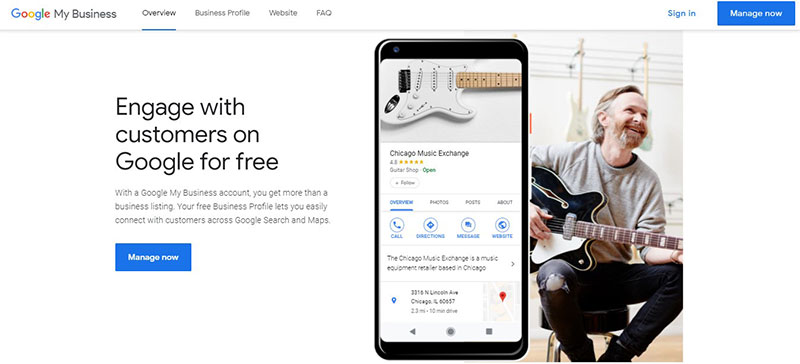 https://business.google.com/create/new?gmbsrc=ww-ww-et-gs-z-gmb-v-z-h~bhc-core-u%7Cmybb
1. Start with a new Google Account or access your Google My Business login.
2. Choose 'Manage Now' in google.com/business
3. Enter details such as business name and address of the business location

4. Specify the areas you serve and choose your business category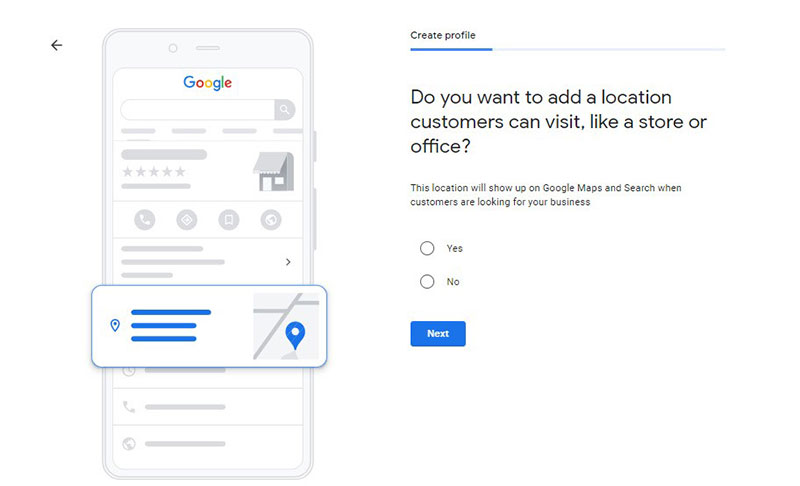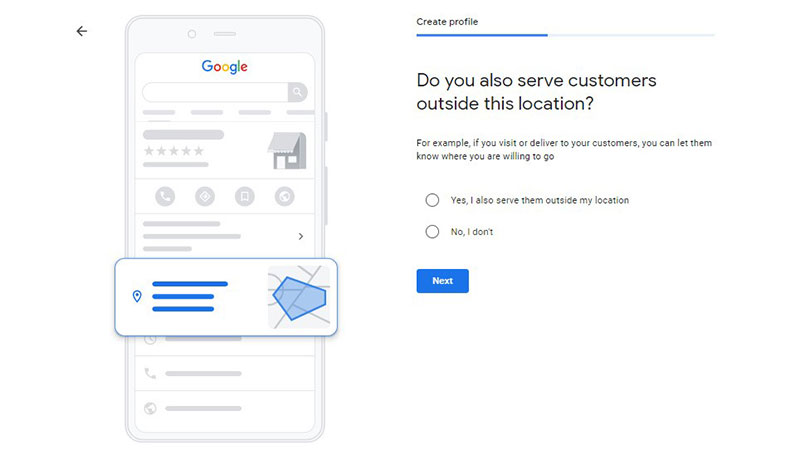 5. Add a contact number your customers can use and website URL
6. Complete the process with Google My Business Verification
Once your GMB account is ready, the next step is to optimize and manage your listing.
Write a compelling business description
Encourage your most loyal customers to 'Follow' you on Google Maps
Update your business hours, location, contact information, and description

Highlight your best projects and add photos on GMB
Include the right keywords and search phrases to your business listing
Make sure to answer your customer queries in GMB
Publish your offers, events and services directly to Google Search and Maps through GMB posts
Request your customers to add a review on Google
Check for Google Insights to know how customers interact with your business listings
Other Tips to Improve Your Online Presence in Local Searches
Here discussed are a few tips on how a construction business can enhance their online presence and authority locally –
Local Keyword Selection – Any specific SEO campaign begins with shortlisting of the right keywords. So, when competing with other local building and construction companies, it is important to list down the right keywords that showcase the services your company offers.

Search for keywords like – Construction Company, General contractor, Home renovation, and Home additions. Keyword planner tools help to figure out how much traffic that particular keyword is generating. The tool also suggests other related keywords that are relevant to the particular area of business. Try to incorporate a mix of keywords with buying and research intent. Buying intent refers to those search terms which indicate that the searcher is interested in getting the work done and hence, is looking for a local contractor. On the other hand, research intent keywords are those which demonstrate that the person is interested, but not ready to hire someone right away. The density of local keywords in the content of your website also matters for its local search engine optimization. Try to avoid going overboard with the use of keywords. In fact, crawler bots have become smart enough to detect keyword stuffing that is done for increasing the density.

Identify Tags – Regarded as a fundamental aspect for successful SEO, title tags and meta descriptions complement what the prospective audiences and prospects are typing in during their online searches to give quality search results. Audiences aren't always clear and direct during a search process. However, it is important to research the words they are using to search for construction information. Once those keywords are identified, it is easy to include them in the title tags to help sales-ready leads find a website easily.

Meta descriptions help summarize a business in a very brief character count. This description needs to be engaging and precise enough to encourage audiences to click on the specific construction website.

They help formulate a first impression of how a construction business has top-quality services and successful projects. Make sure to test out various Meta descriptions packed with buzz words that will motivate target audiences to take action.

Uniform NAP – NAP stands for Name, Address, and Phone Number – meaning that consistency is very important when listing contact information for a construction business. If you want Google's crawling bots to take your construction business seriously, you need to make sure the same NAP appears across your web footprint (website, social media, directory listings, etc.)

When search engines are crawling your website to collect information, even slight variations in key information could potentially lower local SEO rankings. This is because search engines are designed to find quality brands to promote at the top of a search and inconsistency implies the opposite.


Source: DNB and Bloomberg listings of Henegan Construction Co. Inc.

Rack Up Online Reviews – Online reviews by customers play a major role in local search engine optimization. Prospective customers will read these reviews to determine whether it is worthwhile to use the company's services and offerings. These reviews also explain to Google that your building and construction company is a legitimate business.

Therefore, request satisfied customers to write reviews on your Google My Business page, and this will give your search engine ranking a major thrust. Google reviews are a great way to emphasize top-quality services as these reviews will pop up directly when someone searches for your business. Google support also explains that these positive reviews can improve website visibility and responding to these reviews shows that the company values the feedback they are receiving.


Source: Google Reviews

Leverage Online Directories – Typically, when someone starts looking for services online, they don't focus on any specific brand, rather they start with what they find locally. There is considerable opportunity here to build new relationships if a company has properly claimed their business and services on the appropriate online directories.

There is a wide range of categories in local directories where the business can fit. So, make sure to find the best fit for your construction business and create an account. Claiming business via these platforms helps in building more links on trustworthy sites that will direct traffic to your website. The more audiences are presented with clickable links, the more a specific brand is being put in front of opportunities to engage in new business with a broadened array of prospects.

Create Content – Featuring content that includes the latest news and events in your local business area helps your website to pop up on the search results page if any local customers search for information around their area. Offering insightful information around the various facets of construction through blog posts, eBooks, and other thought leadership content is a great way to bring audiences to your website and improve the SEO standing.

Not only will this allow search engines to track and push your business higher in search ranks, but will also enable prospects to quickly trust your brand as a valued resource within the construction realm.

Social Media Marketing – Social media pages are the best place to announce promotional offers, rebates, and attractive deals online. Create an attractive social media page for your construction company.

Share important as well as casual information via these social media pages and use these platforms to link up with other pages. Try to upload pictures of the various services your company offers.


Source: LinkedIn Company Page of Henegan Construction Co. Inc.
No matter how strong an inbound marketing campaign may be or how user-friendly a construction website may be, local SEO strategies need to be implemented in the correct manner to help broaden the target audience group. Customers always search for a fast and direct brand when searching on Google for a construction business.
Keeping the above-mentioned tips when designing SEO tactics can generate local traffic for your construction business, which in turn will have a long-term impact on the success of your business. A professional organic SEO company will implement the right strategies to help enhance your website's visibility to the right audience.