Google updates its algorithm every now and then to give users the best possible user experience, and for businesses to stay current with these changes, organic SEO services are essential. For your website to rank higher, it's critical to update it to these algorithm adjustments. One such feature that provides users with a fast overview of a page's location on your website is the breadcrumb.
Breadcrumbs and Their Different Types
A breadcrumb is a brief text path that shows the user where they are on a website and is frequently found at the top of a page. For instance, Home > WordPress Plugins > Yoast SEO for WordPress leads to our Yoast SEO plugin page. You can see where you are right away due to this breadcrumb trail. The homepage can be reached by clicking on any of those steps.
There are three types of breadcrumbs:
Breadcrumbs based on hierarchy
These are the most typical, and this is how a website uses breadcrumbs. They let you know where you are in the hierarchy of the website and how many steps are needed to return to the home page. Possibly along the lines of Home > Blog > Category > Post name.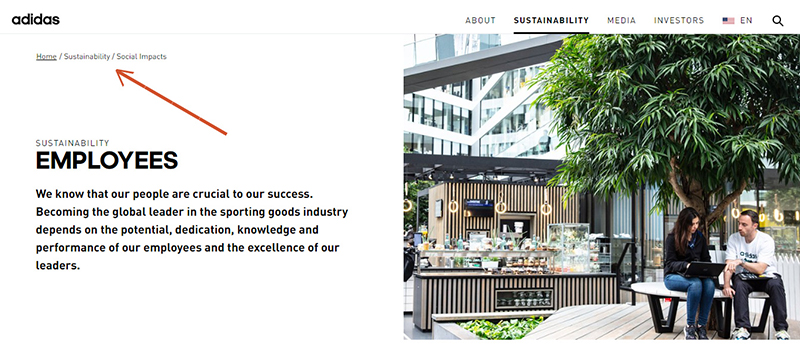 Image Source:
Breadcrumbs based on history
Breadcrumbs that are based on your past behavior on the site are arranged in accordance with what you have done there. Consider these as an alternative to the history bar on your internet browser to get something like this: Home page > Previous page > Previous page > Previous page> Current page.
Breadcrumbs based on attributes
When a user has conducted a search on an e-commerce website, attribute-based breadcrumbs are most frequently encountered. Product features are included in the breadcrumb path, such as Home > Product category > Gender > Size > Color.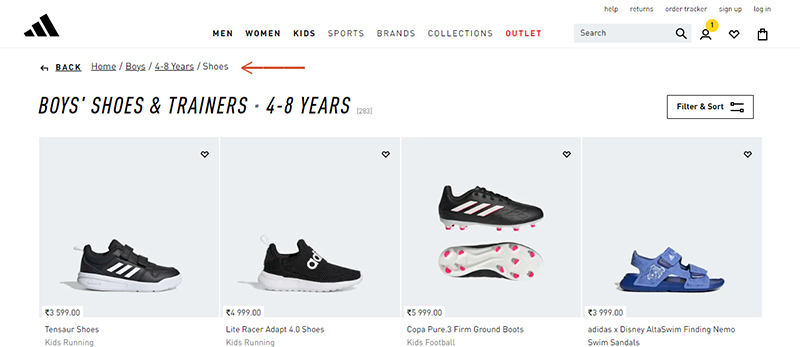 Image Source:
In 2009, Google introduced breadcrumbs to improve the way site hierarchies are shown in its search results. Each breadcrumb has a link that opens a specific page when clicked. Due to this, SEO experts began to believe that breadcrumb navigation links might affect Google rankings. When breadcrumbs were first created, they were thought of as a tool for making website navigation easier as well as an internal link structure to optimize the website. Google still uses breadcrumbs even though search result displays have changed over the years. Google suggests using breadcrumbs, but nobody with a direct connection to Google has ever formally acknowledged that it affects rankings. Google keeps its ranking variables under wraps (for a good reason), and the search community relies on what is publicly available to better understand how search functions. This includes information from patents, official documents, search engine result pages, and statements made by Google representatives.
Proof for Breadcrumbs as Ranking Factor
Search engines examine how the text is divided into key topics and subtopics in an effort to understand your website. Breadcrumbs support a website's page hierarchy and the relationships between those pages. According to Google developer documentation, adding breadcrumb markup to a webpage's body aids in classifying the content of the page in search results. Users frequently access a page from a variety of search queries since a webpage ranks for more than one keyword. These distinct search terms all lead to the same webpage. However, because of breadcrumb markup, the content can be categorized in the context of the search query.
A US Patent Application for Visualizing Site Structure and Enabling Site Navigation for a Search Result or Linked Page was submitted by Google in January 2009. The patent might imply that even if a website doesn't use breadcrumbs, Google could still include them in search results. The patent, however, also describes how this can make it simpler for Google to comprehend the organization of a website and incorporate that information in search results. Since then, the patent has been marked as "abandoned."
Pancakes Pass Pagerank: Gary Illyes, a Google webmaster trend researcher, responded to a question regarding breadcrumbs on Twitter. In the computation of, say, PageRank, we regard them as normal links. Google ranks websites in its search engine results using the PageRank (PR) link analysis algorithm. Google still ranks results using PageRank, among many other factors, even if its influence has lessened recently.
Warning from Google Search Console: In the breadcrumb section for manual actions of the GSC featured instructions, there is a warning against websites that violate the rules for structured data. The majority of manual interventions target efforts to trick Google's search index. Breadcrumb markup would probably not be subject to human action by spammers if it were not included in Google's search index. Google invests time and effort in ensuring website owners use breadcrumbs correctly and is concerned about not wanting users to manipulate them.
According to a tweet from Google Search Console, updated in September 2019, the interface now informs users of any issues with search features such as breadcrumbs. The following weekend, GSC began notifying accounts with breadcrumb structured data issues on their sites and three years later, they are still doing this. Google's efforts to instruct website owners on properly implementing breadcrumbs and notifying them when there are issues show that breadcrumbs are important to them.
So, to conclude, breadcrumbs are used as a ranking element inadvertently. A ranking factor is a set of standards that search engines employ to rank web pages in search results after evaluating them. The theory that breadcrumbs are used to assess websites is supported by Google documentation, and a representative confirmed that breadcrumbs are treated as regular links in Google's PageRank link analysis algorithm. However, since the Google algorithm is far too complex, adding breadcrumb markup won't make your website jump to the top of search results, and you won't ever reach page one by not having them.
Breadcrumbs can aid in lowering bounce rates and enhancing user experience because they make it simpler for people to comprehend and navigate your website. It makes your website's underlying structure easier for search engines to grasp, which is good for SEO. A reliable provider of organic SEO services helps to implement breadcrumbs to improve user experience and make your website SEO friendly.