A website may have a number of pages that can sometimes confuse users. A website which is easy to navigate allows users to find the content they are looking for much faster, to get to a higher-level page, and improve the findability of website sections and pages. However, navigation on a website can be made easy with breadcrumbs. Breadcrumbs are a navigational feature for your website, and they can have an awesome impact on SEO and user experience. How do you implement breadcrumbs in SEO? Well, partner with an organic SEO service to implement breadcrumbs which can help search engines to get a better idea of how your website is structured, and they also help users navigate a website more easily.
What Are Breadcrumbs in SEO?
A breadcrumb is a small text path, often located at the top of a page indicating where the user is on the site. It is like a website or application's secondary navigation system. When browsing a website or using an app, it displays sub navigations and lets users track their progress. It is often found beneath the major navigation bar, and it appears to be a different navigation bar. It allows users to keep track of where they are on a website and how far away they are from the home page. They are like internal links, which help users on a website locate the content that they want. Here's an illustration:

If the user wants to go back to a prior page, the breadcrumbs make it simple. Breadcrumbs are a helpful UX element that facilitates site navigation, but they can also be used for other purposes. Recent Google updates have made breadcrumbs even more crucial, as they can now have a direct impact on search engine optimization. Breadcrumbs are now displayed in Google's search results, and they are used to classify content in the search results.
Different Types of Breadcrumbs
Before implementing breadcrumbs on your site, understand the three different types of breadcrumbs.
Attribute-based breadcrumbs: On e-commerce sites, attribute-based breadcrumbs are common. These breadcrumbs display the attributes set for the products or services that visitors are looking for. To put it another way, attribute-based breadcrumbs showcase certain qualities found in a search. Breadcrumbs depending on attributes look like
Feature / Feature / Feature / Feature / Feature / Feature / Feature / Feature / Feature / Feature / Feature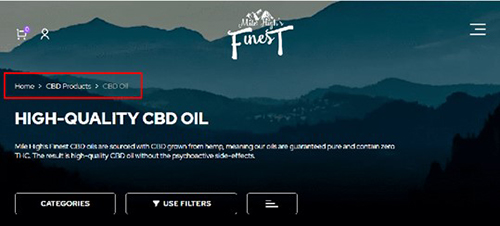 hierarchy-based breadcrumbs: hierarchy-based breadcrumbs are displayed on a hierarchy basis and reveal where a user is in the website structure. Many websites provide a breadcrumb trail, which is helpful for site navigation. Breadcrumbs with a hierarchical structure usually look like this:
Page > Home > Category > Subcategory >
History-based breadcrumbs: These are also known as route-based breadcrumbs because they show the user's progress through a website. It is no surprise that it is the least used breadcrumb kind today because it adds little value to website navigation because we can always use the arrow buttons to navigate forward and backward.
Breadcrumbs based on history might look like this:
Home page > Last visited page > Last visited page > Current page.
Three Reasons Why Breadcrumbs Should Be Implemented
Nobody wants to waste valuable time searching for what they want on a website. It is human nature to want clarity and assurance that you're in the right place. Users should be able to recognize cues such as a page's title and its location on the site. Those signs reassure that users that click on a link will get the right information needed. They might not click the link if they don't have that confidence.
So, with that in mind, you can see that there are at least three compelling reasons to include breadcrumbs in your site navigation:
Rank the pages higher: An important feature of breadcrumbs is that they contribute to higher SERP rankings since they communicate the information of your pages to search engine robots. A higher position in ranking equals more visitors and sales through a website, which is something that every business owner desires.
Growth in behavioral factors: A breadcrumb trail gives your users trust by displaying their specific location inside the website structure and helping navigation using a hierarchy-based type. Breadcrumbs based on attributes help visitors explore your offerings by their features and make the search process easier. Both of these factors increase the number of time visitors spends on your website. The longer someone spends on your site, the more they learn about your company and its products or services. You must aim to improve client comfort on the site in a way that encourages positive behaviour.
Allows users to understand the structure of the website: Users favour sites with breadcrumbs because they make navigation easier. The decision-making effort involved while clicking through to the next page is reduced when you have a better understanding of where you are and why. It is similar to a map with a "you are here" marker or a GPS navigation system with a blue dot. Knowing where you are will make it easier to get to where you want to go.
How to Implement Breadcrumbs
Breadcrumbs are a helpful navigation element for both users and search engines, and they're simple to implement.
Breadcrumbs can be included in different ways such as the following:
Using Yoast SEO: If you're already using Yoast SEO, adding breadcrumbs will just take a few minutes. To use breadcrumbs, simply log in, click on breadcrumbs and choose "enable".
WordPress Plugins: If you're using WordPress, there are a number of plugins that can quickly add breadcrumbs. Breadcrumb NavXT is one of the most preferred as it is simple to set up and creates locational breadcrumbs that may be adjusted as needed.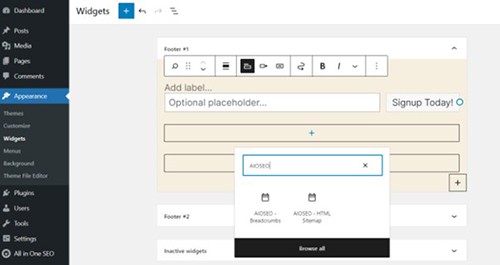 Breadcrumb Plugin for WooCommerce: Consider using WooCommerce's breadcrumb plugin to restyle the built-in WooCommerce breadcrumbs if you have an eCommerce site that uses the platform.
All the above-mentioned tips help to implement breadcrumbs that help increase your website ranking and bring more sales and revenue. If you want your website to do well, get in touch with a reliable digital marketing agency. They can help you in implementing breadcrumbs, and also improve the performance of your website.