A great CMS platform is integral to any great website, healthcare practice or business institution that is looking to attract its target audience online. They can make creating and sharing easier and a lot more efficient. But there is a lot more great stuff you can do with a good content management system. Here, we're focusing on platforms that help you create great apps without having to worry about coding. 
Appery.io
Let's start with a cloud-based app builder – Appery.io.

Since this functions in the cloud, you don't have any software to download or install. You can start right away. It is claimed that it takes just 5 minutes to get an app done on Appery.io, and the created apps can work across devices.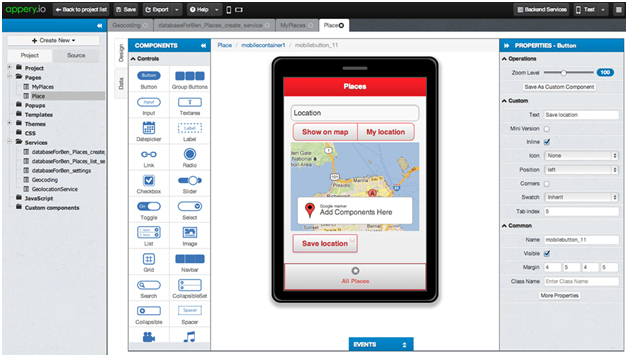 Image Source: https://appery.io/
You create the user interface by dragging and dropping components with the help of a visual editor. The code for the components that you drag and drop is auto-generated by Appery.io. The plug-in catalog helps you improve the functionality of the app. Custom plug-ins can also be created which you can use in your apps. If user-friendliness and quick app design are what you're looking for, Appery.io could be what you need. There are many integrated backend features such as server-side scripting, push notifications, cloud database, and so on that you can just import to use with the app builder. You can get a reasonably great app done without installing any software, and without too much complexity with this cloud-based service.  
TheAppBuilder
From a cloud-based app builder to a mobile app builder with a great deal of features, here's TheAppBuilder.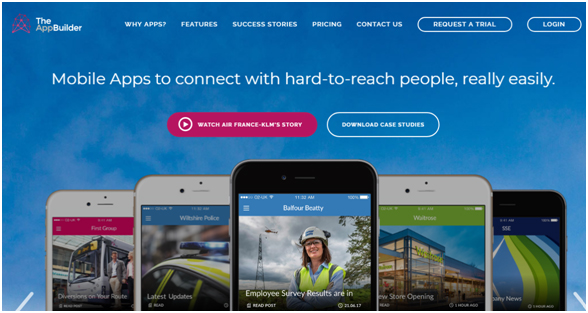 Image Source: https://www.theappbuilder.com/
This mobile app builder tool offers you a range of apps to use an intranet for a company. It has apps for events, clients, employees and brochures. It has a dedicated AppLibrary from which you can get a view of multiple apps. They can be customized with your branding and protected with passwords. They can be distributed though the app store. You've got the complete toolkit online to get the app structure defined, built up and populated with content initially.
The AppBuilder also directly helps you here. You are provided training for this. It is easy to update the content and structure of the apps, even after going live, since there are unlimited updates you can make, and in a single click you can publish on various mobile platforms. Updates go live in just 60 seconds after submission. 
Mobile Roadie
The Mobile Roadie app creator enables you to create as well as manage your Android or iOS app. All media types are supported by the platform.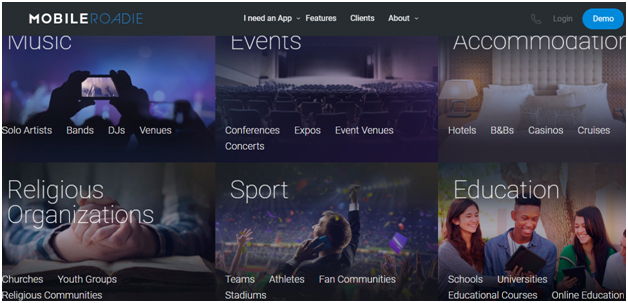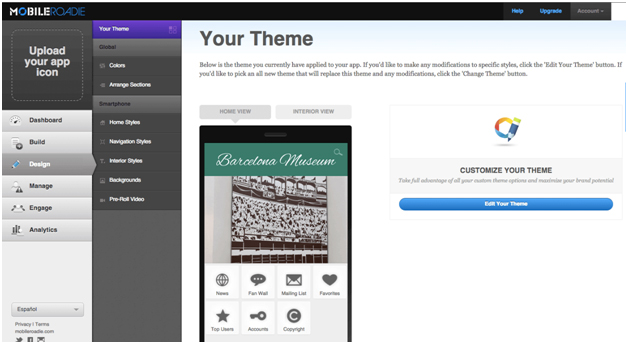 Image Source: https://apptooltester.com/reviews/mobile-roadie/
Mobile Roadie provides automatic importing of Google News, Twitter or RSS keywords. It also provides a fan wall that keeps refreshing itself so you can have real-time communication with your users. The backend of Mobile Roadie enables you to preview the app before releasing it. So you can know just how your users would see it on their devices. It also assists you with the submission process for the App Store, checking your content's quality and relevance.
Image Source: https://apptooltester.com/reviews/mobile-roadie/
The tool helps you send push notifications, which could be content from your site or through the platform. Data can be pulled in various formats including JSON, XML, PHP, CSV and HTML. There are various layout options presented and these can be customized as well.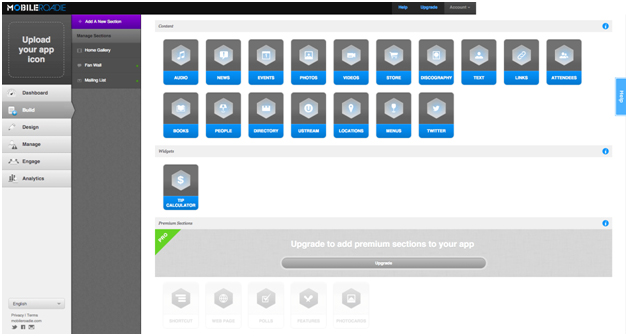 Image Source: https://apptooltester.com/reviews/mobile-roadie/
AppyPie
Appy Pie is a simple DIY tool for creating mobile apps. Like the first tool we mentioned, this is cloud-based. Even if you don't have any programming skills, Appy Pie can help you build an app for just about any platform. No downloading or installation is needed. All you need to do is drag and drop the pages and create your mobile app online.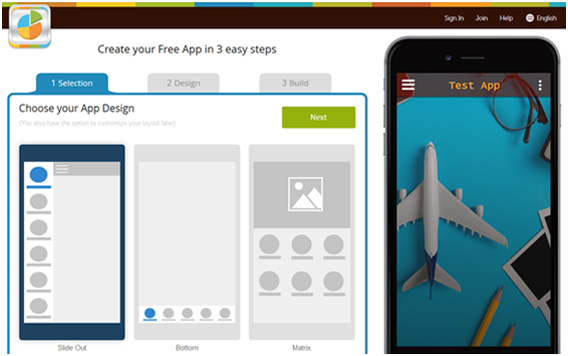 Image Source: https://gsuite.google.com/
On completion, what you get is a Progressive app and a hybrid HTML5-based app that can work in all platforms – Android, iOS and Windows. Real time revisions are possible. You can also detect live analytics, track the location of the app with GPS, monetize it with ads and send push notifications, not to forget integration of websites, blogs, social media feeds, radio, etc.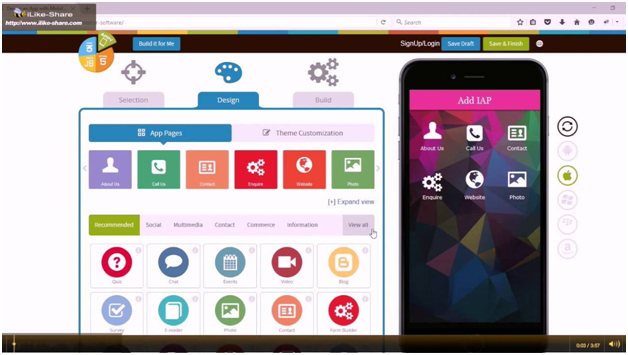 Image Source: https://www.youtube.com/watch?v=zneJ5p3zLjQ
The code page helps you embed iframes and custom code. There are also other specific features that can be helpful for certain sections of the audience you're targeting. For example, you get the appointment scheduler tool that can be quite helpful for doctors and businesses that meet their clients on a regular basis. This tool also comes with the one-touch call feature.
Apmato
This is a content management system and authoring tool specifically for mobile apps. Apmato helps you create apps by combining various modules. For reference, you can check out many possible layouts, modules and screens that can be used as examples for creating your app.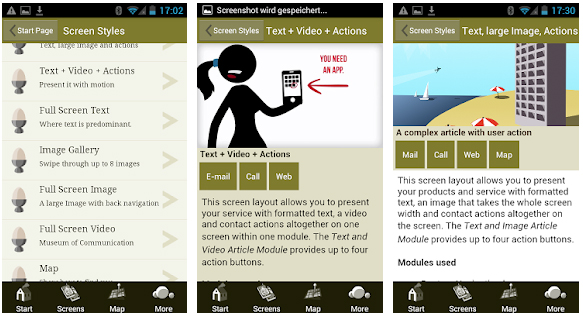 Image Source: https://play.google.com/store/apps/details?id=com.apmato.start&hl=en_IN
Apmato helps you create multifunctional mobile apps, particularly those that help businesses provide information to their customers and stay in touch with them in a more interactive manner. These app tools can also be used by healthcare practices in their outreach efforts. In fact, they can add greater effectiveness to their healthcare digital marketing strategy. And these tools aren't hard to use. Their user-friendliness makes it quite easy to design great apps that fulfill the requirements of your target audience and strengthen your relationship with them.