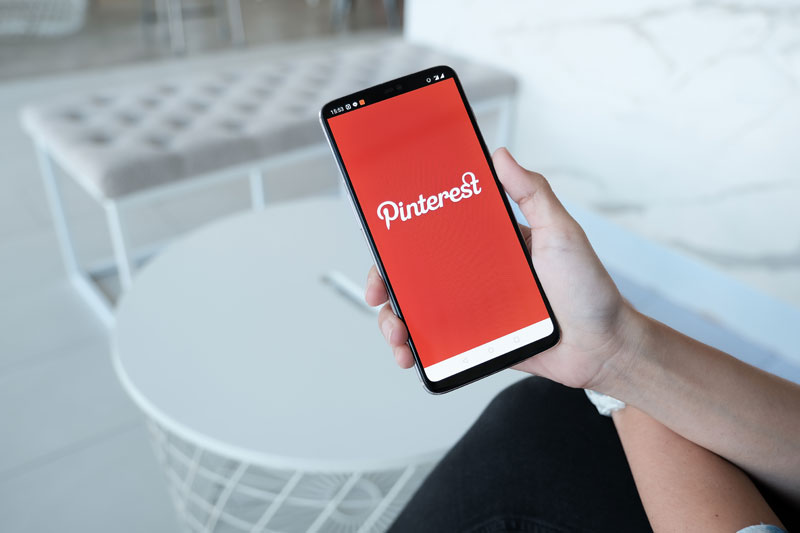 The visual discovery engine, Pinterest is one of the main destinations that people visit to find inspiration and new ideas. The platform covers a broad range of topics including recipe articles, DIY how-tos, travel blogs, and so on. More than just a social channel – that is often regarded as the go-to platform for pinning recipes and home décor ideas – Pinterest is also a powerful digital marketing tool that can boost clicks and traffic to your website. However, for that you need to have a proper Pinterest Search Engine Optimization (SEO) strategy.
Pinterest SEO
With over 442 million active users per month and over 2 billion monthly searches on its platform, Pinterest offers great opportunities for businesses striving to increase clicks and traffic from this platform. A strong SEO strategy is essential to optimize your Pinterest profile and website, and generate more organic clicks and traffic from this social media channel. It can boost your reach and drive more sales. As it is powerful visual discovery engine, Pinterest content has a much longer shelf-life than content on other platforms. That's why Pinterest SEO is perhaps more important than SEO for other social media platforms such as Facebook, Twitter and so on. Your content on Pinterest lives on and gets resurfaced over and over again, for months – not just for minutes.
What Are The Factors That Influence Pinterest SEO?
Though many long-standing SEO tactics still hold true, Pinterest SEO differs from Google SEO. The main ways in which Pinterest SEO differs is how its target "keywords" are identified and then utilized to optimize one's profile. Furthermore, the ranking factors on Pinterest relate more to engagement metrics and social shares than backlinks and technical SEO.
Many businesses have been able to leverage Pinterest for website traffic. Pinterest debuted The Taste Graph in 2017, saying, "By understanding people's evolving tastes, preferences, and interests, the Pinterest Taste Graph connects the millions of people on Pinterest to hundreds of billions of fresh ideas that are just right for them. It's how we surface the perfect ideas for each Pinner, helping them find fresh ideas to love as they move through the various stages of planning their lives." Pinterest spent years refining their understanding of user behavior and turning it into an actionable resource for businesses.
But how does Pinterest know what content to serve up when a user is searching for something? There are certain factors that influence Pinterest SEO:
Domain Quality: This refers to what Pinterest deems to be your website's quality. To maintain your domain quality and garner more engagement, enable rich pins on your account, pin consistently, and create high-quality content.
Pin Quality: Pin quality is determined by the freshness, popularity, and the amount of engagement a pin receives. Pin quality can be improved by creating appealing graphics and interesting content that people would share.
Pinner quality: The platform will assess how active the pinner is and whether their content is well received to assess their overall quality as a content creator and pinner. To enhance this quality, a pinner should be active, sharing popular content, increasing saves, and engaging with followers.
Topic relevance: Similar to the way Google functions, this factor refers to keywords that affect what appears in Pinterest search.
All these influencing factors contribute to Pinterest SEO. For instance, one of the influencing factors, Domain Quality, is Pinterest's idea of the quality of your website. The visual search engine can see how popular pins from your website are, and it will learn whether your site is a source of high-quality content over time.
If you already have a personal Pinterest account, convert it into a business account, because it will give you access to Pinterest Analytics and the Pinterest Ads Manager.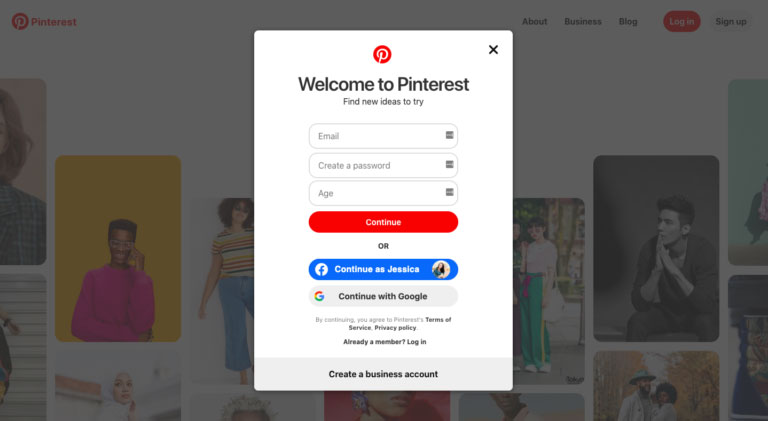 Source:https://cdn.searchenginejournal.com/wp-content/uploads/2020/11/sign-up-pinterest-5fa9c34b109af-768×421.png
Once you have a business account, incorporate valuable and good content in it. If your Pinterest content isn't optimized for Pinners' searches, you might be missing out. So, to make your Pinterest SEO a part of your social media strategy, consider some tips.
Here are some important SEO steps that are involved in optimizing a Pinterest profile.
Enhance Your Pinterest Profile with Perfect Bio: Choose a direct, concise, and memorable, SEO-friendly username – considering what your audience might be searching for- as this will be included your profile's URL. Try to use words that accurately reflect your brand and at the same time helps you to get discovered in users' relevant search queries.

For instance, Courtney Quinn, a quirky New Yorker with an out-of-the box sense of style obsessed with all things colorful, has a Pinterest account with username " ColorMeCourtney | Styling Color, Fashion Outfit Ideas & Lifestyle ". She has included 3 SEO keywords – Styling Color, Fashion Outfit Ideas & Lifestyle- in her display name which gives you an instant idea of the type of content she's sharing.

Source: https://in.pinterest.com/ColorMeCourtney/_created/

You can also use the same username across all of your social channels and website, as it would be more search-friendly, and really help with cross-platform discoverability. It will also make it easier for audiences who may already know you to recognize it's your Pinterest account. For instance, Courtney Quinn uses the same username on both her Instagram and Pinterest account, making it easy for the audience to discover her.


Source:https://mk0laterblogouwugirk.kinstacdn.com/wp-content/uploads/2020/07/NC-LATER-TEMPLATE-Vertical-Double-20.png

Once you have decided your username, optimize your profile by filling up the bio. Fill relevant details and include a high-resolution company logo in the "about you" section, as this will make it easier for people to locate you and save your Pins.

To get started, create at least one "board". While deciding what you want to name your board, consider the type of content you plan on posting. For instance: if you are planning to post any hacks related to marketing, you can give your board name as "Marketing Hacks". This would be easier for audiences to discover your board.

Link to Your Website: Link your Pinterest account and website so that you can take data from your website to feed more targeted Pinterest campaigns. Moreover, featuring your web site URL on your Pinterest profile will

a. Serve as a keyword of sorts, allowing your profile to be even more discoverable to Pinners
b. Help you appear more official
c. Help drive more traffic to your website

Source: https://in.pinterest.com/medresponsive/_created/

To prepare your website, add the Pinterest Tag – this is a fundamental part of setting up an organic or paid campaign – and a Save Button – that allows you to increase the reach of your campaigns beyond Pinterest. Once this Tag is added, users can save images on your website or app to their boards.

The next step is to verify your website to indicate to Pinterest that you're a legitimate business/brand or merchant. Additionally, having a verified website will also give you access to more metrics in your Pinterest Analytics, which in turn, will help you better understand your performance.

Create Attractive and Original Content: One of the best Pinterest SEO tips is to craft thumb-stopping, original content that persuades users to click, save and engage with it. You have to try to create ideas that aren't just relevant and useful, but also visually compelling, but avoid duplicate content. However, it is better to create content from your website. This is because Pinterest prioritizes Pins that are created by the website's owner. To get an idea of what your audiences are already pinning from your site, you can check by typing -> https://www.pinterest.ca/source/[yoursite] into your browser. Conduct keyword research and use the right keywords to help your content reach the right audience. Once you have decided on the keywords, use them strategically. For instance, the most important place to use keywords is in your descriptions. You can also use keywords in your profile, and board titles and descriptions. Try to include keyword-related hashtags. While using generic keywords is useful, consider providing descriptive details to optimize them.
Use Rich Pins: One of the best methods of boosting SEO on Pinterest is through Rich Pins. Similar to rich snippets, Rich Pins contribute context to your posts. Designed to spread brand awareness, rich pins pull metadata from the website pages that they link to and offer more details than your standard Pinterest pins, thereby driving more traffic to your website. When you create a Pin from your website, it becomes a Rich Pin because it pulls all the extra details from your site. There are four types of Rich Pins you can use on Pinterest:

a. Product
b. Article
c. App
d. Recipe

Rich pins are particularly useful for ecommerce, as 55% of Pinners use Pinterest to find and shop for products. By providing Pinterest rich pins, you are actually offering your clients additional information that can help them make informed decisions. Moreover, these details improve the credibility of your brand/business.

Write Strategic Pin Descriptions: Though, there are a lot of places where you can include SEO keywords like your pin title, another most important place is description. Crafting detailed descriptions – ideally with your target keywords – helps Pinterest locate and show your images in relevant searches.

However, make sure that your keywords in the description cover as many relevant bases as possible. This is because descriptions give users a preview of what your content is about. If you could include the most appropriate and relevant keyword in your unique and attractive description, it would be the deciding factor in encouraging users to click through to your site.

Source: https://in.pinterest.com/pin/673780794240322113/

Though you can use up to 500 characters, it is recommended to create a couple of sentences of around 100 characters in total as it is sufficient to provide some good detail and the first 50-60 characters are what Pinners will see on their feed – so take advantage of this!

However, to increase your visibility for these search terms, you might also consider adding hashtags to your description.

Set Up SEO-friendly and Eye-catching Pins: If you want to create the perfect pin, you'll need to stay on top of your game and should have a keen eye for what's trending on the platform. This is very important because Pin structure, fonts, sizes, wording, and images change all the time.

Even if the case is that, there are still some clear rules of thumb that we should all follow when it comes to creating SEO-friendly Pins. They are:

a. Always aim for long images, where the optimal pin size is 1,000px by 1,500px, or a ratio of 2:3.
b. As 85% of all Pinterest searches happen on smart devices, pins with vertical images tend to perform better than squares or horizontal pictures.
c. Instead of letting your pins fade into the background, use eye-catching and high-contrast colors that will attract your audience's attention and stand out from the sea of competition.
d. As we all know, keywords are an important part of Pinterest SEO, so include enticing, keyword-rich titles. It will help to increase your visibility in the feed and entice users to click through to your website.

Aim for User Engagement: To increase your traffic, website conversions and your pin's and profile's visibility in search, you need more user engagement. With the following tips, you can improve user engagement.

a. Link your Pinterest account to your other social media accounts – such as Facebook, Instagram, Twitter and so on – as it will increase awareness among your existing followers on these platforms.
b. You can invite relevant Pinterest influencers to collaborate on any of your boards to grow your own following. That is, if an influencer re-pins one of your pins, your content will be discoverable to a wider audience.
c. Include text as an overlay on your images, as pins with a text overlay tend to rank well

Source:https://cdn.searchenginejournal.com/wp-content/uploads/2020/11/keywords-title-5fa9c4b868e3f-768×416.png

d. Track your performance using Pinterest analytics. It will give you a lot of insight into how your profile is performing in organic search. According to Search Engine Journal, "use this performance data to inform your Pinterest SEO strategy – from what keywords to use, to what design to follow to drive the most clicks".

Follow Other Accounts: To boost your visibility, follow other Pinterest accounts. Pinterest is more of a discovery platform than a social platform and who you follow on Pinterest matters a lot. Pick strategically and follow the right people to get discovered by the right audience. According to later.com, "Your following list is a strong indicator to Pinterest, and helps to determine where you'll appear in users' suggested boards and profiles to follow".

Source:"https://mk0laterblogouwugirk.kinstacdn.com/wp-content/uploads/2020/07/Screen-Shot-2020-07-17-at-2.38.13-PM-768×799.png

Connecting with influencers, who have high-traffic accounts will help boost your Pins even more. Therefore, along with following brands or individuals who are similar to you, follow influencers and celebrities who are well aligned with your brand.

Publish Video Pins: In 2019, Pinterest added a few new features and one among them is the video pins. Being an attention-grabbing content and engaging format, Pinterest Video Pins are changing the game on the platform. As a result, early adopters of this new feature are seeing big benefits, because people love to watch videos and video pins are perfect for brand story-telling, how-tos and product demos. According to Later.com, "the number of video views on Pinterest last year grew more than 6 times compared to 2018. Views of organic video pin are up 240% year on year—particularly driven by food and beverage, beauty, DIY, entertainment, and home décor".

If a user saves your video pins to one of their boards, it says that he/she has engaged with your video content. It is a positive indicator to the Pinterest algorithm which will boost your Pin in future search results making it great for cross-promotion and sales.

Source: https://in.pinterest.com/pin/561753753524680592/

Leverage Pinterest Ads: As Pinterest has powerful paid advertising capabilities, try your hand at Pinterest Ads. It is a great way to boost SEO, as it helps your content to be discoverable among wider audiences, thereby bringing more attention to your brand and driving traffic. The platform offers a variety of ad formats to choose from and the most popular ones include:

a. Standard (image)
b. Video
c. Shopping
d. Carousel
e. Collections

Among these formats, Shopping format pins allows users to click and buy instantly, Carousel allows users to scroll through multiple images and Collections ad format has mix photos with product images. Depending upon your brand and business, you can choose from any of the ad formats.

Source:https://cdn.searchenginejournal.com/wp-content/uploads/2020/11/pinterest-shopping-5fa9c515c9dca-768×402.png

You can choose either to promote your best-performing pin that already exists or a new image or video to campaign as an ad. You can also pin and promote imagery from your website. Once you have decided on which format you want to promote, you can pay in your Pinterest Ads Manager and then your new promoted pin will appear in the home feed of your audiences.
If you want to see the widest reach, you need to be consistently pinning, because Pinterest favors regular and consistent pinners. As there really is no such thing as too much activity on Pinterest, try to post content regularly on your Pinterest account. The more time you can invest the better. For instance, Buffer recommends pinning at least 5 times per day.
However, it doesn't mean that you have to pin everything at one time, instead pin at regular intervals at the best time of day. Based on audience location stats and by looking at high engagement periods in your analytics, you can determine optimal times for pinning.
With the help of an approved Pinterest partner, Tailwind you can now easily manage to pin consistently. This scheduling app is a powerful, yet affordable tool that helps your Pins to be re-pinned on a regular basis to a variety of boards and helps grow your Pinterest traffic – saving you hours of time compared to pinning manually.
All these tried-and-true Pinterest SEO tips and future-forward strategies can help grow your brand's presence on Pinterest, target relevant audiences, and drive clicks and sales for your business. Like any other type of SEO, Pinterest SEO is also constantly changing. Therefore, to stay on top of current trends and monitor your analytics, fine-tune to your personalized SEO strategies. Hiring a professional SEO company in USA to manage your social media marketing campaign is a practical strategy to boost your brand/business.