YouTube is undoubtedly the most popular video platform and is building new YouTube live stream features to stay that way. As Google and other search engines tend to support video, posting YouTube videos with good titles, descriptions and tags are a great way for businesses to share their content among a wide audience and improve their search engine ranking. So if you are planning to generate revenue directly from your YouTube content or simply use YouTube as a marketing platform, get a YouTube channel first. But then, growing a digital marketing campaign via your YouTube channel takes time and effort. The easiest way to do this is with the help of a reliable search engine optimization company that provides social media marketing services.
YouTube Live Stream Features for 2022
YouTube recently announced five new features for live streams. These live stream features offer more creator and viewer insights, as well as greater control over live streaming. Previewed in a video on YouTube's Creator Insider channel, the features that the company is building in 2022 are:
'Go Live Together'
Live rings
Cross-channel live redirects
Uninterrupted split screen viewing
Live Q&A
Let's take a closer look at these new live stream features:
Go Live Together: This highly requested feature 'Go Live Together' – a small pilot that the company is running – is a new mobile collaborative streaming feature, where the host creators are able to invite a guest to their live stream, by simply sending a link. They will be able to create a live stream and invite and screen their guests before going to their viewers.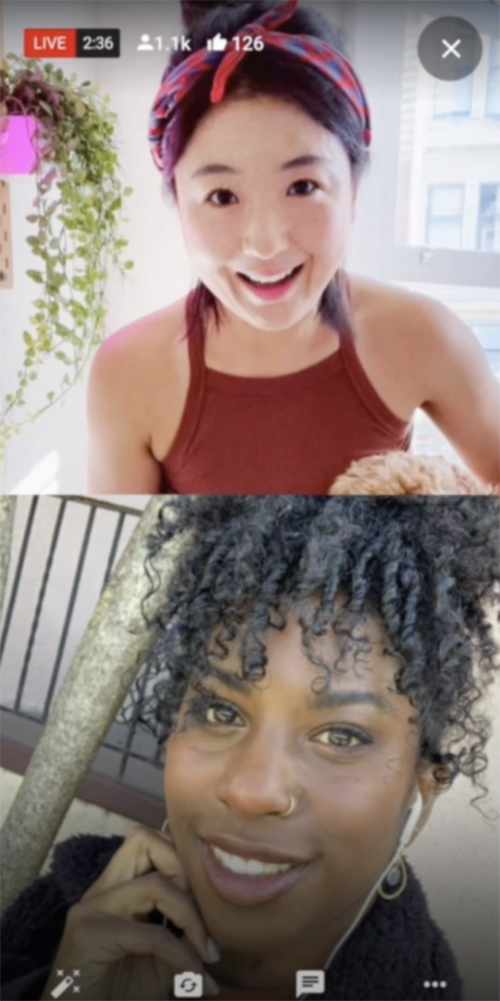 NOTE: The guest channel and user information will remain hidden during the live stream.
The host creators of a Go Live Together stream will be able to see streaming analytics and YouTube analytics as they would with any other live stream. But the guest won't be able to see these analytics.
Pre roll and mid-roll ads can appear in a Go Live Together stream and will be attributed to the host channel. After the pilot test, the company will consider expanding the number of creators who have access to this new feature.
Live Rings: Similar to how Instagram indicates a live stream with a ring around the user's profile picture, YouTube is also rolling out live rings throughout the platform. By showing a red colored ring around a channel's profiles picture, 'Live Rings' will help viewers identify when a channel is live streaming. It will help to increase discovery and viewership for creators' live streams on YouTube.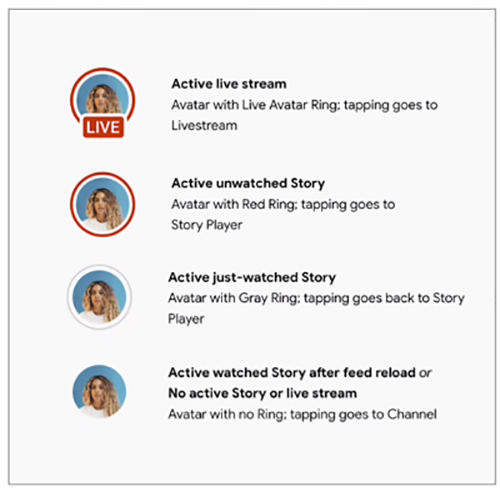 By tapping on a profile picture with the live badgering, the viewer will be redirected to the active live stream. Live rings can be seen on certain screens on mobile devices with plans to extend this feature across YouTube later this year.
Cross Channel Live Redirects: This new feature helps creators – with at least a thousand subscribers and no active community guideline strikes- to direct their viewers from a live stream or premier hosted on a different channel to another live stream or premier on their own channel.
NOTE: Creators can't send their viewers to a live stream or premier hosted on another channel.
The channel being redirected to can add channels the creators want to allow to redirect to them or to allow all channels they subscribe to redirect to them. This new feature allows more ability for collaborative promotions in the app and can also be of great value for influencer partnerships.
Full Screen Mode with Uninterrupted Split Screen Viewing: YouTube has prioritized an uninterrupted view of a live stream for your mobile device by taking a split screen approach with two different viewing experiences.
The live chat engagement panel in the lean in video and live chat experience will appear to the right of the screen, replacing the live chat overlay from the classic view. It allows for the video to be full screen when watching in landscape mode and the chat is illustrated by the viewer count in the lower right hand comer and when that's clicked, it brings the viewer back into the lean in mode.
The lean back experience will show a teaser of key moments in chat like polls. This will make sure that the viewer doesn't miss anything.
The company is beginning to roll out both of these views to viewers.
Live Q& A: This upcoming live Q&A feature is yet another addition in the creator's arsenal to foster a deeper connection with the community. It will allow a viewer to submit questions during a live stream based on the creator's question prompt and the questions answered by the creator will be temporarily pinned to the top of the live chat, which will encourage other viewers to submit their questions.
Though all these new features have already been seen in other platforms' live stream offerings, we could arguably say that it could be even more beneficial on YouTube. Moreover, it'll be interesting to see how YouTube creators respond to the additions as they become more widely available with broader content bring offerings, and get more avenues to expand and monetize their presence.
Go Live Together and Live Rings will go live first, while the other features will be rolling out in future. Along with these latest features, YouTube is also planning to continue to invest across its multiple formats such as Shorts, Live, and video on demand (VOD).
Experienced organic SEO companies keep track of new features launched by social media platforms to understand how it can impact their clients' digital marketing campaigns.
Take your time and try a few different variations to find out what feature works best for you and your community. Reach out to us at MedResponsive for a free consultation. As an SEO company providing social media optimization services, we can help you take your digital marketing campaign to the next level. We can personalize your campaign to match your brand and message.