Rich content works wonders by bringing targeted traffic to your website, blogs and social media accounts and posts, and people to your business. When it comes to optimizing your website for search engines, H1 tags play a crucial role. H1 tags are HTML elements that indicate the main heading of a webpage. They not only provide structure and readability to your content but also carry significant SEO weight.
Content writing services provided by experienced digital marketing companies ensure their clients' web pages, blog posts and articles are not lacking in resourceful and research-based information that can really serve the needs of users.
All that effort you put in churning content that matters and engages does pay off, if you do it the right way. The phrase "right way" contains so many aspects – content targeting the right kind of audience, content addressing their pressing needs, content with media variety such as text, videos, images and infographics, and social media posts that simultaneously inform and engage the audience, with obviously pictures and videos being part of the equation too. But these aren't the only aspects.
Having Great Titles for Your Content
If you haven't noticed, many aspects are taken for granted. Having the right headlines for your articles and blog posts matters, as much as the main content. In fact, you can't get that content to work for you unless you give great headlines that perform the SEO task of getting your articles to the search engine result pages (SERPs). That's where we come to h1 tags.
The H1 Tag
You've got a great title, but you need to package it well for the search engines to understand. And that's where HTML comes in. Any content on your page needs to be coded in HTML for search engines to figure it out. Your title needs to be cocooned in a HTML title tag, called the h1 tag. Here's an example:
<h1>This is the Title</h1>
What's between those h1s is the main heading of your page or content. These tags appear in a page's source code. Readers only see the content on the page, but search engines track and crawl your page based on the source code behind it. You can see that when you right click on any web page and click "view page source".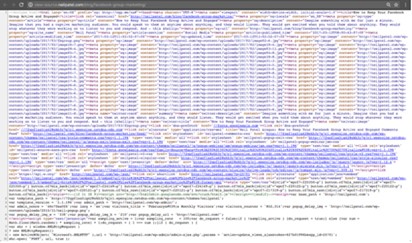 Image Source:
The h1 title tag appears on this page. And that's what we will be talking about now.
Importance of H1 Tags for SEO
H1 tags hold substantial significance in SEO for the following reasons:
a. Keyword Relevance: Search engines consider H1 tags as strong indicators of the main topic or keyword focus of a webpage. Including relevant keywords in your H1 tags helps search engines understand the content's context and improve keyword relevance for ranking purposes.
b. User Experience: H1 tags enhance the readability and organization of your content. They provide users with clear headings that convey the main topic, making it easier for them to scan and navigate your webpage. Improved user experience leads to longer visit durations and lower bounce rates, positively impacting your search rankings.
c. HTML Structure: H1 tags contribute to the overall structure and hierarchy of your webpage. Properly structured HTML with H1 tags helps search engine crawlers understand the importance and relationship between different headings and content sections.
Why You Need to Get the H1 Title Right
Getting the h1 titles right is really important because they always have been and still are important ranking factors. A recent survey by Moz reported that tags are among the third-most important ranking factors.
H1 titles are what people see first in your page – they are the most prominent. That's another reason why search engines attach so much importance to them. They help in effective user optimization. Neil Patel reports that 80% of Google search results that appear in the first page use the h1 tag. But he reckons that not everyone is essentially using them the right way. Are you making the most of your H1 title tag?
Just a Single H1 Tag
To get this right, first ensure you use just one h1 tag. Neil Patel argues that the reasoning that, h1 is just so good that the more you have it the better, doesn't work. It could reduce the power that one h1 could offer. You need the search engine's attention to be intensely focused on your h1 tag to deliver the maximum advantage. It's not that multiple h1s aren't used, and some may perhaps like using them that way.
Clarity of What the Content Is About
The h1 should give a clear picture of what your page content is about. This is a no-brainer, but we do find many headings inadequate. The h1 tag and the title tag are often similar. What you include in your h1 tag makes up your article or blog post title.
Being Concise
But at the same time, it shouldn't be too long. You need to be smart enough to describe what the page is about clearly, but also between 20 and 70 characters.
Dealing with the Specific Need of the User
While describing what your content is about in your h1, make sure you address user intent. You expect your article or blog post to come up in the search rankings when people search for answers to some query or doubts they have. Identify the most pressing need of your target audience and create content accordingly. Then, ensure your h1 that describes your content gives the reader an indication that they can get what they're looking for in your article.
Here are some examples:
"8 Ways to Lower Body Fat Without Too Much Stress"
"How You Can Improve Workplace Efficiency and Deliver Strong Results"
Don't Forget the Long-tail Keyword
Again, remember to include a long-tail keyword in your h1 title. Targeting long-tail keywords will not only improve your search performance, but also help you get traffic to your site at a higher rate, because these are the kind of keywords serious searchers use.
It is also important to address the user experience part of the heading placement. Your heading should grab the attention of the user. It shouldn't be inconspicuous.
When you've got the h1 heading part of the equation sorted out, you can be confident that you've done that extra bit to ensure your content is tracked by the search engines, that it attracts readers and potential customers, and eventually contributes to improving your ROI. By strategically placing relevant keywords, creating unique and descriptive headings, maintaining consistency, and optimizing for mobile, you can maximize the SEO potential of your H1 tags. Remember, a well-optimized H1 tag not only helps search engines understand your content but also improves user engagement and ultimately boosts your website's visibility and organic traffic. Seek the services of an experienced SEO outsourcing company that can help you ensure that extra bit is taken care of.
Ignite your website's potential with our expert content writing services!