From being an exclusive premium content platform to a more searchable platform, Twitter has always come up with innovative suggestions and features from their feedback. Recently, the American microblogging and social networking service, Twitter, announced that it has launched the initial iteration of Twitter Blue, the company's first-ever subscription service in its platform. With this new service, Twitter is cementing its position as a serious player in the realm of paid subscription-based services. However, with emerging technological advancements, the effective management of social media platforms has become extremely challenging. Therefore, to handle the social media accounts effectively, many businesses and organizations are opting for social media optimization services from reputable digital marketing firms. Such firms will be well aware of the latest advancements and features that would work for their client in the long run.
What Is Twitter Blue?
The first foray into a subscription service model, Twitter Blue allows its users to access premium features, including tools to organize their bookmarks, read threads in a clutter-free format and also benefit from the new "Undo Tweet" feature, similar to an "Edit" button. Though this launch from Twitter has been talked about for months, currently it's just rolled out to selected markets of Australia and Canada – for a monthly price of $3.49 CAD or $4.49 AUD. This is because, the company wants to gain a deeper understanding of what will make your Twitter experience more customized, more expressive, and encourage discussion around other features that Twitter should prioritize for future iterations of this paid subscription-based services – a move that has been forced by a number of recent investments including the company's Tip Jar and Super Follow features.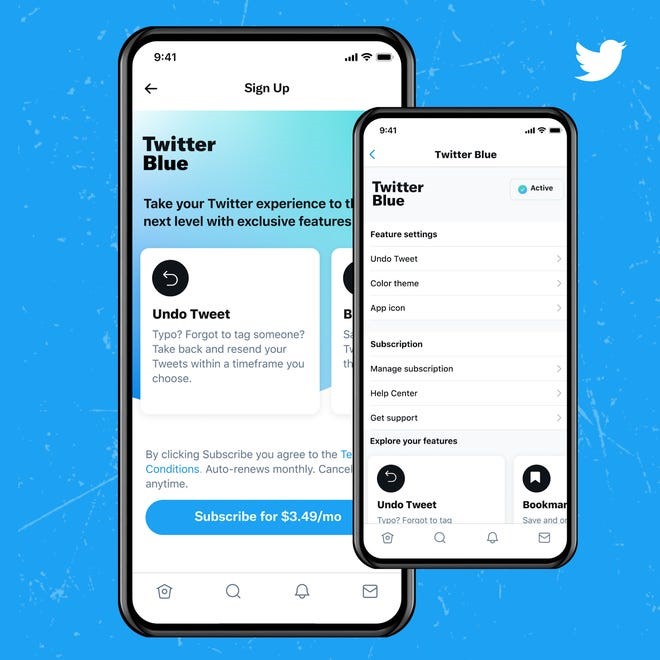 Image Source:
https://www.gannett-cdn.com/presto/2021/06/03/USAT/41a9bba5-2acb-4777-9d62-c4e840e3773d-Twitter_Blue.png?width=660&height=660&fit=crop&format=pjpg&auto=webp
Those who sign up for a Twitter Blue subscription will get a set of features and perks that include the following:
Bookmark Folders: If you want to save your Twitter threads into separate categories, then this new feature is your life-saver. Bookmark folders let Twitter users organize their saved content in customizable folders.
Image Source:
https://cdn.cms-twdigitalassets.com/content/dam/blog-twitter/official/en_us/company/2021/rogue-one/feature-bookmark-folders.png.img.fullhd.medium.png
Reader Mode: Looking for a way to keep your Long Twitter threads easily? Check out the new Reader Mode – basically, an alternative to something like the third-party app, Thread Reader App. At the quick tap of a book icon, Twitter users can turn their long threads into easy-to-read text and also combine multiple tweets together like a web article – so you can read all the latest content seamlessly.
Image Source:
https://cdn.cms-twdigitalassets.com/content/dam/blog-twitter/official/en_us/company/2021/rogue-one/feature-reader-mode-canada.png.img.fullhd.medium.png

However, to see the thread as usual, users can exit the Reader Mode which is displayed at the bottom of tweet detail view.

Undo Tweet: One of Twitter Blue's flagship features, Undo Tweet helps users correct mistakes easily by previewing what their Tweet will look like before the world can see it.It is a great feature as it will address many scenarios. For instance, this feature would be helpful for those users who quickly post their tweets only to belatedly spot a typo or that they have forgotten to tag someone. Many of these situations may be worth a few dollars per month for Twitter power users who tweet frequently.

With Undo Tweet, users can quickly "unsend" a tweet when they spot a typo or make some other kind of mistake. It allows users to preview and revise their Tweet before it goes live. They will be able to set a customizable timer of up to 30 seconds to click 'Undo' before the Tweet, reply, or thread they have sent posts to their timeline.


Image Source:
https://cdn.searchenginejournal.com/wp-content/uploads/2021/06/2f1023d0-ef53-47ea-981a-25d4dfd9f24a-60b92826ea6f2-680×680.png

Though Twitter had feared that allowing users to correct their tweets at any time could lead to malicious activity – changing the text of the tweet to later has a different meaning – the company had hinted that they are looking at a feature to address this issue. Instead of users' demand for an Edit button, the company had hinted about this "undo" option – that is, before Twitter Blue's launch.

However, the Undo button will appear for all sent tweets by default. Once the countdown timer is over the tweet will become viewable to the public and from there the only option to make changes is to delete it. This undo option can be used for all original tweets including quote tweets, threads, and replies.

Currently, only iOS app users have access to the undo tweet feature; not for Android users or twitter.com in web browsers.
Apart from these features, subscribers get access to certain perks, such as:
Customizable app icons for their device's home screen
Fun color themes for their Twitter app
Dedicated subscription customer support
All these initial set of features and perks were developed based on feedback the company received from their very own power Twitter community.
However, with Twitter Blue, the company is likely to improve revenue and drive engagement among creators and 'power users.' Twitter's plan for the subscription service had been previously scooped by app researcher Jane Manchun Wong, who uncovered the service's name, pricing and feature set by digging around inside the mobile app's code – which actually turned up as in-app purchase, further confirming some of Wong's findings.
USA TODAY says, "though there had been rumored tweets that Twitter Blue would initially be available in the U.S. for as much as $2.99, Twitter said the subscription service will able in the States later this year".
Recently the company introduced certain features including Spaces – the social media platform's response to audio chat hit Clubhouse – a Tip Jar – that allows users to send money directly to their favorite accounts; – and Fleets, which allows users to share text, photos and videos that disappear in 24 hours, similar to Snapchat. Twitter also lets its users know that they will be listening to feedback and building out even more features and perks for their subscribers over time.