Automotive SEO is the key aspect that helps improve the visibility of car dealership websites on the search engines. SEO for car dealers focuses on building and customizing websites to meet the needs of consumers who are looking for information about cars or car parts.
Regarded as one of the most competitive industries, the automotive sector has been undergoing several rapid changes in recent years. In fact, the market is so huge that car dealers and dealers of auto servicing are competing against similar players to effectively advertise their business.
Significance of Automotive SEO
The rapid growth of digital advertising mediums has made brands recognize the ease with which they can reach their target audience. Car dealerships no longer solely rely on the old standbys of 30-second TV spots or print ads anymore. As consumer shopping habits continue to evolve, car dealerships need to understand and utilize the digital marketing landscape.
The significance of automotive SEO becomes evident at this point. It is estimated that car buyers look or search at least 10 dealership websites before purchasing a vehicle. As automotive SEO comprises several important elements, it may not be enough to set up a website that provides only contact details and outlines the offers. Creating an appropriate marketing campaign and SEO strategy is key to success. Before conducting any activities, you need to focus on the company's business profile. Depending on the profile of the business, effective automotive SEO activities can help significantly increase traffic to a website and acquire new customers or clients.
Generally, the decision to buy a vehicle doesn't happen overnight, this process takes a much longer time. When customers start searching for a dream vehicle, they begin with selecting the brand, and then they specify the model, engine type, and equipment. Later on, customers tend to browse many websites, acquire details and finally, they reach the selected showroom where they want to take a test drive and talk to an expert. When analyzing the covered path to purchase, you will notice that generating traffic to your website is a must if you want to attract potential customers.
SEO Strategy for the Automotive Industry – Tips
When it comes to car dealer SEO, there are different aspects to focus on. Any car showroom website should be properly designed and optimized. It is important to outline the profile of the company, provide a map and include details concerning opening hours and address. Clear images and a complete description about the ongoing offers are a must. However, designing a pretty website alone won't bring the desired results. Automotive SEO is essential to properly promote the site and generate traffic. It involves focusing on numerous activities that increase the chances of your website being ranked high in the search results.
Here discussed are some key SEO tips or strategies for the automotive industry –
Create an Impressive Website – The design of the website is undoubtedly one of the first things that about 90 percent of potential buyers or clients will consider. Reports suggest that as of March 2015, there were close to 18,000 dealerships in the United States. With the reach that each dealership has outside of their designated market area (DMA), more than ever your website needs to rank well to stand out against the competition.So, create a unique website that is purposefully designed and maintained in such a way that they get ranked high within Google's search results. While designing a website, consider aspects like – aim for at least 400 words on the homepage, include address and phone number on all pages of the website as well as all of the cities served, include a title tag, H1, meta description, image alt text and title (if applicable) on pages and add a search bar and social sharing plugins.

Include Quality Content – Unique, relevant and quality content that your target customers find valuable is another important SEO aspect. Make sure that the website provides reliable and detailed information about available cars or services. Properly prepared content can help position the website higher in the search results. Firstly, content on the website should be adapted to users, not search engine robots.Create a blog or news section in the website with information about the cars sold as this can add value. A weekly blog post between 350-500 words is a good way to create local content that people in the designated market area (DMA) will want to read. Topics to focus on include – local events, upcoming model launches specific to your brand(s), community construction that could impact residents or traffic, charity or fundraising opportunities that people actually want to know about. Content about general vehicle topics like – tips on seasonal car maintenance, current specials, and holiday events – should also be included. Each post should be locally optimized. In addition, try to include an embedded GMB (Google My Business) map to the blog posts or the homepage of the website.

Focus on Proper Selection of Keywords – When doing automotive SEO, appropriate selection of keywords is important. Try to implement keywords in a natural way by delving deep into the subject and selecting keywords that correspond to search queries entered by potential buyers. Place keywords not only in the content of the website but also in the headers, titles and Meta descriptions. Long-tail SEO usually works best in such cases. Use precise phrases tailored to a particular car model, equipment or engine type. Such an approach can prove to be helpful for small, local companies such as car servicing and workshops.

Include Appealing Graphics – High-quality graphics or images are an indispensable element, irrespective of the car brand or model. The same principle applies to websites; however, in this case, it is also necessary to remember proper image optimization. Leaving ALT attribute blank is a mistake. Alternative descriptions are of key importance. Therefore, if you don't provide them, Google will see the graphics but won't be able to analyze the content.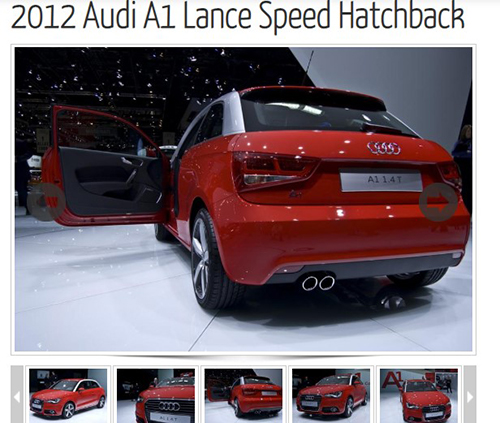 Implement AutoDealer Schema – Integrating schema mark-up into a website can give an edge over the competition. Schema mark-up is an addition of code to a website that helps search engines and site crawlers better understand the content on a website. Schema mark-up options for car dealer websites include – hours of operation, address, reviews, and telephone. Here is an example of schema markup influencing Google's Knowledge graph for a local car dealership –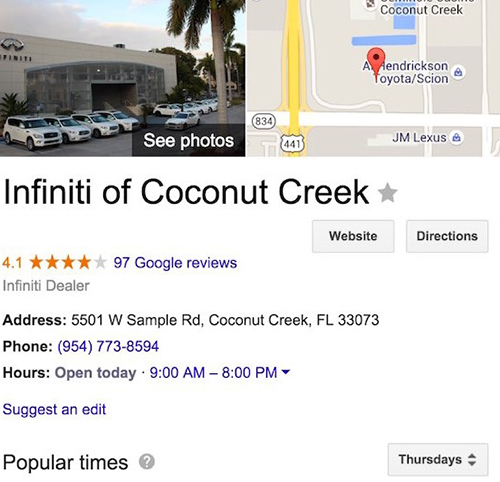 Focus on Social Media – Being active on popular social media platforms like Facebook, Instagram or Twitter can help better present business-related offers and build relationships with potential customers. Make sure that all of the social media accounts provide information such as contact details or addresses of the company.
Obtain Inbound Links – Inbound links from trusted websites is an important aspect that can improve your website's ranking. Links from local websites and organizations can improve a website's ability to rank highly for location-based search queries like "Car Dealers in Washington DC." To obtain these local links, car dealerships should think about all of the sponsorships and community events they participate in throughout a given year. For example, if you are donating to a local children's charity, be sure your company gets listed as a sponsor on the charity's website. Many dealerships are already involved with local non-profits, sports teams, and car meet-ups.
Obtain Reviews – Earning positive reviews about your products and services is vital to protect your online reputation. Get in touch with the existing customer base and invite them to provide feedback on your business. Reviews from existing customers can help identify if your business needs to make improvements or adjustments. After each sale, send an email to the customer asking if they were satisfied with their service/purchase. Most dealerships have very detailed questionnaires after a purchase. There are vendors that provide a service to dealerships that include a questionnaire and allow positive reviews to be automatically posted to social media and auto review sites.
Create Location-based Pages – Creating localized pages for some of the top car brands is an important strategy that car dealers engage in. In certain cases, customers may be looking for a specific model or brand that they want to purchase in a specific geographical area. For instance, a user may search for something like "honda accord raleigh nc". When using this query, we found that a local dealership, Leith Honda, has done a great job of creating a page for this.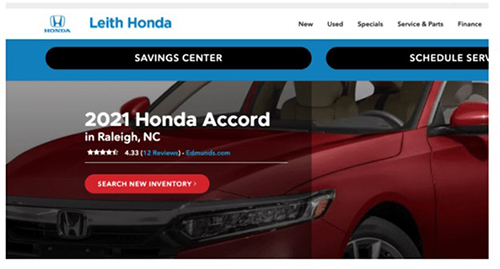 The above page displays vehicles that are currently in their inventory that are sold in the Raleigh area. This page can capture some really qualified traffic as the users have narrowed down their make, model and geography. For car dealers, creating these types of pages for their popular make/models can help their website gain relevant landing pages that are matched to low funnel keywords users might be searching for.
Claim Google My Business page – Setting up a GMB profile can help easily and quickly access information concerning business opening hours, check addresses, phone numbers and directions, or read customer reviews. If your company has several departments, make sure your Google My Business profile provides addresses to all of them as this can have a positive impact not only on online traffic, but can make your business easier to find for individuals to view your inventory.
Digital efforts are essential to dealership survival. Implementing the above-mentioned automotive SEO strategies can help optimize your local car dealership efforts. As SEO is a continuous process, implementation of these strategies will not yield overnight success. Therefore, it is important not to get discouraged by the same and stop implementing SEO activities if they don't pay off immediately.
Outsourcing automotive SEO activities to an experienced and reputable search engine optimization company could be the best way to implement all the optimizing techniques in the right manner. This in turn will help index a website, make it visible to the right group of audiences and reach higher positions in search results.