In recent years, plastic surgery has become a highly competitive specialty. This is primarily due to the fact that plastic surgery practices tend to employ a wide range of unique marketing tactics to help broaden the client base. Out of all the plastic surgery marketing strategies, local search engine optimization is perhaps the most pertinent in today's digital marketplace. In fact, Google has taken over the spot the Yellow Pages used to occupy, with most people consulting the search engine before making a major buying decision. Most people looking for a plastic surgery practice will begin their search online, making local SEO of critical importance. Before we get started, let's discuss some of the local SEO tips for plastic surgeons that make a surgery plastic surgery practice stay ahead from the competition and attract more potential patients to a website.
Reports suggest that 71- 92 percent of people don't go beyond the first page of Google search results when conducting research online. Designing a sound SEO strategy is one of the most reliable ways toimprove brand visibility, build trust and allow patients and prospects (searching for services) locate a website and have a clear idea about the products and services offered by a plastic surgery practice. So, plastic surgery practices planning to attract more targeted audiences to their business can consider getting assistance from a reputable digital marketing services company.
What Is the Importance of Local Plastic Surgery Marketing?
One of the most important aspects for any healthcare business is to ensure that there is a steady stream of prospective patients or clients in the pipeline. Even though in the present times, more people than ever are investing in cosmetic procedures making the market place more crowded and competitive than ever. Referrals and word of mouth can only make difference to a certain extent, most plastic surgery practices tend to look for innovative, online marketing tactics to put them ahead. An expert digital marketing campaign is the best way to stand out from the competition and attract more potential patients to a website.
In simple terms, search engine optimization (SEO) is the practice of optimizing online presence so that search engines' algorithms place you higher up on their results pages. Generally, when most people search online, they conduct research according to the order Google lists each website in.
It is very rare that people go beyond the first page to find what they are looking for, and focusing on local SEO is an important strategy. Ranking for local SEO is not an easy task nowadays as it is important to have valuable local content to compete with zero-click results in local SEO search results. It is possible to rank for less competitive local keywords by developing top quality, local content. No matter what the website demographic is, local SEO can tweak a website from both the back end that customers don't see and the front-facing parts.
There are many advantages for investing in local SEO services which include –
Enhanced visibility on search engines such as Google, Bing, and Yahoo
Stay one step ahead of the competitors
Increased traffic to a website
Attract new patients to plastic surgery practice
Marketing a Plastic Surgery Practice- Top Local SEO Tips
Digital marketing for plastic surgeons can be complex and time-consuming. When it comes to getting involved in high-quality local digital marketing strategy, there is much more than just blogging, positive reviews and AdWords pay-per-click marketing. Here are some top local SEO tips for plastic surgeons to get started –
Website Design is Crucial– The design of a website is an integral part of local SEO. If a website appears clumsyor the infographics remains outdated, people are likely to leave a website quickly. In most cases, potential clients may rate a plastic surgery website entirely based on the specific information posted both online and offline.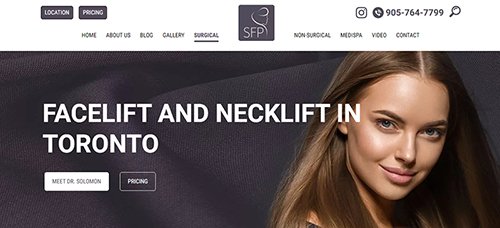 Image Source:
Optimize Web Pages for Local Search– Optimizing the website pages for local visitors is another important aspect as this enables the search engine to comprehend for which location a website is planning to get ranked. Typically, optimization of web pages is related to technical SEO as it comprises comprehensive practices to boost a website for targeted results. When optimizing web pages for local search, it is important to start with "core" pages- which are the homepage and service pages, making sure to optimize them for your buying intent keywords. Later, it is important to focus on "content" pages, or FAQs and blog posts, which are optimized for research intent keywords. Here are some other important aspects to focus on-

Homepage – The single most important element on a website homepage is the title tag. Define title tags, headings aligned with local keywords to help the search engines crawl and bring the website among the top listings. It should be between 50 and 65 characters long. Next is the Meta description, which lists the core services and ends with a call to action. Make sure it is 100 to 150 characters in length.Write compelling Meta descriptions that include geo-specific phrases that help users that prefer clicking on the website while seeing the web page snippets. The H1, or visible headline, should be both concise and descriptive, and should include primary category. The last key element is the page copy, which should be 500 to 1000 words long, clear and descriptive, and well edited. Provide some background information about the plastic surgery practice, briefly explain the main services, and close with a strong call to action.
Service Pages – Each primary service needs its own keyword-optimized page. Optimize each service page exactly as done in the homepage, making sure to substitute the relevant keyword.
Create Mobile-friendly Pages– Websites are not just for desktops and laptops any longer. More people are using mobile to browse the internet. . This is particularly true for local SEO because the searcher may be looking for a quick filler session from beyond their local area.Even Google has announced that it will be using mobile-friendliness as a ranking factor for mobile search results.
When optimizing web pages for local search, consider the following points-
Use a responsive design layout.
Write compelling meta descriptions that include geo-specific phrases that help users that prefer clicking on the website while seeing the web page snippets
Include the heading, for setting a content priority
Avoid using too many popups or intrusive interstitials, making it hard to read content on mobile devices.
Make sure the website loads fast as readers will fall back.
Test the site on multiple devices in various browsers.
Provide tools to help visitors share the content on social media.
Use extensive links and buttons that are easy to tap.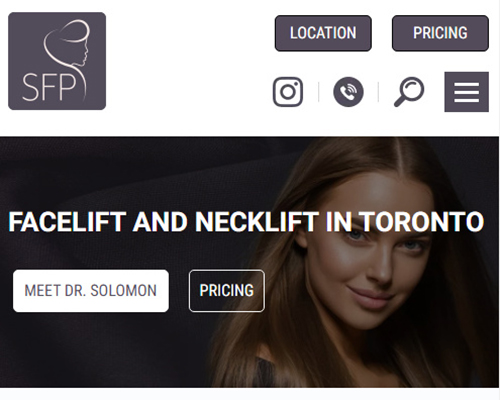 Image Source:
Research Local Target Audience– Conduct extensive research on the local area to decide on the tone of messaging, and which procedures to offer, and to develop a strong USP. This information can be used to fine-tune each local landing page so that it appeals to that specific locale. For instance, while giving directions on the website to visit the surgery center, make sure to include popular landmarks in the content. This helps search engines better understand the location.
Establish Keywords– One of the first steps of designing a local SEO strategy is to establish keywords. Make a list of keywords that describe the plastic surgery center's services. For instance, try such keywords as "cosmetic surgery", "tummy tuck", and "facelift". When the keyword list is fairly complete, set up a free Google AdWords account as this accountwill give access to Google's free Keyword Planner tool. This allows you to input the chosen keywords and learn how much traffic they get. It also suggests additional related keywords that might not yet be on the prepared list. With this information in hand, you can select exactly which keywords you will use.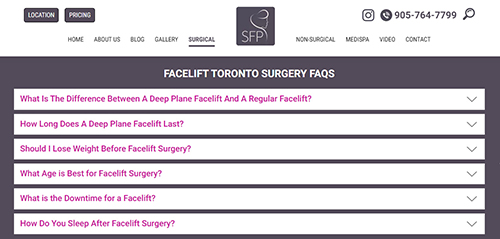 All keywords can be categorized into 2 different types-
Buying Intent Keywords – Buying intent keywords indicate that a prospect is imminently ready for the services. For instance, a search for "breast reduction New Jersey" likely indicates someone who knows what she wants, and is looking for the right plastic surgeon to perform it. Therefore, the local SEO campaign should focus on buying intent keywords, since these produce the speediest results. Feature these keywords on the homepage, and create related service pages.

Research Intent Keywords – These keywords are used when a prospect is just shopping around. For instance, a person may want to perform a plastic surgery in the future, but is not currently ready to have it done. Say for example, someone searching for "non-surgical rhinoplasty" may be unhappy with his nose, but is just starting to consider his options. Research intent keywords should be a lower priority, as they take a long time to drive conversions. However, never completely ignore them, as they may be highly useful in blog posts and FAQs.
Optimize Keywords– After deciding on the final list of keywords, it is important to optimize for them in two different areas like – Google My Business page and the website. GMB profile gives new prospects a short overview of your services, and increases the overall online presence. It can also boost rankings quickly, as it is much easier to achieve high rankings with a Google My Business page than with a website. In addition, it also increases the chances of appearing in the local pack, which is the stack of three local listings that appears underneath a map at the very top of the SERPs. However, it is important to include the following elements while optimizing the GMB profile-

Verification – Claim your GMB page and go through the Google verification process. When a checkmark sign appears and the word "Verified" appears next to your business name, it is an indication that the profile page is ready to move forward.
NAP – Business name, address, and phone number, must be entirely accurate and consistent. Let Google know that yours is a local business by listing a local phone number instead of an 800 number.
Categories – Google requires categories to focus on services instead of results. Apart from Plastic Surgeon, list any other additional services you provide, such as Laser Hair Removal Service or Day Spa. Try to include at least 3 to 5 categories.
Description– Give a brief overview of the plastic surgery practice that ends with a call to action- not less than 200 words in length. Also, include the office hours.
Images– Try to include eye-catching images as this can dramatically improve patient engagement, and show prospects that a surgery practice is expert in performing a specific service. Add a few images of your office, your staff, or your satisfied patients (with their permission).
Collect Citations and Links – Now that the framework is in place, your website is ready to collect citations and links as these help boost online reach and improve Google rankings. In simple terms, a citation is an online directory listing of your business NAP (name, address, and phone number). There are general national directories, general local directories, and targeted medical directories. It is important to note that the NAP must be identical in every listing. As Google rankings depend largely on inbound links from authoritative websites, it is important to focus on building relationships both online and in person with those who offer complementary services, right from general practitioners to fitness centers. Tools such as the Moz Open Site Explorer tool can be used to show where the local plastic surgeons are finding their links.
Use Locally Targeted Email Marketing– Segment your email list by demographics and create personalized emails to each group. By including local news, stories and testimonials in follow-up emails and targeted campaigns, you can strengthen the connection between your business and the customers who live locally.
Focus on Reviews and Patient Testimonials– Patient or customer reviews serve a twofold purpose. First, they convince potential patients to try your services. Secondly, these reviews let Google know that your practice is legitimate. In order to get the fastest rankings boost, focus on Google My Business page reviews. Send an email to your satisfied patients with a link to your Google My Business profile, and ask them directly to write a review. Doing this regularly will ensure an ongoing stream of reviews. However, never ignore or be afraid of negative reviews. The more people interact with your page and leave feedback, the better. Of course, attaining more positive feedback than negative is important for your business image. This can be done by offering exceptional services, and asking loyal customers to share their opinions online.
A significant component of digital marketing plans, local SEO undoubtedly requires careful planning. Local SEO is essential for increasing brand exposure and local search awareness. When it comes to a plastic surgery seo, the end goal of local SEO is to attract organic traffic by reaching out to local customers. Implementing the above-mentioned local SEO strategies will help a plastic surgery practice to attract potential clients and convert them into patients, thereby increasing the bottom line of the business. Relying on the services of a reputable local SEO service company can be of great help in this regard as they can provide the necessary assistance to plastic surgeons to optimize their website and attract more local patients from Google.