One of the most important and fiercely contested sectors in the world is e-commerce. Search traffic can be considerably increased by putting a solid Ecommerce SEO strategy in place with the aid of an organic SEO company. To draw in more potential customers, e-commerce websites need SEO. The fact that e-commerce websites make it convenient for customers to shop for goods is the main reason for their popularity.
Your customer's journey will be seamless from beginning to end if your website is optimized for SEO, making it simple for potential customers to find your goods and services. However, a badly executed strategy with typical errors might result in a site's ranks dropping dramatically.
Search engine ranking is influenced by a number of things. Even SEO professionals lack a thorough understanding of these elements. So, your practical option is to try to implement SEO best practices.
Common Ecommerce SEO Mistakes
So here is a list of some of the common ecommerce  SEO mistakes.
Avoiding these 5 ecommerce SEO mistakes will probably improve your chances of appearing higher in search engine rankings.
Lagging web page: If you are unaware of this, you are most likely already doing this SEO error. According to dynatrace.com data, more than 50% of Internet users anticipate websites to load quickly, under two seconds. This implies that a person is already thinking of clicking the back button when a website takes longer than two seconds to load. You may be thinking that these customers are simply too demanding. Therefore, you must start making changes to satisfy user requests. Google announced its aim to use page speed as a significant ranking factor in a post on its official blog in 2010. Therefore, don't be shocked if a website with a lower authority than yours outranks your website.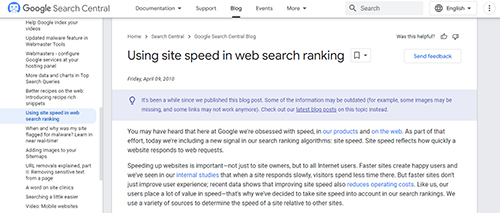 Image Source:
Your website may be slow for a variety of reasons, including the following 3:
Huge images: You should use images on your web sites for a variety of reasons. They're a terrific method to break up content, especially in blog articles, aside from the obvious benefit of making your web pages appear lovely. However, using large-sized photos on your websites would be excessive. Using huge photos will use bandwidth in addition to slowing down your website. So, remove that 2000 pixel image from your website and resize it using any image editor of your choice to 600 to 800 pixels.
E-commerce system: There are numerous ecommerce platforms, with Shopify and WordPress maybe being the most well-known. There is at least one area where one ecommerce platform excels all others. Fast load speed is one feature, nevertheless, that a decent e-commerce platform must have. Therefore, be sure the ecommerce platform you choose supports quick website loading.
Redirect chains: Redirects are a fantastic method to improve the user experience for your visitors. You can prevent users from seeing a "404 Not Found" error when they try to access a piece of content by using them. Users will be irritated by your slow loading websites if you redirect to one URL, then to another, which then redirects to another.
Duplication of content: This is a fairly typical SEO error made by many ecommerce businesses. When the same content appears on your website under various URLs that is considered duplicate content. Variations in products frequently result in this. Assume you have a product on your website with a number of color options. Search engines will flag your store as having duplicate content if each of these different colors has a different link going to it.Although your website's SEO may not be completely impacted, this does have other effects.
In this case, a search engine like Google would only index one of these links while de-indexing the others. Sometimes, if you're lucky, the link you seek will be chosen for indexing, but other times, you might not be. Choose a single page that you want Google to rank and make it your canonical URL to prevent this. Google will precisely know the page you want to appear on in search engine results if you do this.
Bad mobile experience: The amount of traffic coming from mobile devices is increasing every year. 52.2% of all website traffic worldwide in 2018 came from mobile devices. Accordingly, if your website wasn't mobile-friendly in 2018, leading search engines sent very little or no mobile traffic your way. Search engine results on Google prioritize websites that are mobile-friendly. There is very little likelihood that your e-commerce website will rank higher than those of your rivals who have made it mobile-friendly.
The responsiveness and page speed of a website are indicators of its mobile friendliness. The ability for material on your website to be properly structured regardless of the screen size on which it is presented is known as responsiveness. When utilizing a desktop computer, users can typically navigate websites without any difficulty. However, if your website isn't responsive, using it on smaller devices becomes challenging.You may check how mobile-friendly your website is using the Google mobile-friendly test.
Poor quality content: This is undoubtedly one of the more frequent SEO errors made by new online store operators. The following are some of the common content errors:

Product descriptions from other e-commerce websites should be copied or spun.
Ignore the product category pages and leave off the description
Use poor SEO for product titles on their stores
To increase your website's click-through rate in search engine results, avoid optimizing your Meta descriptions.
These are just a handful of the errors you might make with your online store. Both users and search engines value the material you produce. People may not visit your store or make purchases from you if the content is poorly written. If no one interacts with your store, traffic will drastically decrease. One of your primary goals should be producing original material that is optimized for search engines. Stay away from plagiarism and produce content that encourages customers to interact with your store.
No Internal Linking: One of the most crucial elements of SEO for e-commerce sites is internal linking. Internal linking not only enhances consumers' experiences on your site but also aids search engines in comprehending your content and your site as a whole. Internal linking makes it easier for users to navigate the website, which can increase user engagement. Moreover, it contributes to a solid site architecture. To avoid having your pages feel like isolated islands in the middle of nowhere, you should try to make sure that each page on your website links back to other pages on your site.
Zero product reviews: Product reviews not only give your prospective buyers a better understanding of the quality of a product, but they also let search engines know how popular your product is with your existing customers. Given that Google is user-focused, it stands to reason that it will prioritize online shops with positive customer ratings in search engine results. Sending emails to your consumers asking them to review the product is a very quick and low-cost technique to collect product reviews on your site.
The ranking in search engine results is influenced by a variety of factors. Your online store will be more successful if you avoid the blunders listed above. Making these changes and correcting these errors will ultimately improve the ability of your organic content to attract visitors to your website and encourage conversions. To make sure that your entire website is optimized and to raise your search engine ranking, you may also contact organic SEO services.