Our world is facing a very serious challenge with the outbreak of COVID -19 (caused by the novel corona virus), which is also having a significant impact on the economy. Businesses have been greatly impacted as the economy has taken a hit due to COVID-19. During this time, it is important to stay calm, safe and explore all available options for your business. Businesses across the world are coming to terms with the revelation that daily procedures are quickly changing as a result of the COVID-19 pandemic. The massive transformation of marketing from traditional to digital over the years has made more businesses rely on digital marketing services to stay competitive. Whether your company has halted all operations or decided to implement a telework routine, how you approach your digital marketing and SEO presence should be well designed or adjusted in response to this current health crisis. Message tones, current campaigns and the effect that the pandemic has on your industry should all be carefully monitored before posting or sharing any kind of digital content.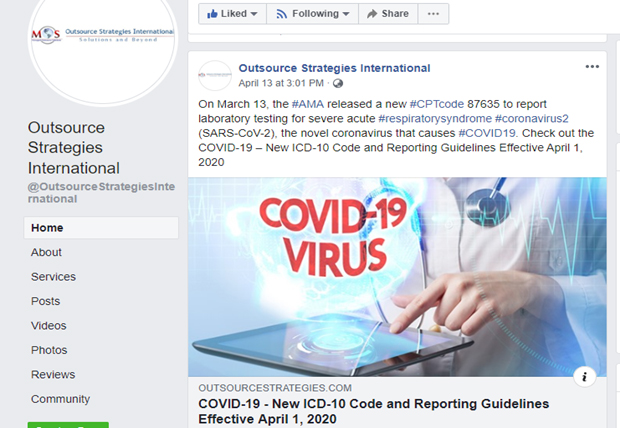 COVID-19 has shifted not only business trends, but also consumer priorities and the entire marketing landscape. In order to survive the negative sentiment and economic slowdown – resilience, innovation, empathy and agility are vital. As consumers' lifestyles are adapting to staying at home, marketers must proactively reach out to them where they are.
Here discussed are a few tips on navigating your digital marketing presence during COVID 19 –
Connect with your customers on social media during a critical moment – As more people are partially stuck in their home, this is the perfect time for a company to engage more with prospects and customers. Most people use social media scanning for updates and trying to stay connected in a suddenly isolated phase. People need support, understanding, education, and resources. Social media can provide just that and can be extremely powerful if it is done correctly. Use your social media channels to keep your customers up-to-date with your business. Create posts to let customers know if you are open or not; if you are taking online orders, and other details. Generally, just being active online is encouraged. For instance, Instagram recently launched a "Stay Home" sticker for Instagram Stories in a bid to encourage social distancing during the COVID-19 outbreak. Furthermore, profiles that use this sticker in their Stories get pulled into a new group Story, just for that sticker. It is a good way to get in front of your followers during this time with key messaging related to your business operations.

Make sure your business can be found online – Reports suggest that search traffic has increased significantly during this pandemic phase. People are all glued to their phones and laptops looking for continuous updates within their specific community. People are looking for entertainment and ways to pass the time. For many, that includes shopping online. Anything online right now will be consumed more than ever before. This is not the time to be hidden online. Businesses need to use search engine optimization (SEO) strategies to climb on the top of Google's search engine results pages (SERPs) to make your business to be found easily. People may still place orders and need things even when at home. In fact, a lot of people still contact companies during work hours, and that is not going to change just because they are at home.

Update your "Google My Business" profile – Updating your "Google My Business" profile is imperative irrespective of whether your business remains closed or open during this period. Google has announced that Maps will display if a business is temporarily closed. Currently, the only way to mark your business as temporarily closed is to contact "Google My Business Support". However, according to reports, in the coming days, Google will make it possible for businesses to easily mark themselves as 'temporarily closed' using Google My Business. Google has been actively recommending that businesses update their "Google My Business listing", especially if they have been affected by COVID-19. Google has released information on how to update business information in a bid to provide customers with the most accurate information. It is essential for local businesses to update their "Google My Business" page, especially when "nearby" or "near me" searches are the most common.

Answer Frequently Asked Questions – As people are using Google more than ever, it is important to ensure that your website answers the questions that searchers are looking for (whether it is regarding store opening or stocking of certain products). By having the answers to these questions and adding FAQ schema to the pages they are on – your business opportunity will appear higher in the search engine results page (SERP), which in turn, can increase your traffic and click-through-rate (CTR).


Source:-https://technumero.com/faq-schema/

Create a "Google Ads Campaign" – As mentioned in the above points, it is imperative to let your customers know if your business is still open during this crisis. Creating a "Google Ads Campaign" is one of the best ways to reach potential customers. You can use the likes of "Facebook Ads" to reach your target audience on social media. During an emergency, a specific drop in demand of certain products and services is quite common. Online advertising is the best way to make a push with discounts and support your sales team.
Use Pay-Per-Click (PPC) Advertising – With more people at home in front of their mobile or laptop screens, it is a great opportunity for businesses to use PPC marketing to connect with their customers and gain a competitive advantage. In addition, PPC marketing is a great platform to save some money within your digital marketing budget. According to recent reports, cost-per-clicks (CPC) have decreased by 6 percent (on average) across all verticals. And CPC is more likely to continue to decrease in the coming week, reducing the amount of money an advertiser pays a publisher for every ad click. This in turn gives your business another opportunity to pick up that lost market share from others pulling back during this time.
Prepare your business for the "Bounce-Back Surge" – The intensity of COVID -19 outbreaks is expected to reduce within a few months. That is when normalcy returns and consumers' spending habits stabilize. It is important to consider that SEO is more of a long-term strategy. Therefore, what you do for your website SEO campaign will affect your organic search traffic two months from now. Breaking your SEO campaign now can have a negative impact on your revenue potential two months from now when the coronavirus starts to become a distant memory. Businesses that plan to stop their SEO campaign now won't get the results they expect when everything is back to normal. Anticipate the low times, prepare and press now while others are letting up. The results will be in your favor when you will need it.
Opportunities for special offers – During this uncertain period, businesses can show support for their customer base by offering special discounts that will keep the revenue flowing. Identify your product-market fit and create a special offer. Many people are at home browsing, looking for discounts to save money during a time of unrest. It is a great way to connect with your customers and keep a steady stream of revenue. Businesses can push out their special offers through pay-per-click (PPC) advertising and social media. Example?


source:- https://www.crazyegg.com/blog/facebook-offers/

Understand the relevance of Local SEO – As people have reduced their travel during the corona time and even if they leave their home, they may look for nearby destinations for essential services and supplies. Use local SEO strategies to optimize your website for "near me" searches. This may help customers in your geo region to easily find you online so they turn to you first. At a time when we are all looking for more convenience, this gives your business a chance to help during a critical time. Another important way to boost your local SEO during this time is to add positive reviews. During the coronavirus, online reputation management is crucial as this helps to really connect with your target audience during a chaotic time. When you provide the right service or product for people during a stressful time like this, you are very likely to be rewarded with a glowing review. Even though Google My Business (GMB) has temporarily suspended publishing online reviews, you should still push to get reviews submitted so they publish when GMB returns to normal. One way to boost your brand during a crisis is to partner with a professional SEO company that can help you with your review responses.
Businesses must remain agile during this economic downturn because of the restrictions that are in place in terms of quarantines, social distancing and shelter-in-place orders. Businesses should look for new ways to serve customers while they mostly remain in their homes. Only "essential" brick-and-mortar businesses remain open throughout most of the United States. But just because you can no longer accept walk-up customers doesn't mean you have to stop selling or halt your marketing activities. For instance, hair salons are not considered "essential" businesses and have been closed in most cities. But people still need haircuts. So, if they are searching on Google for "How to cut my son's hair" or "How to cut my hair at home," a hair salon owner can take advantage of this new search traffic by writing content that focuses on those keywords and answer those questions. Include a video for more of an SEO boost. Through this, you have the opportunity to reach new customers and strengthen your brand that will better position you for your return to work.
The best way to execute content and SEO during COVID-19 is by hiring digital marketing and SEO services. A professional company can modify your SEO strategies, focus on search topics that matter and provide customized local SEO services to ensure that your site is visible to the right audience. Efficient digital marketing services include creation of great content as well as new app development and promotion among many other solutions.