Almost all businesses focus on SEO while creating content but often ignore Google Discover. Businesses must realize that optimizing content for Google Discover using SEO techniques is also essential to improve visibility and build brand authority. If you wish to optimize your content for Google Discover Feed, then providers of outsourcing digital marketing services can prove to be helpful. This can drive more traffic, provide better ranking and build brand awareness.
If you are new to Google Discover, it is the name Google gave to their feed which was a card-based list of news, videos, and other information based on your browsing history. Once Google Feed reached 800 million active users per month, the quality was upgraded and a new name was given, Google Discover. Google Discover is an AI-powered content suggestion feed that compiles content (videos, articles, news, photos, and more) based on your interests and data from your prior searches and activities. Google uses data from its products and search engine to give consumers customized, relevant content based on their interests and location.
Ways to Optimize Your Content for Google Discover Feed
The following are some ways to optimize your content for Google Discover:
Get your website optimized for Google Accelerated Mobile Pages: Google Accelerated Mobile Pages is a huge factor for SEO (AMPs) as it was created for speed, which is a key Google ranking criteria. AMPs load almost instantly, providing a smooth and enjoyable website user experience (UX) across all devices, including desktops. The quicker your pages load, the more satisfied your users will be. But if your web pages load slowly, you will have a harder time ranking in the SERPs.
Your chances of being picked up by Discover will also be limited. The Google Discover report tool allows you to compare Google AMP and non-AMP performance. As a result, by optimizing for AMP, you are giving mobile users an amazing user experience (UX) while also saving time and increasing the chances to appear on Discover.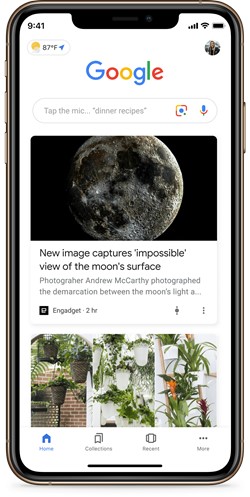 Create unique blog content: Google Discover will not show any content randomly to your users. Instead, it searches for high-quality, useful materials that will improve the user's experience. Keep in mind that the main goal of branding is to improve the user experience. As a result, Discover will constantly provide users with high-quality material.
Therefore, it is quite natural to invest in your content writing plan in order to give your best. However, if you are one of the 65 percent of marketers having trouble creating interesting content, you can join the over 80 percent of marketers who outsource content writing services to freelance writers. The goal is to make sure you publish result-oriented blog content on a regular basis. Additionally, for the best effects, make sure your content is in line with the spatial order organization. You'll be able to raise your income this way and increases the chances to show up on Discover Feed.
Utilize top-quality visual elements: It's not just the text when it comes to creating high-quality content. It also involves visual content elements. Remember that the new Discover puts a greater emphasis on visuals, like videos. As a result, utilize more visuals to boost your campaign's visibility on Discover.
According to HubSpot's marketing statistics for 2020, 87 percent of video content marketers (visual marketing content) reported an increase in web traffic due to videos. In addition, 80 percent said that videos helped them increase sales. Furthermore, never include photographs of any size in your article, instead, resize your images to at least 1,200 pixels wide as advised by Google. Larger graphics get better results on the Discover card, according to the search engine giant.
Here Are Some Of The Statistics
Marketers improved time spent on pages by 3%.
The publishers saw a 5% rise in click-through rate (CTR) and a 3% improvement in user happiness.
More consumers (54%) desire more videos than other sorts of content.
Stick to SEO best practices: One of the best strategies to get discovered by Google Discover is to follow fundamental SEO standards as it assists in the enhancement of the customer experience as well as your SEO approach.
How Do You Optimize For Google Discover Feed?
If you want people to keep coming back, you need to provide them a good experience. You will get increased dwell time on your page with a better experience. Please keep in mind that page dwell time is not the same as "Time on Page," which is a Google ranking criteria. Dwell is the time between when a searcher comes to your website from a SERP and when he returns to Google's results page. Use the following SEO recommended practices to optimize your content and website.
Improve the site's performance.
Check to see if your blog or website is mobile-friendly.
As more people use mobile devices to access the internet, your site must be mobile-friendly. In fact, according to research, people spent more time on their phones (over 70%) in 2019, and experts predict that this number will continue to rise in the coming year.
Use a secure socket layer certificate to protect your website (SSL). HTTPS is a Google ranking indication, and you can purchase an SSL certificate to convert your URL from HTTP to HTTPS.

Your webpages must be crawlable: One of the most important aspects of SEO is letting Google know what your sites are about, how relevant the content is, and so on. However, until Google crawls and indexes your sites, your chances of appearing in searches are limited. As a result, make sure that your sites are easy to crawl so that Google can index them. It's a necessary step on the way to being featured on Discover.
Creating an XML sitemap for your website pages is one such strategy. It is not, however, about any page on your site, but rather those with high-quality content that engages your visitors. To make the process go faster, you can utilize Google Search Console, Yoast, or FastIndex.
Ask your people to follow: The Google Discover app allows you to choose which businesses and topics to follow. If you don't notify your audience, they may not follow you. So, asking people to add your blog to Google Discover is the best method to get them to follow you. As a result, anytime the app pulls up fresh blog content from your site, Google will notify them.
It doesn't have to be a new blog post, but it should be high-quality content that answers users' questions and adheres to Google's content publishing guidelines. This aids in increasing engagement with your current blogging community while also bringing new readers to your site. The more individuals who add your blog to their Google Discover interests, the more Google signals that your blog content is interesting and beneficial to your target audience. As a result, you'll be able to boost your search engine ranks.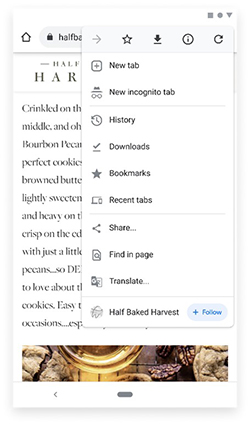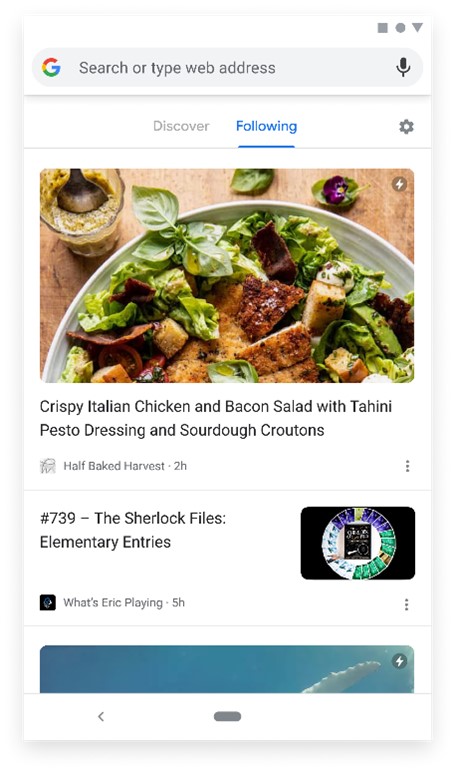 Develop trustworthiness: Social media is an excellent tool to develop trust. The reliability of your content is more important on social media. Encourage individuals to share your posts across several platforms to increase your trust factor. Likes, comments, and shares are all social signals that help you boost your SEO. Social signals are critical in establishing trustworthiness. You will develop social signals that boost your popularity and score your content higher as more people share, comment, and like your articles.
Finally, it boosts the reliability of your content while also alerting Google that it is excellent. As a result, Google will identify your content as reliable content, increasing your chances of appearing in Discover's Feed. However, keep in mind that users will only share your posts if you create exceptionally good content. For example, Facebook tweaked its algorithm update and since then it ranks only excellent news.
So, to streamline your marketing procedures, employ the best social media marketing solutions. Develop a consistent link-building approach to gain relevant backlinks from authoritative websites in your niche, though. The links you receive back to your site also contribute to your credibility and increase trustworthiness.
Keep up with Google's policy of content publishing: If you want to appear on Discover Feed, Google says you must follow their blog content publication terms and policies. This means that your blog entries and other types of content must adhere to Google News Guidelines as well as Google Webmaster Guidelines.
This is because Google strives to improve the user experience by assisting searchers in locating content from blogs and websites that are of high-quality, and useful. As a result, your posts must:
Be Original
Be Useful
Respond to user queries
Be Fresh (if you are republishing old content, update it with new ideas)
Improve User Experience
These benchmarks will aid in improving user experience (UX).
Post evergreen content and popular blogs: Discover provides consumers with a mix of new blog posts and relevant evergreen material based on their search history.
It allows Google users to stay up-to-date on the latest news in their chosen fields. Furthermore, generating high-quality evergreen content will keep your readers engaged, improve user experience, and increase web traffic for the longest time. Newsworthy and evergreen content is your ticket to appearing in Google Discover Feed. Such content is favored by Google, and they will be selected for inclusion in Discover.
Your site content will continue to appear on the renamed Google Feed after the piece is published on Discover, driving organic traffic back to your blog. Discover will also assist you in establishing a devoted readership.
Know your competitors: As mentioned earlier, there are many types of content that Google Discover loves to show their users. It will be beneficial if you spend some time researching your competitors to understand what types of posts they write and why Discover prefers their content over yours.
So, before you begin studying top rivals, consider the following:
Why does Google Discover prefer the content of my competitors over mine?
What am I doing wrong that my content isn't showing up in Discover Feed?
What are the things that my competitors are doing that I'm not?
What makes their content stand out?
Should I come up with new angles for my content to be on Discover?
These queries can assist you in better understanding your competition and brainstorming strategies for getting your posts published on Discover. Follow relevant blog topics on Google Discover to learn how Google content is used. Google Discover will also help you understand how content marketing organizes the content it shows to the users.
More Steps to Include for Better Results
All the above steps help you to optimize your content for Google Discover Feed, but here are two more steps that you must include for better results.
Enhance social feed engagement: Increasing your social media feed interaction is another strategy to improve your blog entries for Discover Feed. It means that increasing the interaction of your social feeds will increase your chances of appearing on Discover Feed through social media. Your posts will rank higher in users' feeds if they receive more likes, shares, and comments.
To increase the number of people who engage with your social media feeds, you must generate and publish useful material on a regular basis. These blog entries generate a lot of traffic and interaction and share your posts across all media. Encourage your followers to share your content with their friends on social media, and ask them to like and comment. This strategy will increase the visibility of your material and expose it to a large audience. As a result, Google is more likely to choose your content to appear in the Discover Feed as it reaches a larger audience.
Get along with Google My Business Account and Google Knowledge Graph: The search engine giant owns both Google Discover Feed and Google My Business. As a result, creating an entity with Google Knowledge Graph or Google My Business is critical if you want Google Discover to choose your material for its feed. It's simpler to appear on Discover if your content is on Google Knowledge Graph (GKG).
This is because Google's primary purpose is to deliver the most relevant results to consumers' queries. As a result, Google not only displays the top results for each search query but also makes a larger relationship between data. This information covers personal information, demographics, and other basics. The following are some of the outcomes:
Snippets of information
Carousels of images
People also inquired about the Knowledge Graph Panel.
If your material falls into one of these categories, you'll almost certainly show up on Discover.
Providing engaging content for your users helps to build a good relationship with them and encourages them to develop trust towards your business.
Google Discover offers personalized searches and stories depending on their interests and preferences. Thus it helps business websites to get more web traffic. So, work with a reliable provider of content writing services to optimize your content for Google Discover Feed.