SEO success is important for any business website to generate leads, increase visibility, and improve brand recognition and sales. Many believe that having a well- structured website is good enough to attract more potential customers. But that is not true, it is equally important to be fully aware of the hurdles that can hinder the success of your SEO strategies. It is always best to approach a digital marketing services in New York who can help you with identifying the pitfalls that can affect the success of your SEO campaign.
With algorithm changing every now and then, it is difficult to keep with latest changes and knowing the roadblock that can negatively impact your SEO is important.
10 Roadblocks to SEO Success
Here are 10 roadblocks to SEO success:
Not having clear SEO campaign goals: It's impossible to measure SEO success if you are unclear about the goals that you are attempting to accomplish. Similarly, it is difficult to evaluate how well your campaign objectives were met if you've set targets but haven't identified any key performance indicators (KPIs). Nothing is more disappointing than having a figure in your brain (e.g., add 100 new leads per month via SEO) and not realizing it until months later that you haven't met the goals. Setting goals and KPIs, as well as communicating them to your team, will help you run a successful campaign and meet your targets.
Having less patience: Search engine optimization is a long-term investment. Regardless of how many resources you employ, SEO is something that you cannot rush. When businesses do not see any large outcomes in the first few months, they become disappointed. They may have second thoughts about their SEO investments, chooses to tone down their efforts, or even abandon the project completely. If your site isn't at the top of the search engine result pages after the first month, don't assume that your SEO efforts aren't working. It takes time and persistent work to achieve this. Even when an SEO expert is hired, it can take months or even years to see significant gains. So, as difficult as it may be, you must exercise patience and faith in the process.
Focusing on broad targeting and not niche marketing: It's crucial to determine the niche you wish to target before starting an SEO strategy. This comprises your geographical market as well as your clientele.
Defining a niche at the start of your marketing campaign can help you attract the right clients to your focus area. Additionally, the more precise you are the easier it will be to rank well. Your niche's topic groups and keywords may receive less traffic than more general terms, but they can convert better and are more valuable to target and measure. You can pick a niche that has no search volume or is unrelated to your products or services. Simply look for one that is appropriate to target based on your industry's competitiveness and trends.Choosing a certain niche might be intimidating, especially if you want everyone to be able to locate your website. But keep in mind that just because you've defined a niche doesn't mean you'll have to stick to it indefinitely. A niche should grow and change over time. When it's suitable, you can broaden your reach later in your campaign. You can develop topical expertise in a variety of areas and specialties.
Disregarding SERP: Many people who are just starting out in SEO have no idea how a search engine results page (SERP) functions.  They may be unaware of the facts that the SERPs are divided into parts, and that organic results are usually hidden underneath advertisements, news, map packs, featured snippets, and other content.
It's necessary to educate yourself on the structure of a SERP so you can see how your SEO activities can affect the results that users see. Good SEO or adjacent sectors to traditional search (i.e., local SEO) has the potential to land you on one of Google's most sought spots (the map pack, featured snippets, reviews, etc.). However, to optimize your pages in a way that attracts Google's attention, you will have to make some changes to your SEO strategy.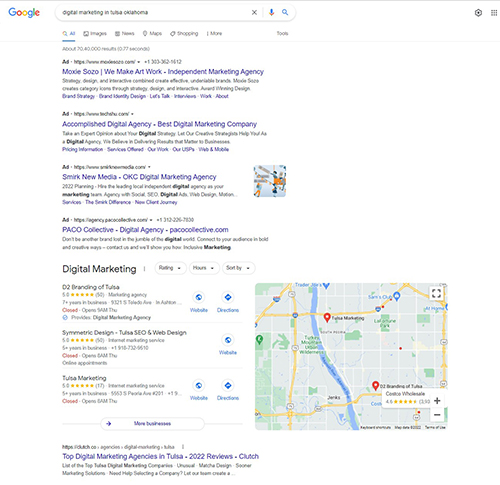 Image Source
Not considering full channel: It's crucial to keep in mind that not every Google user is ready to convert the moment they arrive on your website. You must consider users at all stages of their journey, from start to research to comparison to transaction to experience.It is unrealistic to expect that every keyword or topic that you target will convert. Instead, select targets that correspond to the language used by a potential user at each stage of the funnel, and deliver the content and amount of engagement they desire throughout their consideration and purchase process.
Shortage of resources: Working with limited resources is stressful, and it can sabotage your SEO efforts. Here are some resources you will need to execute a successful SEO campaign, and what can go wrong if you don't have them.

People: Shortage of SEO-focused people might impede your strategy and prevent you from making the gains you want. SEO is a long-term commitment that necessitates regular effort on the part of a dedicated expert or team. If you want to see SEO success, you can work on SEO whenever you feel like it or spare a few minutes. You will also need resources for content, UX, IT, and other areas outside of SEO to put SEO advice and plans into action.
Money: Having no or poor financial resources can cause your campaign to move at a slower rate. You'll have to have an SEO budget big enough to pay a staff member or an agency to handle the campaign and buy the tools you will need to conduct basic SEO research and track your progress.
Tools: To properly optimize your website, you will need a variety of research and reporting tools.  Although there are free choices accessible, if you don't have the right variety of tools, you are sure to face a block that will hinder your SEO development.
Data: At almost every stage of an SEO campaign, data analysis is critical. Without complete access to SEO data, you may be left in the dark and unable to make important judgments.

No connection with other marketing channels: Working with experts who believe their marketing channel is the ultimate method to achieve their clients' objectives. In fact, marketing channels should work together to achieve the best outcomes. This should come from someone who began their career in an SEO silo. All marketing methods have their time and place. Paid search, for example, is a terrific alternative if you need quick results and want to rocket your listing to the top of Google. However, running advertising for an extended period of time might be pricey. That's where search engine optimization (SEO) comes in. SEO is a time-consuming process.
It rarely ranks first in search engine results pages (SERPs). As a result, working on your SEO while running advertisements can draw a similar audience until your site rises higher in organic rankings and the necessity for a paid ad for that service or product fades away. Furthermore, depending on how SERPs are arranged for specific themes and searches, sponsored and organic can work effectively together in some circumstances.
It is also important to understand how other channels, such as social media, email, and other forms of digital advertising, can collaborate and influence the consumer experience. If at all possible, avoid concentrating all of your efforts on a single channel.
Poor attribution: It's essential to keep track of data because it reveals how much of your SEO efforts are delivering in terms of ROI. However, tracking solely SEO data and ignoring business statistics and conversions related to your SEO activities is a mistake.
If you run a service-based firm like carpentry, for example, you should expect to find an increase in carpentry- related keywords. However, none of this matters unless you're seeing an increase in conversions (i.e., calls or contact forms being filled out).  If you are using digital marketing, it is easier to know if it is working and to track it all the way through. In most circumstances, making assumptions is unacceptable when we can connect the links from impression to conversion.
Wrong or poor partnerships: Nothing prevents progress more than a poor partnership. Whether it is vendors, agencies, freelancers, tools, authors, developers, or others pitching in on strategy and implementation. The incorrect partner might impede you from achieving your SEO goal.

Terminating a terrible partnership, on the other hand, isn't always simple, especially when contracts are involved. Before you cut the cord, talk about your expectations and how this partnership has fallen short of them. Then come up with a strategy for resolving the problem. In the end, if you are unable to save your partnership then you will have to end it. Working with someone who doesn't help you meet your bottom line isn't worth it, especially when it comes to SEO.

Not indexing: No-indexing is one of those things that appears to be self-evident, but it is all too easy to overlook. Google can't see your website because of a single line of code hidden on it. Even large corporations are prone to no-indexing errors– If you believe your SEO campaign should work but aren't, this is one of the first things you should look at.
Get Rid of the Roadblocks and Implement Best SEO Campaigns
Always remember that successful SEO can take time to yield positive results. However, it is important to make consistent SEO efforts and also understand the roadblocks to SEO success. Work with a search engine optimization company to avoid these roadblocks and attract more potential audience to your website.