Mastering ways to create a perfect outreach email is important to generate leads for your business. Implementing innovative digital marketing strategies to find and connect with customers can be a challenging task. The good news is that email marketing has a higher ROI than other channels. A search engine optimization company can help you boost your ranking with an effective email marketing campaign and other strategies. 
How to outreach email benefits businesses
Highly personalized email promotes the brand

Helps find relevant prospects to promote content

Persuades customers to link to your website

Drive organic traffic to your website

Helps build strong business relationships and partnerships

Helps gain media coverage

Strengthens the credibility of the brand
Tactics to craft perfect outreach email 
Goal-oriented approach
Effective goal setting requires clarity on business goals. Segment target customers based on your goals. There are two types of email outreach campaigns to target customers:
Email is sent to either a single recipient or a handful of recipients. These emails are customer-centric content and are highly personalized. 

Make a list of prospects that share certain common characteristics. For example, a guest post outreach campaign requires sending hundreds of emails to editors of publications. 
Ensure that the content in the mail aligns with the tone of your target customers. Whatever be the approach, invest time to personalize each email. If the email is sent to target a larger pool of people, create a generic email template that appears personalized. 
Do thorough research to know your customers
Channelize your efforts to meet your recipient's current expectations. There should be thorough research for any outreach campaign. If you have chosen the approach, consider the preferences of your customers. Preferences and interests of the prospects changes and so keep track of these changes by updating yourself with the business trends. This will enhance the open rate of the email you are sending. It will give you an edge over your competitors. Understand each individual by reviewing their social media profiles. An outreach email is would be engaging if the reader can connect to the content. Add relevant details of the recipient in your copy that makes an impression that the email is intended for the reader. 
Pique the curiosity of the reader
Keep in mind that the attention span of your readers is just eight seconds. It is important to hook the attention of your recipient and encourage them to open and read the email. Implement simple and most creative strategies to make your email stand out from the crowd. Your email might be reported as spam if you fail to deliver the intended message in an impressive manner. The subject line of the email should show how responding to your email is going to fulfil the needs and preferences. A catchy subject line can prompt your busy customers to open the email. It should be compelling but crisp. A character limit that lies between 21 and 40 is considered good. 
Ensure concise, specific content 
A super-long email that doesn't convey the main points will not convert. Follow a specific structure that really works for you. An inverted pyramid approach is an effective structure that puts the most important elements at the beginning of the content. Make sure that the content is short and studded with useful information about your business. The focus should be to add value to the message. Start the message with a short introduction and then divert your attention to your recipient. Content writing services are essential to make your content engaging and for customer retention. 
A one-sentence email also will have a very low response rate similar to a super-long email as the recipient will not be able to get an idea about the purpose of the message. Your message should provide a quick summary of your business and its goals. Ask the customer whether they would like to know more about your business. 
Send follow-up emails 
Follow-up email is essential in an outreach process. Set a specific time frame to send follow-up emails. Analyze the optimum time-period needed for a reader to respond. Dividing your customers into three categories can help you find the time-frame within which you have to send the follow-up email:
Very busy users 

Busy users

Unoccupied users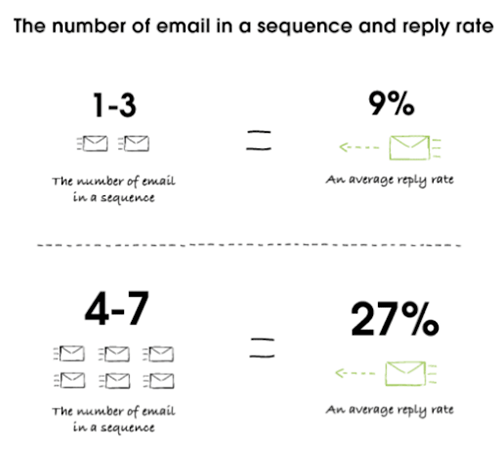 Send follow-up emails in a span of one to two weeks. The optimal number of follow-up emails is two to three emails. Note that a high email open rate doesn't mean that your messages will get a response.
Include call-to-action 
Prompt your email recipients to take a specific action with a clear call to action. A call-to-action should not give too many options for your recipient to take action. It can create confusion and your efforts to convert your content will go futile. Organic SEO services can create an effective call-to-action by giving the link to your website that can drive organic traffic to your website and increase opportunities for conversions.  
Aptly timed pitch
It is very difficult to scale the time to send outreach emails. Look for the opportunities when the content intended for your customer is on top of their mind. Scheduling the timing of emails is important, but you need to test the strategy that best works for your reader. It should be based on real data and would be easier if you analyze your leads and segments. 
An outreach email is meant to promote clear communication with your prospects. This is a link building strategy and important for creating unique and relevant content that can help you to gain popularity among the Internet community. A digital marketing services company can help you target your prospects with perfectly crafted outreach emails.