Website optimization for improved search engine ranking is more difficult than ever due to ever-evolving search engine algorithms. The application of artificial intelligence (AI) to SEO has emerged as a game-changing strategy for marketers in the dynamic digital marketing world, providing businesses with priceless insights and automation to carry out successful SEO operations. By giving marketers effective tools to manage the always shifting SEO landscape, AI is redefining the field of digital marketing. Powerful algorithms can quickly and accurately analyze enormous amounts of data, assisting organizations in making decisions based on useful information. AI SEO services provide a comprehensive array of tools, from keyword research to content optimization and performance tracking, to help organizations improve their online ranking and attract organic traffic.
How AI Helps SEO Strategies
AI-powered technologies can quickly scan the web, analyze user activity, and assess keyword competitiveness, giving marketers a clear road map for choosing the keywords that will best serve their company's objectives. The following are some benefits of utilizing AI to improve your SEO:
More efficiency, speed, and effectiveness: You can manage your digital marketing more quickly, effectively, and productively by incorporating AI into your SEO approach. Due to AI's high level of automation, labor-intensive, time-consuming jobs are no longer necessary. Furthermore, since you don't need to engage developers to create software, you can plan and deploy your digital content more strategically. The data you can uncover with AI for SEO is also highly accurate and current, which helps guide insightful business decisions and increase productivity.
Increased customer satisfaction and user experience: AI SEO enhances customer satisfaction and user experience by delivering relevant content, improving website performance, and tailoring interactions to meet individual needs. This will lead to increased customer loyalty, higher engagement, and positive brand perception.
Better rankings: AI contributes to the creation of an exceptional, personalized user experience. AI makes it possible for you to find and utilize the precise keywords, subjects, and the content that your audience is looking for. As user experience is one of the major factors that impacts your SERP position, AI for SEO will improve your rankings.
How Advertisers Apply AI
HubSpot surveyed more than 1,350 marketers to find out how they use AI. Here are some numbers:
48 percent of the respondents admitted to using generative AI for research.
45% of marketers use generative AI for content development.
22% of marketers reported use AI to develop ideas while creating marketing content.
70% of marketers said generative AI is vital for their content marketing strategy.
These figures show that many marketers' workflows are heavily influenced by AI. SEO is continuing to change the marketing environment. It's time to think about how AI may benefit your business if you want to maintain your position in the marketplace.
Different AI Tools for SEO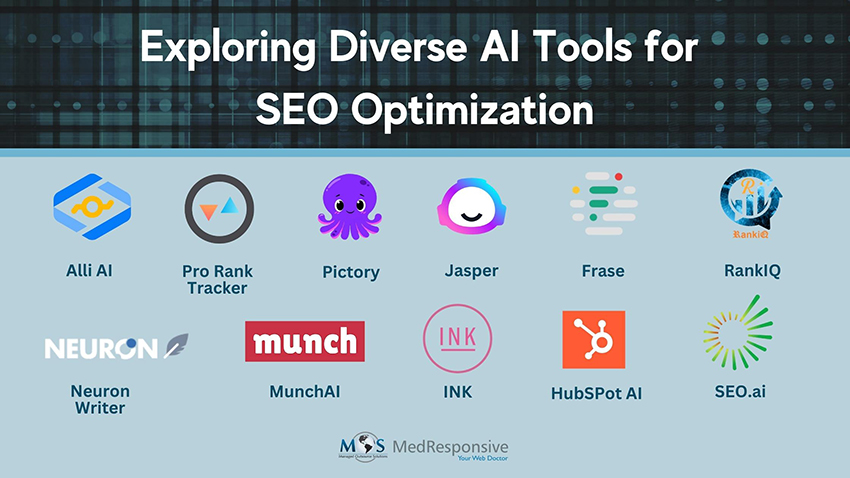 Numerous AI SEO tools are available to analyze website's performance and obtain solutions for problem areas. Here are some tools you should think about if you're considering implementing AI for SEO:
Alli AI: Users may quickly optimize their websites for SERPs with AlliAI. Bulk Onpage Optimization, which provides site-wide optimization guidelines, is a crucial component. Additionally, the feature delivers code alterations down to specific pages. A live editor provided by AlliAI allows you to change and optimize the text, content, and code on your page. Additionally, to effectively increase organic traffic, its Self-Optimizer for Traffic ROI automatically creates sitewide page titles with real-time focus keyword A/B testing.
RankIQ: RankIQ is a series of SEO tools designed primarily to assist bloggers and companies with blogs in producing SEO-optimized blog content. You can quickly develop a blog outline using RankIQ's SEO content briefs, which pinpoint the subjects that Google's algorithm wants you to cover. It even gives you advice on what to include in your post to make it more thorough and more likely to appear at the top of search engine results. Even older, underperforming posts can be optimized in less than 30 minutes.
Jasper: Jasper can produce blog posts, emails, and other written marketing materials that are search engine optimized. All you need to do is give the AI some seed words and specify the voice tone you want to use. Jasper will then process the data to produce phrases, paragraphs, or complete postings. It features more than 50 templates, along with other useful features like auto-save and plagiarism detection, voice customization for brands, and multiple user login.
Pro Rank Tracker: It can be difficult to get real-time updates on how your content is performing in SERPs. While manual search on Google can be used to determine your ranking, the procedure can be time-consuming. Additionally, regional and tailored results may lead you to overestimate your rating. Fortunately, the Pro Rank Tracker SEO tool offers both updates on demand and daily automated updates. Additionally, its multilingual, global ranking tracking function allows you to keep tabs on your ranks.
INK: The INK AI writing tool can help you create brand material that outperforms your rivals. With its ability to identify and incorporate the perfect keywords, it becomes an invaluable SEO aid, boosting your content's performance. Advanced users can also take advantage of keyword clustering to maximize their SEO strategy. Moreover, the tool offers content scoring for SEO, an AI Writer, a long-form document editor, and complete automation of keyword research.
NeuronWriter: This AI-powered optimization tool can produce high-ranking, SEO-optimized articles and social media posts using natural language processing (NLP), Google SERPs data, and competitive insights. Important features include:

AI Writer, which produces content authored by AI.
Internal linking takes the guesswork out of link development by providing users with recommendations for relevant websites.
Competition analysis that evaluates your rival's top-performing content to gain insight into what impacts their ranking.
SEO.ai: The SEO.ai platform is designed to accelerate the process of content creation and optimization. It offers a number of strong tools that can be used to locate and assess pertinent keywords.

Features and capabilities include:

Creates complete blog entries with formatting, bullet points, and pull quotes.
Features cutting-edge AI options and insights, keyword research.
Unique tone, audience, and language for each project.
Headline and title optimization options and suggestions powered by AI.
Advanced SEO ranking with benchmarking against competitors.
Pictory: Videos lengthen visitors' stays on websites, which boosts their SERP placement. Pictory may be the solution you need if you're seeking for a speedier, more effective approach to include videos in your web content. Pictory's AI video generator allows users to quickly and effortlessly produce and edit high-quality videos. Upload a script for your video, which will be the foundation of its content. Pictory allows you to modify text-based films, which is very helpful for webinars, podcasts, and Zoom recordings. It also offers a function that automatically summarizes and captions videos.
HubSPot AI Tools: HubSpot offers a number of AI tools to assist you in producing optimized content that will perform well in SERPs. For instance, it can scan your website instantly for optimization opportunities using SEO suggestion tools. In order to generate copy for blog posts, landing sites, marketing emails, and other types of content, users can switch between manual and AI content production with the help of the AI content assistant.
Frase: Frase uses AI for content SEO optimization. To better engage the audience, it offers topic summaries and question concepts.In addition to its capacity for content generation, Frase offers a number of SEO tools. These include tools for keyword research and optimization that can assist users in choosing the best keywords to use as the focus of their content. Frase provides insights into how well your material will likely do in search engine rankings, allowing to make data-driven decisions regarding your content strategy.
MunchAI: As video appears in search results more frequently, many SEOs are looking for efficient ways to repurpose written material into engaging YouTube videos, TikToks, and other formats. In the field of video editing, Munch AI is a top tool for repurposing content. It can produce, adapt, and evaluate content for many platforms. The software use AI to pull the most interesting segments from your lengthy videos, allowing you to produce and share effective content. The capability of Munch AI to assess engagement and manage monetization is one of its primary characteristics. It offers insights into how your content is performing. You can use this information to make data-driven decisions regarding your content strategy.
By intelligently researching keywords, AI technologies can quickly scan the web, analyze user activity, and assess keyword competitiveness, providing marketers with a clear road map to target the phrases that are most relevant to their company's objectives. AI SEO services provide valuable insights, increased efficiency, and a competitive edge that can lead to higher rankings, improved user experiences, and better conversion rates, ultimately contributing to your business's success in the digital landscape.