Regarded as a strong pillar of search engine optimization (SEO), keywords play a major role in targeting the audience or potential customers. Keywords are still very much part of the on-page optimization and content creation strategies and also help understand what users are searching for and optimize for those searches.
However, with the growing competition around core keywords that every SEO practitioner wants to target, Standalone broad keyword strategies belong to the past.In fact, Google's growing focus on user experience and intent, alongside the rise of conversational search and applications such as voice search has made long tail SEO strategies more crucial than ever. Long tail keywords have been used by experts offering organic SEO services for a while now, and it still works. When used correctly, it can be a compelling way to take advantage of high-intent search traffic.
Earlier, searching for long tail keywords with low search volume was considered a complex and time-consuming task. However, according to ThinkwithGoogle- "The long tail could provide an untapped opportunity to connect with potential customers. Investing in these areas will help volumes grow." In short, having a long-tail SEO strategy will help stay ahead of the competition.
What Are Long tail Keywords?
Focusing on long-tail keywords is a great SEO tactic. Long tail keywords are phrases that users only search a few times per month. In other words, they include all the terms that live in the extended section of the keyword graph. In simple terms, long-tail keywords are keywords or key phrases that are more specific (focused on a niche) and usually longer (three or more words long).
Typically, these keywords have low search volume, low competition, and high conversion rates. In fact, these keywords are called long tail because if you were to plot the keywords by their search volumes, these would be on the "long tail" end of the search demand curve, which means few people will be searching for these terms each month. They gradually bring in more traffic to a website and are found by new and motivated audiences.
This is because long tail keywords communicate a clear customer need that can be solved- means they are intent-driven. Upon understanding the search intent clearly, it is possible to create content that specifically addresses queries and converts. For instance, if a company sell kids' sneakers, their primary keyword would be "kids' sneakers." However, there will be other relevant phrases that they can effectively target here. Even though these phrases may have lower search volume, rest assured that search intent will be clearer.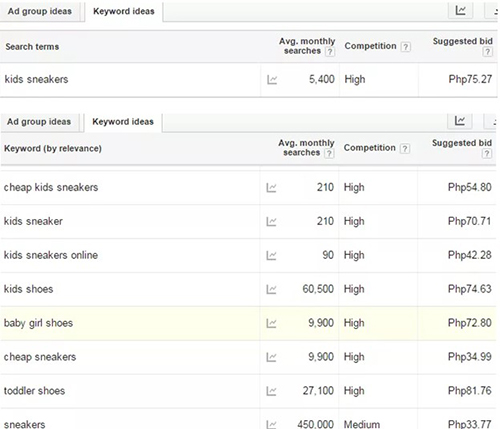 Image Source –
What Makes Long tail Keywords More Valuable?
According to Backlinko's analysis of 306 million keywords, about 91.8 percent of all search queries are long tail keywords. Here discussed are some key points that show the significance of long-tail keywords-
Low Competition-As long tail keywords are more specific to a business and their niche area, search volume is low and therefore they are much easier to rank. In addition, they account for almost 70 percent of all web searches. So, if they are not correctly focused as part of the SEO strategy, you could miss out massive opportunities to drive quality traffic.
Higher Conversion Rate– Long tail keywords attract higher conversions as people who use them know more about what they want. For instance, when a person searches for "kids' sneakers online," that person is more likely to purchase immediately as opposed to a person who searches for "kids' sneakers." Therefore, a little long tail keyword sleuthing will help discover the search intent. Upon identifying the search intent, you can identify the queries and other additional information that indicate the buyer's intent. This knowledge can be used to usher highly qualified leads into the sales funnel and thereby complement the content marketing efforts.
Increases Content Visibility– When a user searches for long tail keywords, the results of modern Google searches are far more personalized. The search result may vary according to their location, age, sex, interests etc. This means two different users entering the same search term may see different results. Long tail keywords can help optimize a website for different categories of searchers as they are more specific.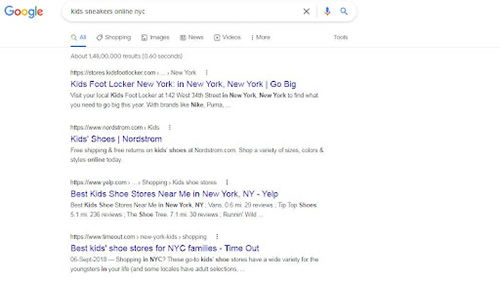 Image Source –
Helps Optimize for Semantic, Conversational and Voice Search-Long tail keywords are an important part of optimizing for semantic search. Presently, more and more people tend to voice search daily. When these users query these platforms, they use long tail keyword phrases in a question pattern and command modes with a clear intent.They try to predict the intent behind naturally spoken and voice search questions so that answers about the business and services can be provided thereby targeting these long tail keyword phrases in a better manner. However, if high-converting long tail keywords are targeted even when search density is low, these keywords can still be incredibly valuable for a business.
SEO Benefits of Using Long Tail Keywords
Even though searchers rarely use specific long tail keywords, they can still play a role in the SEO strategy. Individually, low volume keyword variations don't drive much traffic. However, collectively they can make a difference. Here listed are some of the top benefits of using long tail keywords for SEO-
HelpsRank for Short-tail Keywords– Often, long tail keywords already include the short keywords you likely want to rank for. This makes it easier to boost website ranking for both main keywords as well as the specific, targeted ones.
Optimizes Blog Strategy – One of the easiest ways for your website to start ranking is to create a blog. If you have no idea on how to start, long tail keywords can help as they can provide insights into what the audiences are searching for. This allows you to create valuable content that can address some of their pain points while utilizing said key phrases.
Personalizes Content – Long tail keywords comprise three or more words and usually contain descriptive words like gender, nationality, or geographical location. This can be used by creating different pieces of content that can support the various categories and services that the company offers. This helps to remain morefocused with the content strategy and reap the benefits of contextual marketing.
Get Ideas from Google Analytics – Keyword research for long tail terms is not so complicated as it is possible to get some ideas from web analytics service like Google Analytics. Combined with Google Search Console, it is possible to see the performance of chosen long tail keywords, such as search volume and conversion rates, which enables choosing the best ones for the defined SEO strategy.
Provide Additional Context for Google -In some cases, search terms are incredibly broad, especially those with definitional search intent. For instance, take a short-tail keyword like "content strategy,". If someone searches that query, they may just want a simple definition. Or perhaps they want a more in-depth overview of the concept or want to learn how to develop a content strategy. The fact is that if you need to rank for a competitive term like that, then it is important to create very comprehensive content. Furthermore, adding more specific keywords into your copy gives search engines more context than if you repeat the same broad term throughout the page.
Satisfy More Diverse Search Queries – One of the benefits of long tail keywords is they match how consumers search across other mediums. In most cases, people use Google when they want answers. However, there are many different ways to search, including voice search, image search, text search, and Google's Multi Search. Therefore, it is important to know how users search for information when you create your content. For instance, if they use voice search more often, then they probably use more long-tail keywords.
How to Find or Get Started Using Long tail Keywords
Identifying long tail keywords requires extensive keyword research. Here discussed are some key ways on how to get started using long tail keywords –
Prepare a List of Seed Keywords – Use a keyword planning tool to generate a list of seed keywords. However, try not to use Google AdWords. While this free tool is excellent for developing a list of commercial terms to target, it intentionally directs away from long tail terms with lower search volume, making it not very useful for SEO purposes.
Look at Google's Autocomplete Suggestions – When we type keywords in the search bar, Google automatically suggests certain other keywords which users are likely to enter, based on the popularity of the query. Following the above example for "kids' sneakers," here's an example of what Google's suggestions look like-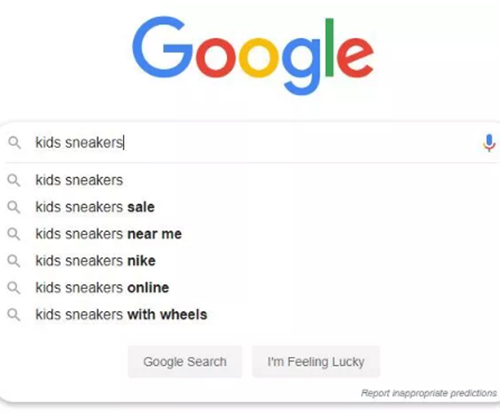 Type each seed keyword into Google and write down its autocomplete suggestions.
Check Related Searches at the Bottom of the Page – Google suggests related searches at the end of the first page. A wide range of long tail keywords can be found at the bottom of the page and this helps to further understand what people are searching for. Here's an example of related searches to "kids sneakers online."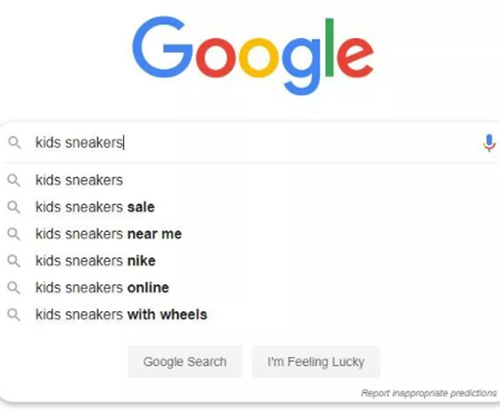 Add Potential Long-tail Keywords to the Target list – Group all the terms and get started to prepare the final list of keywords. In fact, several advancements in SEO technology have made this entire research step easy. The best programs will even sort through multiple search engines, and they may discover long tail keywords that have been overlooked. Certain other programs intuitively discover and sort through long tail keywords. Once a comprehensive list of all potential keywords is finalized, it is time to begin pruning the list. Clear out any terms that don't clearly communicate user intent. After preparing the final list down to the strongest candidates, you can start optimizing pages and adding them to the content.
Be Careful about Keyword Cannibalism
One of the biggest mistakes you may make when using long tail keywords is creating separate pages for similar keyword variations that all have the same intent. In fact, this was the manner in which Google worked decades ago. However, now that approach will significantly affect rankings.
Grouping keywords can help avoid cannibalizing the page rankings and wasting time and resources on creating redundant content. Manually grouping keywords will not bring any efficient results. There are many SEO tools that automate the process. For instance, if two keywords return very similar URLs on the first page of Google, then group them into one piece of content. If they have different search intent, then create separate pages for each of those keywords.
The success of an SEO campaign is completely based on keyword selection.Using trending, long-tail keywords that resonate well with the target audiences help attract better search rankings, more qualified search traffic and remain par with the competition. So, investing in content writing services offered by digital marketing experts will provide guidance to select the keywords cautiously. It may take a significant amount of time to target the exact ones, but with patience, it is possible to reap big benefits.
Want to create content that can rank high in search engines for long tail keywords?We choose the right keywords your customers are searching online and those that are appropriate for your site.
MedResponsive, the SEO expert, has a team that stays up to date with the changes in the search engine landscape.

Get Started now! Contact us at (800) 941-5527 and speak to one of our SEO Managers.