The holiday season is not only a time for joy and celebration, but also a crucial period for businesses aiming to maximize their online presence and drive sales. Staying informed about the latest trends and optimizing your SEO strategies is crucial for business success. Embracing effective holiday marketing strategies helps navigate the season and set the stage for continued success into the New Year.
Festive holidays are the time of the year when people splurge their savings on shopping, travelling and celebrations and they actively start looking for the best deals and offers.
A Reuters report highlights that online sales during the crucial U.S. holiday season are expected to grow at a much faster pace and hit $221.8 billion for the period between November 1 and December 31, which includes some of the biggest shopping days such as Cyber Monday, Thanksgiving and Black Friday. That compares with $211.7 billion a year earlier.
According to a survey by MasterCard Spending Pulse, holiday sales increased to 3.4 percent in 2019 compared to 2018. Online sales increased to 18.8 percent and this is expected to increase in 2020. This is an opportunity for businesses to increase their online visibility on search engines and improve sales and ROI. So, businesses need to polish their SEO strategies to enhance brand image and reach out to more customers. An experienced digital marketing services company can create an effective SEO campaign strategy for businesses to secure higher visibility on search engines and establish a strong online presence.
Holiday SEO Strategies to Boost Your Brand Growth
Now that we have a clear idea about consumer trends, let's analyze some SEO strategies that can help businesses improve ranking, traffic and sales.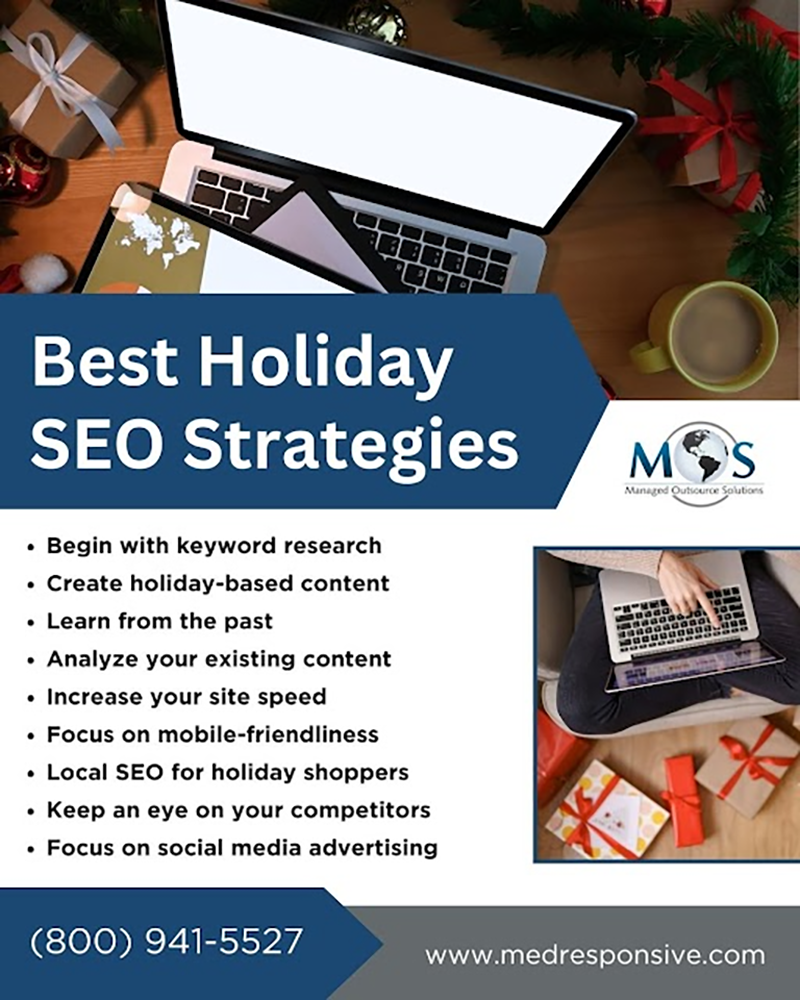 Begin with keyword research: As the festive season begins, start working on content strategy. To begin with, find out the latest set of seasonal keywords that are Christmas-related or New Year-related. Using the right set of seasonal keywords in your content is essential to show up before your potential audience. So, optimize your online store with trending festive keywords. You can use keyword research tools like SEMrush, Ahref's keyword research, Google AdWords Keyword Planner, Ubersuggest,io etc to find relevant keywords.
Create holiday-based content: Once you have your keywords ready, the next step is to create holiday-related content. No matter what products or services you are selling, posting holiday-related content from landing pages to blog posts can attract more customers. Make sure to publish your content as soon as possible because the sooner you do it, the higher are the chances for better ranking. For further improving ranking in search engines, include product pages in your sitemap.
Learn from the past: Make sure to review your last year's content performance and find out which content performed well. See which content received maximum traffic, which content received more dwell time, and which content experienced the highest bounce rate. Topics that have higher search volumes are more competitive, and niche down content can be easier to rank. So, find the right balance between the two while posting content. Make sure to use your insights from last year and take note of what works and what may not.
Analyze your existing content: You may already have well-optimized and well-performing content. Optimizing or updating existing content helps to get the content in the ranking race; another advantage is that updating existing content is much easier and time-saving than creating a new one from scratch. Moreover, existing content will have existing backlinks and updating them doesn't involve much effort. To optimize existing content, the first step is to analyze it and find out the top performing pages or blog post. The next step is to run a keyword research to find out the top keywords and use these keywords to make the old content new along with the same URL. Add new metadata, title, focused keyword, feature images etc.
Increase your site speed: Page speed is a vital SEO factor. This is because no user will wait more than 3 seconds for a page to open, and slow site speed will result in high bounce rates. However, during festive holidays the congestion may overload the server, resulting in slow loading speed. So, make sure that your servers are able to handle the overload and prevent slow page loading. You can use tools like Google's PageSpeed Insights to analyze the page load time and identify the issues that need to be fixed to make the page load faster.
Focus on mobile-friendliness: With a growing number of consumers relying on smartphones and tablets for their holiday shopping, a mobile-friendly website is not just a convenience; it's a necessity. According to Business Insider, the US volume for mobile shopping is expected to increase from $128.4 billion in 2019 to $418.9 billion through 2024. So, having a responsive website is crucial for businesses, otherwise you may be losing out on many potential buyers.

Google's algorithms prioritize mobile-friendly websites, and during the holiday season, when online traffic surges, having a responsive design ensures a seamless user experience. Mobile-friendly websites not only enhance user satisfaction but also contribute to better search rankings, maximizing visibility during crucial holiday searches. As consumers increasingly turn to mobile devices for browsing, shopping, and research, businesses with mobile-friendly websites are better poised to capitalize on the holiday shopping frenzy, providing a smooth and enjoyable experience for users on the go.
Local SEO for holiday shoppers: Optimize your website for local search to attract holiday shoppers looking for nearby businesses. Update your Google My Business profile with accurate information, including special holiday hours and promotions.

Politely request customers to leave reviews on platforms like Google, Yelp, or other relevant sites, sharing their thoughts on their holiday shopping experiences. Positive local reviews can significantly impact purchase decisions.
Keep an eye on your competitors: Staying vigilant and informed about your competitors' strategies is essential for maintaining a competitive edge. First, conduct thorough competitor analysis by monitoring their social media platforms, email campaigns, and promotional activities. Observe the type of content they are sharing, the promotions they are offering, and the engagement they are generating. Utilize online tools and platforms to track changes in their website traffic and search engine rankings.




Additionally, pay attention to customer reviews and feedback to understand their strengths and weaknesses. Regularly analyze pricing strategies and special promotions to ensure that your offerings remain competitive. By consistently keeping an eye on your competitors throughout the holiday season, you can adapt and refine your marketing approach, ensuring that your brand stands out and captures the attention of your target audience.
Focus on social media advertising with a festive twist: Enhance your social media advertising by incorporating festive elements into your campaigns.

Use holiday-themed visuals, hashtags, and ad copy to capture the festive spirit. Consider running special promotions or contests exclusively for your social media followers to boost engagement and brand loyalty.

According to a survey in an article by makewebetter.com, 50% of companies that ignore social media marketing services are struggling to succeed in SEO ranking. Having a good social media marketing plan is the best way to attract maximum target audience.
As we approach this festive time, it's essential for marketers and website owners to stay ahead of the curve by following the latest trends and using effective SEO strategies. If you are planning to create holiday-related content to attract more customers, then approach a reliable provider of digital marketing services to optimize the content and thereby attract more potential buyers to your website.
We can help optimize your site for the holidays!