While you make all the effort to churn out fresh content, have you realized what happens to the older content you've posted? A professional digital marketing services company would know the importance of fresh, updated content for SEO advantages. Sometimes you're so short of time that you fail to post new blogs or articles every time. But then, you already have content posted years back. Why can't those resources still give you traffic and contribute to your rankings? Because they're old and perhaps stale. Google's algorithms are on the lookout for fresh content. Adding new content is the best alternative to be appealing to Google. However, it takes much less effort just to update older content with newer and more relevant information.
Updating Old Content Really Works
Backlinko's Brian Dean observed that this strategy enabled him to increase traffic by 50.95% in just 7 days. Tim Soulo of Ahrefs is reported to have increased traffic to his page by 486% by just updating the content, and most of the changes he made involved just correcting spelling and grammatical errors!
Content Can Get Stale Soon
Any dynamic field of business keeps changing. If you've created informative blog posts about relevant topics in your field of business 2 or 3 years back, or even before, you can be sure that things have changed. This means that your blog posts would be containing outdated information that isn't benefiting your readers. So readers may check the date of the blog in the search results and skim through it or totally avoid it because of the date issue.
But that's not the only problem. Google prefers updated content for ranking a site, and your outdated blogs could slip down the rankings, which would affect the traffic coming to them, which would then impact your conversions and earnings. So, for boosting traffic and ensuring you don't lose what you have, you need to look for the old posts and update them with new information.
Updating old content also takes lesser time and effort than churning out new content, not that you shouldn't do the latter. Updating old blogs just gives you faster results. When you update old content, your freshness score improves. When Google is informed about your new content, the traffic to your site increases.
Older Date Affects Click-through Rate from SERPs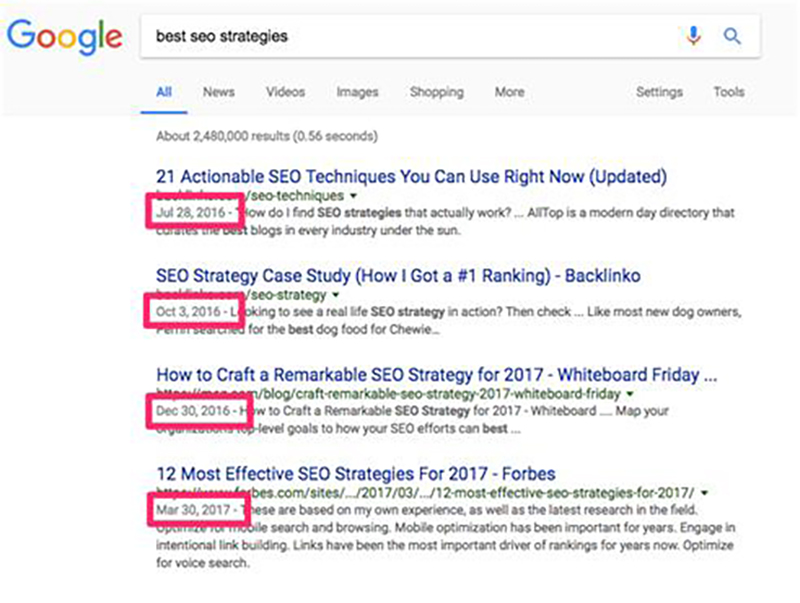 Image Source
You know that the description for your page listing in the search results comes with the date it was updated. It doesn't take rocket science to figure out that searchers will most likely click the content that is the latest, since they feel that has greater relevance and accuracy. So, your page gets to enjoy a greater click-through rate if it is among the latest content in the results. Improved click-through rate (CTR) right from the search results plays a vital part in further improving your rankings.
Of course, it is also important to have an attractive headline and a concise but informative description to get that click-through rate, but the date just plays its part in getting the clicks in your favor and maintaining or even improving your rankings.
What You Need to Change in Old Posts
So, look for old posts. Perhaps you may need to change some of the content under some of the subheadings. You may need to add some screenshots or images, or you might even have to remove some of the content or even whole sections of your article and add new sections instead.
The opportunity to optimize for better keywords: Updating old content also gives you the opportunity to optimize for a new, more efficient keyword. You also need to make changes to your metadata. Google's Keyword Planner tool can help you here. Sometimes, the content you published earlier could be ranking better for keywords you didn't quite think of.

Head to Google Keyword Planner and enter the URL of the blog post or article you want to update. Clicking "Get Ideas" will take you to Google's suggestions on what keyword to optimize for. You can also check out the keywords that are most popular, which you must rank for, by clicking "Average monthly searches". You'll find other keywords that could be great for topics you want to write about or use in the blog or article you want to update.
Promote the updated content again: Once you've updated the content, make sure you promote it again by sharing it on the social networks. It goes without saying that you need to have the social sharing buttons on your page. You can also share by email using your email list. You can inform influencers in your industry about the update. While updating your content, you can quote influencers. Inform them that you've mentioned them, which will prompt them to share it.
Consider using evergreen content posts: In this context, it is also important to think about evergreen content. As you've probably guessed, evergreen content is content that doesn't get outdated quickly. In other words, if you create content based on current trends, research or best practices, you would need to update them when those trends wear off and new ones appear. This kind of content isn't evergreen. For sure you need content based on the latest trends if you need to be relevant and drive traffic. But you can also have some evergreen posts.
Get traffic and rankings years down the line: Why are evergreen posts important? Because you keep getting traffic over a long period of time. The points in the topic never get stale and can always be useful. You can look for such topics and create posts on them. If you've got the other aspects right, such as the compelling headline, well-written content with comprehensive information on the topic, effective keyword optimization, and snippets and meta data optimization, you can continue to experience a good amount of traffic from these posts even months or years down the line.
Newer content on the same topic by your competitors could affect your position on the rankings, but if your content is strong and your page gets a lot of traffic, it will continue to perform well in the rankings. Perhaps there are certain aspects you may have to update, but generally if the topic you select is evergreen and the content you provide is too, then you won't have to spend too much time or effort on updating it, neither would you have to do it often.
With comprehensive content writing services offered by digital marketing companies, you can ensure that your old posts are updated and made to keep giving you the traffic and rankings.
Transform your ideas into captivating content!
Hire our expert writers today.