Podcasts are a fantastic method to connect with a large audience and to forge bonds with potential clients. You can rank higher for the keywords and subjects that your ideal listeners are looking for by optimizing your podcast for web and app search engines. It aids in bringing more organic traffic, raising brand recognition, and expanding your podcast's base of devoted listeners. Listeners are the lifeblood of any successful podcast, so the higher your podcast ranks in searches, the more likely it is that people will discover and listen to it. A reliable organic SEO service can help you optimize your podcast, make posts for each episode, and share them on individual pages on your company website.
Importance of Podcast SEO
Since Google made podcasts accessible in search results a few years ago, they have grown in popularity. As of November 2022, Apple Podcasts hosted 2,503,247 podcasts, compared to 550,000 on iTunes and there are around 4.7 million users on Spotify. All these figures show the demand for podcasts is more than evident. With these many podcasts available on the Internet, you don't want your podcast to end up being just a tiny drop in the sea of active podcasts. You must distinguish yourself from the competition to gain more followers. It is important to have an efficient SEO strategy for your podcast with the assistance of a digital marketing service company, because it will help both users and search engines comprehend why they should rank your podcast highly.
Tips to Optimize Your Podcast on Various Platforms
Here are some good tips to optimize your podcast on various platforms.
Keep your show page updated: There is a dedicated page for each podcast on Spotify. It can also function as a landing website for your podcast. A show page should provide viewers with all the information they require about your podcast, including:

The title
The main image
The podcast summary
A "Follow" button
The most recent episodes released
It is not advisable to skim through or ignore the display page. Make sure every component is correct, current, and as compelling as you can.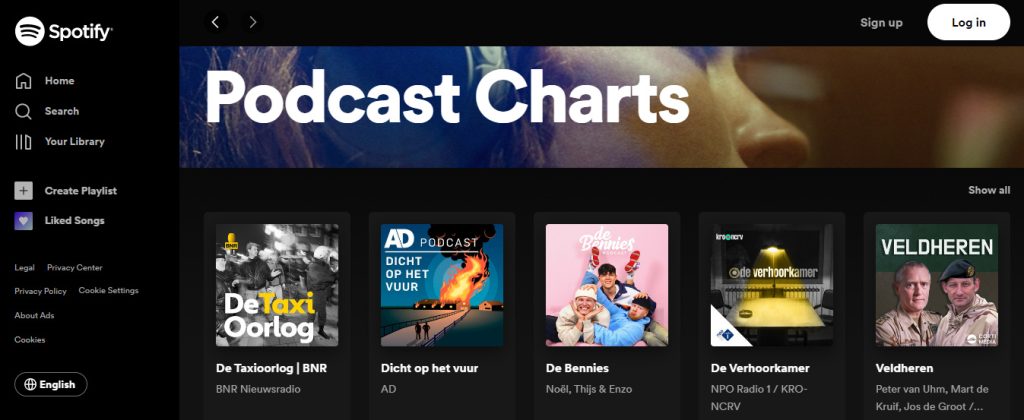 Image Source:
Mention sub topics in the description of the podcast:
You must count every word wisely as show descriptions are very brief and to the point. Include words or subtopics that correspond to the searches of your prospective audience to improve your SEO.
Include the most important details early in your podcast description: Another method to optimize your podcast is to write an episode description, but many people neglect to do so. You have the option to rank individual episodes in search because of the keyword possibilities. To draw in new listeners, Spotify advises using the first 20 lines of your description. Don't use the same information twice in the show title or the podcast's overall description. Rather, dive straight into the episode's theme or special guest.
Add chapters to the video: Google started surfacing YouTube content in search results a few years back. Start by segmenting your podcast into distinct parts, also referred to as video chapters, to appear in search results. This gives Google's understanding of your movie a structure. You must optimize the video segments in addition to adding them. The secret is to give each chapter's title pertinent keywords. In addition to enhancing search, video chapters also enhance user experience and make it easier to quickly scan through a lengthy video in search of a specific exchange or subject. By including chapters to your podcast, you give listeners a way to jump to the subjects that interest them the most.
Make playlists: Consider making a compilation for each topic on your podcast if it covers a variety of subjects. YouTube includes playlists in its search results, increasing the possibility that users will see your content. Additionally, playlists can arrange your podcast collection and lead listeners into a maze of linked content, enticing them to watch more time-consuming videos.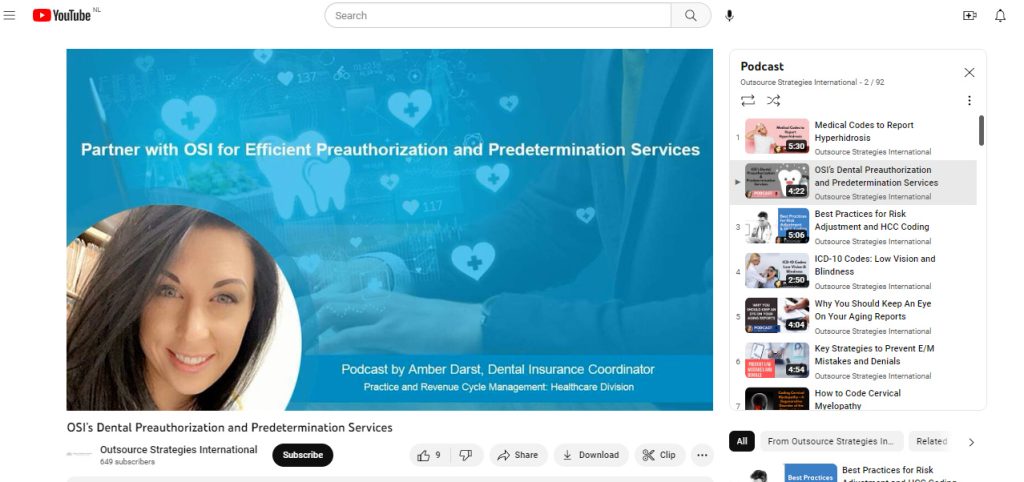 Image Source:
Ensure that the file name, title, and description of your video all contain the goal keyword. Make sure the following areas are optimized before clicking "Publish" on your next YouTube video:

The file name: Your main keyword should be the first thing that appears in the file name of the movie. This is why: YouTube can scan your video's file name, which is one (of many) context cues, but it can't actually "watch" your video to determine how pertinent it is.
Title of the podcast: When writing the title of your video, try to easily include your target keyword. Additionally, make sure your title is succinct, compelling, and obvious (aim for 60 characters or less).
Summary of the podcast: Put the most important information first in your video description, such as a synopsis with relevant keywords, links that are essential, or a call to action. Remember that viewers must click "Show more" to watch the full description on YouTube as it only shows the first two or three sentences.
Create your episodes with a focus on a few key keywords: When it comes to the SEO of podcasts, keywords are king. After all, using the search bar is the most popular method for people to find new podcasts. You can target particular users with your show (or individual episodes) by structuring your episodes around keywords.
Include a written text of the podcast at all times for Google to index. Never forget to give each podcast show a title and description. Although it takes time, Google now has something to "read" and comprehend in greater depth. Additionally, adding a transcript to your audio is a smart move. Google's text-to-speech features are getting better, but they're not always reliable. Google will be able to comprehend the content of your episodes better if you manually or automatically contribute your own transcript. Additionally, you can improve your podcast's discoverability and ranking by choosing the right subject, keywords, and keyword placement.
Make a website for your podcast: Having a specific website for your podcast has SEO advantages, even though it's not necessary, particularly when you're just getting started. A website gives search engines more information about your podcast than just the title and summary and provides more space for keywords. Additionally, you can write blog posts that complement your audio. This is a fantastic method to cross-promote across various channels and grow your audience at the same time.
How to Find Podcast Topics
Whether you're just beginning a podcast or have been doing it for a while, it's important to come up with engaging subjects to discuss.
Podcasts span a wide range of topics. The three major types are as follows:
Trending topics: These are those that draw more attention and interaction than usual on social media.
Finding trending topics: Checking which words, phrases, or stories are popular on social media is the best method to discover trending topics. A great location to start is Twitter. To identify trending keywords and estimate the popularity of particular subjects, you can also make use of keyword research tools like Google Trends, Moz, and SemRush.
Evergreen topics: Subjects that consistently generate interest and search demand are known as evergreen subjects.
Finding evergreen topics: Look for topics that are relevant to your community and serve a specific purpose. For instance, you might be a real estate speculator seeking to mentor younger industry experts. To accomplish this, you must thoroughly research your target. Find out what they find interesting, needs, and problem areas. When looking for evergreen content, these queries are crucial. Utilize a keyword research tool like SemRush, Soovle, Google Keyword Planner to discover topics associated with your industry, specialty, or niche. Always look to see if demand remains stable or changes over the course of the year.
Interviews: These are subjects that concern the speaker and/or their specialty.
How to Measure Your Success Using Podcast Analytics
If you want your podcast to be successful, you should use audio analytics to monitor your development. It's the only method to determine whether your efforts are paying off and whether your audience is expanding. There are several methods for monitoring your podcast statistics. The download measure is the most crucial one. This informs you of the audience size of your podcasts. However, it's also crucial to keep note of things like subscribers, ratings, and reviews. Although it can be difficult to comprehend all of this information, it is important. You can make sure your podcast is on the correct track and is reaching more listeners than ever before by monitoring your progress.
Improve Your Podcast Ranking With MedResponsive
MedResponsive is a digital marketing agency in the US that provides a solution that will handle all aspects of digital marketing and enable your podcast to stand out.
Call us at (800) 941-5527
You can make sure your podcast's content is correctly optimized for search engines by following the above mentioned guidelines. To optimize your audio, you can also get in touch with organic SEO services. You can rank higher for the keywords and subjects that your ideal listeners are looking for by optimizing your podcast for web and app search engines.