In this blog, we discuss diverse off page SEO checklist for restaurants. Those interested in tasting variety foods and discovering new restaurants will definitely make a Google search to find the best restaurants near them, or they'll type in the city name. So, is your website well optimized to rank for such queries and reach your target audience? Local SEO strategies can maximize your chances of getting discovered by potential clients as they search for the best local businesses. A strong online presence for your restaurant business is essential.
It is also a great way to promote business and services to local customers. Search engine optimization, both on-page and off-page, is vital to build your online presence. In this blog, we look at some off-page SEO strategies that can help improve the visibility of your restaurant website. Off-page SEO refers to techniques done outside the website to build brand authority and improve search engine rankings. Our Off-page SEO checklist for restaurants focuses on the right SEO tactics that can help spread your popularity and authority online.
Check Out our Off Page SEO Checklist For Restaurants for the Year 2022.
Optimize your restaurant profile in GMB listings
Location-based searches occur mostly for location-relevant businesses like restaurants. Creating and optimizing your Google My Business profile can not only get you high-quality backlinks, but will also help more people find you online. Google My Business plays a key role in local restaurant marketing strategy and search strategy.
Consider these points –
Add a business description that lets diners know what kind of food they can expect on your menu.
Keep your GMB listing catchy by adding the best 5 or more photographs to showcase your restaurant. Make those images as appealing and beautiful as possible.
Link your restaurant's online ordering system also on your GMB profile. Online menus make it comfortable for diners to know what you offer. You can either insert a direct link to your menu page on your website or add a menu button that will list out your food and drink items. You can also break up your menus by categories.
Stay active on social media
Social media is a crucial part of running any business in this competitive world. Social media marketing strategies can help to expand the customer base and turn first-time visitors into regular customers. Consider creating business profiles on all social networking sites with business name, address and phone number. Ensure that these profiles all link back to your website, which will bring more sales. Social presence can give your restaurant the opportunity to be found online.
Each social network has its function. Social platforms also help to update your followers on opening hour changes, new menu items, events, and more.
Ask questions to increase your audience engagement
You upload attractive high-resolution pictures
Use the right, trending hashtags, when sharing posts to increase reach
Monitor brand mentions using tools such as Hootsuite, Google Alerts, Talkwalker, etc.
Share internal stories to establish a relationship with the audience
Create special posts to highlight your employees
Introduce new employees via posts
Share your customers' experience and testimonials online to grab user attention
Use paid promotions on Facebook, Instagram, Twitter, and other social media platforms
Facebook
Facebook page of your restaurant will be often the first place people go to when wanting to learn more about a restaurant.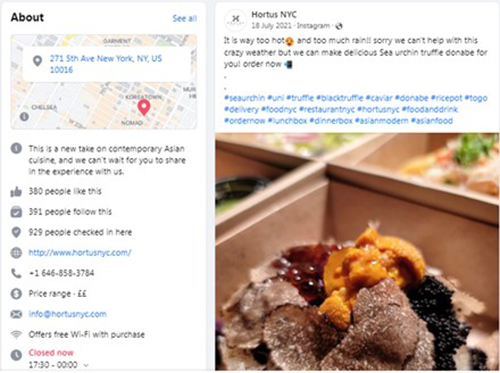 Consider reaching your target market using lookalike audiences.
Use Facebook Ads to promote your business
Post menu using the 'Start Order' button to actively boost sales
Respond to customer queries as soon as possible
Post interesting videos on your recipes on your Facebook page
Go Live to show your customers' happiness and excitement
Add call to actions such as "Book Now" "Like this post" or "Comment on your favorite dish"
Instagram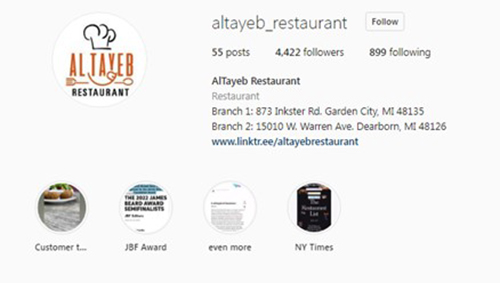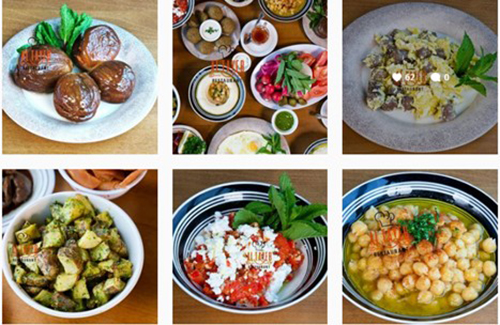 Instagram restaurant marketing is a cost-effective strategy to build followers who will hopefully be transformed into loyal customers. It can drive traffic straight to your door. Social Media Today has reported that 30% of millennial diners actively avoid restaurants with a weak Instagram presence.
Post attractive photos of your yummy dishes and drinks that followers can't resist
Introduce new items for the regular and new customers to get familiar with the item
Reward customers, who post images of your food
Benefit from the Instagram ad formats
Create Instagram Stories that highlight your seasonal or holiday specials
Post Live videos to share a video with your followers in real time
Comment on or like a post, in which your restaurant is tagged
Twitter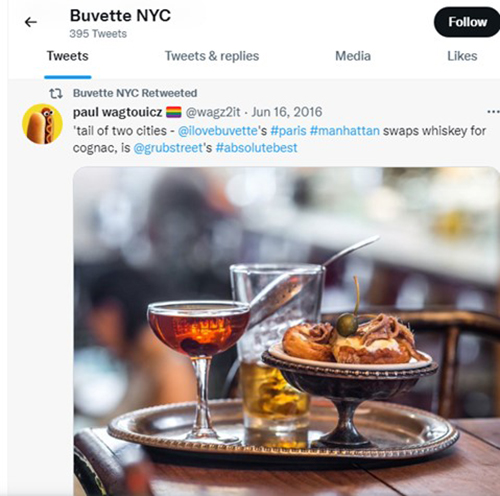 Twitter is an excellent platform to address customer concerns. This platform can do a lot for your restaurant to reach out and find new customers.
Post tweets regularly
Promote a special deal revealed in a tweet only
Run a contest to thank the restaurant visitors
Create unique hashtags for your followers to find you easily
Use Twitter Cards to attach photos, videos and rich media to Tweets
Twitter Chat allows to interact publicly with followers and thus promote your restaurant
Choose a Twitter ad campaign that helps you increase followers quickly
You can also make use of other social platforms such as Pinterest, Snapchat, or TikTok to market your restaurant. Each social network has its own functions. Make sure to add all your social media profiles to your website.
Optimize for TripAdvisor and Yelp too
Online review sites such as Yelp and TripAdvisor are visited by millions of visitors looking for restaurants every month.
Yelp
Yelp is a reliable business directory platform to find local businesses including bars and restaurants. Restaurants listed on Yelp can open their virtual doors to customers all over the world, especially to locals searching for delicious food. Having your restaurant listed in Yelp can boost your SEO efforts.
Yelp.com showcases business details such as – reviews, photos, logo, business location, and other pieces of information, so that the customers can find the details by searching the business name.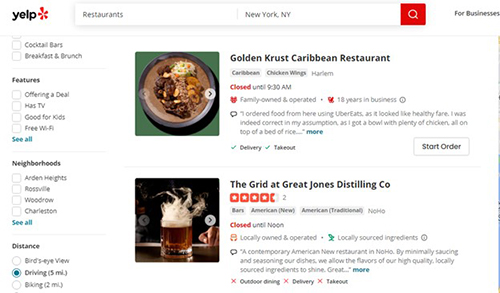 Claim your Yelp listing on" Claiming your Business page", before your competitors do that
Provide address, phone number, and website URL to get powerful backlinks. Fill in the categories as specifically as possible.
Include relevant keywords like "French restaurant in NYC" in your profile content
Keep your menu readily available so that visitors can make a decision faster
Add the exact map location of the restaurant and update your business hours
TripAdvisor
TripAdvisor reviews on your restaurant reach a huge audience, and can successfully catch your customers' attention.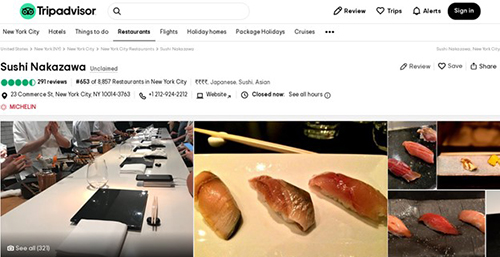 Add an attractive description on your dishes, cuisine, and what customers can look forward to when visiting your restaurant
Make use of TripAdvisor phone calls to connect with customers
Display menu on TripAdvisor business page for potential customers to decide if your restaurant is the one they're looking for
Build links
Getting links from high authority websites can increase your domain and page authority. Search engines provide more importance to websites having a number of quality backlinks which are truly authoritative.
Check out some local SEO strategies to attract more links to your website.
Get listed in Local Business Directories
Write guest blogs
Post great photos along with your posts
Invite food bloggers to stop by your restaurant and check things out
You can also consider guest posting. Restaurant guest blogging is an effective marketing strategy for restaurants to give their existing website an additional boost to reach out and engage customers. Consider adding a link to Google form, where customers can leave blog articles by them on any given topic related to the theme of your restaurant.
Let your customers feel valued. Hope these off page SEO checklist for restaurants and marketing helps you build your brand and reach more customers.
Get Started with Restaurant SEO 
Need support with restaurant SEO? MedResponsive can help. Our custom local SEO services and other off page SEO checklist for restaurants can improve your business exposure within a particular geographical area. We incorporate innovative marketing strategies and online SEO techniques that ideally suit your business needs. Talk to us at (800) 941-5527!