Recently, Meta (Facebook) introduced a new "Professional" mode for user profiles on the platform. The new professional features to Facebook profiles, which were previously available only with a Facebook Page, are expected to help creators looking to monetize their followings on the social network. An efficient SEO company that provides social media marketing services can help businesses leverage social media updates to attract targeted traffic.
New Monetization Opportunities
Initially available to only selected creators in the U.S, the new "Professional Mode" by Meta gives eligible creators new opportunities to earn money and provide insights through their followings on the social network. It will help creators grow their audience by making them understand what types of posts resonate with their community, which in turn, will help them reach their full potential on Facebook.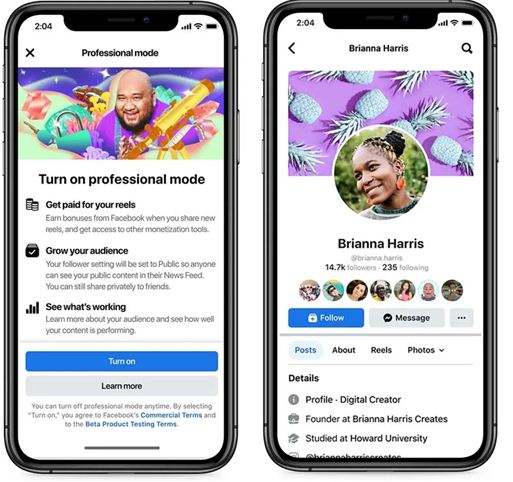 Image Source: Facebook
Though Meta didn't share what other monetization options will be available in the days ahead, it did note that they are enabling more people to earn revenue from their reels with engaging videos. The Reels Play bonus program is one of the first monetization options available with Facebook's professional mode for user profiles. This program allows eligible creators to earn revenue up to USD 35,000 a month based on the views of their qualifying reels or short-form video content. Meta is also developing upgrades for Reels on Facebook with abilities for:
Composing a video by selecting multiple clips
Saving a reel mid-creation as a draft
Creating a longer, 60-second reel
Meta will also make professional-level insights available to creators in this new mode to post, audience and profile insights, which are similar to what Page owners have access to. For instance, creators will be able to review the total number of shares, reactions and comments that posts have as well as their follower growth over time. This is expected to help them make more informed decisions about the content they post and how it reverberates with their audience.
Though the program is invite-only for the time being, interested users can fill out a signup form to learn more and be notified when it's more widely available – when Meta determines which creators qualify to earn bonuses. Meta is seeking to expand Reels to more countries in coming year.
To attract fans and followers, many creators are using Facebook profiles instead of Pages. Meta warns that those who decide to opt into this new experience will be showcasing themselves to be more of a public figure on the social network, which means that anyone can follow them and see the public content posted to their feed. At the same time, creators will be able to mark posts as either public or friends-only, allowing them to retain control of who sees the content they share. They can share public updates or decide to share content with just their friends.
The New Pages Experience
Rolled out in February 2021, the New Pages Experience helps users manage their account, interact personally across the app and achieve their business objectives. Meta has added new features to the new Pages experience which is very helpful for creators who use Pages. The features include
A professional dashboard
A new unit at the top of the feed
The professional dashboard serves as a central destination for admins to review their page performance and access professional tools and insights.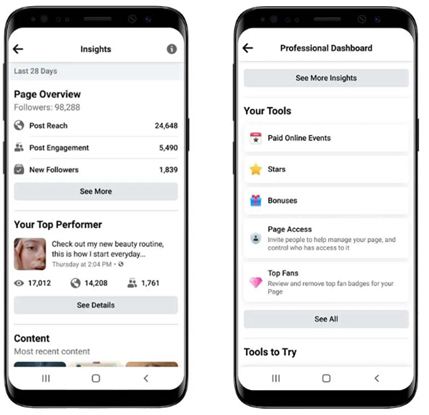 Image Source: Facebook
The new unit will provide a snapshot of your new comments and shares of your own content, as well as tips on how to create high-performing content.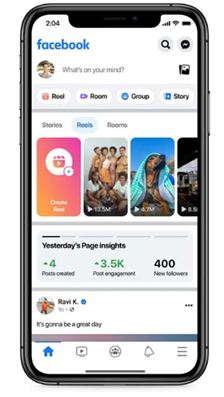 Image Source: Facebook
Along with the new professional mode for user profiles and the New Pages Experience features, Meta is also testing a new two-step post composer. This upgrade is expected togive creators using Pages the ability to easily schedule posts and crosspost into a group in the Facebook app. These features were previously only available via the Facebook Business Suite and Meta Creator Studio.
Meta is looking to expand all these new updates to more people in the US soon and more countries in the coming months and will also add more tools and capabilities over time, including access to more monetization options and other platform tools. The changes come at a time when Meta is heavily investing in its creator user base because it sees the potential in a new revenue stream that comes from things like creator subscriptions and "Stars" (www.tedcrunch.com).
Outsourcing social media marketing to an expert can help businesses fine tune their marketing strategies. An experienced SEO outsourcing company, MedResponsive provides affordable, value-added social media marketing services and keeps track of new features launched by social media platforms which can impact our clients' digital marketing campaigns. Reach out to us for a free consultation and we will help personalize your campaign to match your brand and message.