Your business can really stand out in organic search by displaying the quality of your company by adding star ratings to the search results on Google for your website. Installing Schema markup code on your website with the assistance of SEO professionals from an organic SEO company will help accomplish this quickly. With companies flocking to the internet's convenience in this digital age, there is fierce rivalry for customers' attention. You must first capture the clients' attention if you want to succeed in the internet business sector. The use of aggregate rating is one method of obtaining it.
What Is Aggregate Rating and Why Is It Important?
Have you noticed that when surfing the internet, you encounter some search results with star ratings? And admit it, even though those results are not at the top of the SERP or Search Engine Results Page, those sites catch your attention first. This is called Review Snippet. It is a type of Google Rich Result that combines user ratings on a webpage and then features the average rating in the search results. This is made possible by the Aggregate Rating schema markup. This enables Google to feature your review ratings and attract customers with it.
To put it simply, websites incorporate a reviews snippet that pulls a rating from user reviews and signals Google to show this rich snippet next to the search result. Every business owner aims to have 5-star Google reviews, especially in the eCommerce industry where consumer feedback is a key deciding factor. Additionally, these business reviews can undoubtedly make you stand out in a technologically advanced environment where digital marketing is dominating.
Having Google reviews stars in the SERP helps in the following ways.
Increases authority and dependability
Higher click-through rate (CTR)
Better SEO results
Greater visibility in local search
Helps promote fresh reviews (especially positive reviews)
Google Maps will also display the stars.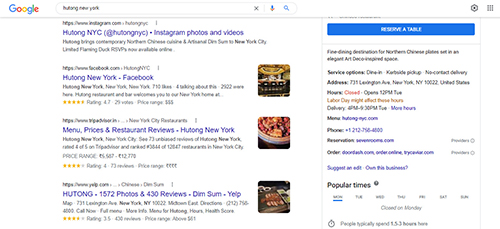 In order to have the aggregated rating of your reviews displayed on your website, you will want a schema.org code and consider the following two points:
Add the schema code to the page for a certain product: According to a research by embedsocial, Google does not support star ratings for homepages or root domains. According to their instructions, the schema code must be included to a web page that features a specific product or service you are offering in order for the stars to appear in the search results. So, instead of adding the schema code to the homepage, do so on a specific product or service page.
Include the code before other schema codes: Make sure the code is added at the start of your page code, before any other schema codes. This indicates that it must appear before any other schema codes in your page's header. Use a plugin if you use WordPress to add the code to the header of a certain page.
Tips to Install Schema Code for Star Rating
The fundamental procedures for installing the necessary code to add star ratings to your Google search results.
Formulate your Schema Strategy: You must first decide which type of "AggregateRating" Schema code is appropriate for your circumstances. It's crucial to remember that there are many entity kinds for which you can apply ratings through Schema markup, and they each have separate specifications and prerequisites – both for the Schema code and for Google. For instance, Google recommends using the Reviews Schema code for Local Businesses just on one page of your website. On numerous pages of your website, you can install ratings for items like goods, occasions, books, and "creative works."
Google only permits aggregate rating rich snippets for the following structured data item types as of September 2019:
Product
Book
Course
CreativeWorkSeason
CreativeWorkSeries
Episode
Game
LocalBusiness
MediaObject
Movie
MusicPlaylist
MusicRecording
Organization
Recipe
HowTo
SoftwareApplication
Event
You may have noticed that the "BlogPosting" item type is missing from the previous list. This is due to the fact that, despite the fact that you could code a blog post's star ratings, Google will not use them to display stars in search results. It's unclear how harmful utilizing the "Product" itemtype for a blog post may be in terms of Google penalties, but some websites appear to get around this.

Install the Schema code on the page: It's time to work out how to implement Schema code on your website after you know what kind you require. (Alright, you still need to choose how you'll produce those first-part reviews. But more on that is provided below.) Don't forget to select the ideal page for the code to be placed on. You should probably markup a "Reviews" page or possibly an "About" page for a LocalBusiness review, for instance.
The following are a few techniques you could employ to install the code:
Manually install the code
Employ Google Tag Manager
Utilize an outside resource
Checking your code
After installing the code, you should do the following:
Earlier, the code's installation was checked using Google's Structured Data Testing Tool. Google, however, declared in 2020 that they would stop supporting the Structured Data Testing Tool in favour of the Rich Results Test Tool. Thankfully, using this tool is even simpler.
To hasten the re-indexing, think about submitting the new page to Google using the URL Inspect tool in Search Console.
Keep an eye on your search results to check if Google shows the page's review snippet. Note that it occasionally takes weeks or months for this to show up in results.
Generating first party reviews
There are a few options that will help you in generating the first-party reviews Google requires.
Installing a reviews plugin on your website is one of the simplest methods for generating reviews. Since there are many plugin options available if you're using WordPress, this is extremely simple.
Starting a programme for review generating is an additional choice. This might be self-initiated using survey software such as Survey Monkey or Google Forms, but it can be difficult to persuade Google that the users are real if they weren't required to register in to your site before writing the review.
All the above-mentioned methods will help you to get a star rating in Google Search results. Get in touch with a team of SEO specialists from an search engine optimization company if you want to combine the recently developed star ratings on your website with a more thorough SEO plan.