Google, undoubtedly the most popular search engine, is always evolving its algorithms. This is done to ensure that the platform is surfacing the most accurate, relevant, and secure pages for its users. Google introduces updates every year and 2021 has seen quite a lot confirmed and unconfirmed updates. For instance, aside from the pre-announced page experience update and the usual core updates expected every year, this year, Google hit users with several unexpected changes, most of which made their appearance in the summer. Our digital marketing services company keeps track of new Google updates and trends, and understands how it can impact our clients' digital marketing campaigns.
Let's take a look at the Google algorithm updates that mattered in 2021:
December 2021 Product Reviews Update:
Google rolled out the "December 2021 Product Reviews Update" on December 1, 2021 at about 12:30pm ET. This update is rolling out for English-language pages and will take only about three weeks to complete. Being the second product reviews update of this calendar year, the December 2021 Product Reviews Update is expected to make changes to how your product reviews rank in search results.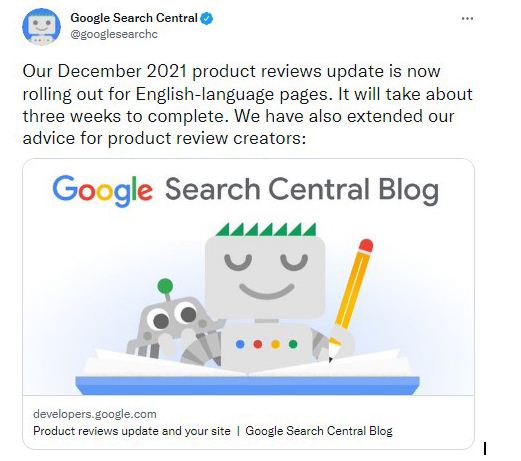 According to Search Engine Land, RankRanger's data shows that the December fluctuations and volatility were substantially higher in the top three and top five positions. Semrush data showed that, overlall, the December fluctuations and volatility peaked at much higher rates than the April product reviews update. According to the Semrush team, the volatility highs seen during the December update are far greater than what was recorded in the April update.
November 2021 Core Update
Google rolled out "The November 2021 Core Update" on November 17, 2021 at around 11am ET. This broad core update hit hard within the first 24 hours of the announcement and then slowed.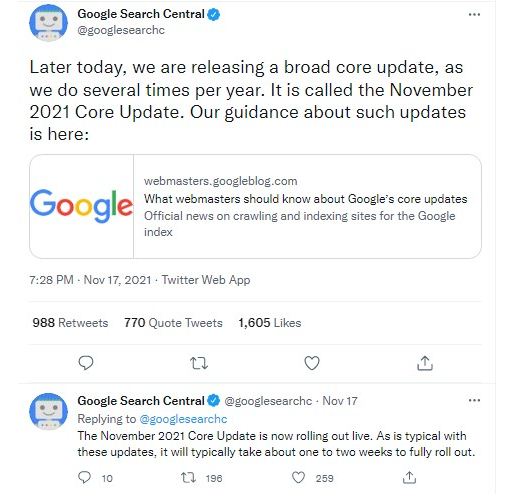 Data providers like Semrush, RankRanger, SISTRIX, and SEO Clarity confirmed that the November 2021 core update hit hard and then slowed very quickly in terms of their volatility tracker. Semrush noted that the health sector was often more impacted by core updates than other sectors and experienced 41% more volatility on both desktop and mobile in the November 2021 core update than it did back in the July 2021 core update.
November Anti-Spam Update
As part of Google's regular work to improve results, the company released the "November 2021 Spam Update" on November 3, 2021. This update was aimed at fighting spam. Google had already launched three spam updates earlier this calendar year and this update was the fourth one. These updates helped Google's automated systems to keep more than 99% of visits from search results spam-free.
Google Title Rewrite Update
For over a decade, Google has been tweaking page titles in the SERP according to the query. On August 16, Google made a tweak that resulted in a complete rewrite of page titles. After this update was released, people began noticing that Google was drastically changing their page titles, often in a detrimental way. The new system no longer adjusts titles according to queries, but better represents the page as a whole.
Link Spam Update
On July 26, 2021, Google rolled out an algorithm update aimed at identifying and nullifying link spam. With high-quality content and a good user experience, the update is aimed at fighting link spam and reward sites.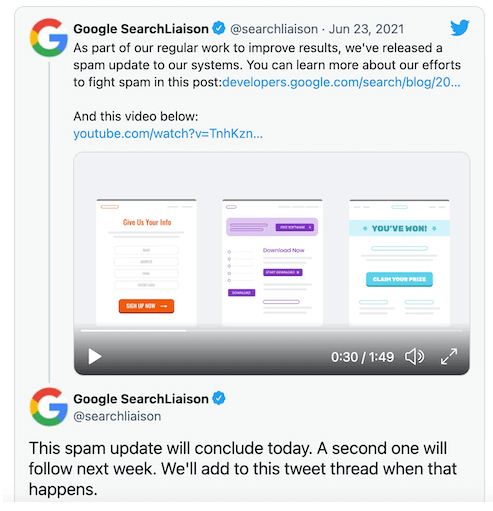 Image Source
July 2021 Core Update
Google rolled out their July 2021 core update a month after the June 2021 Core Update. The second and final part of June 2021 Core Update, the July update started rolling out on July 1, 2021 and took 1-2 weeks to finish.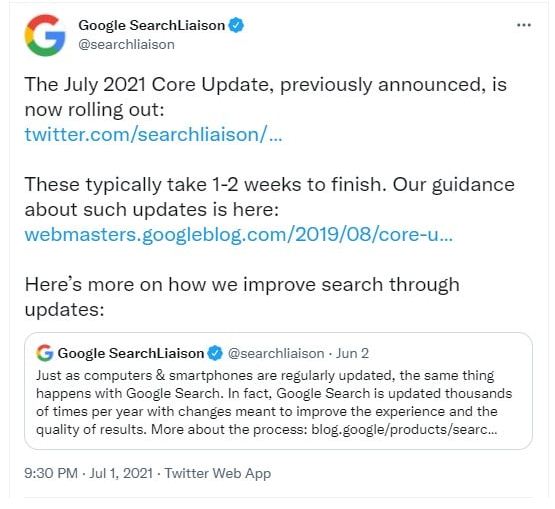 Google conducts periodic updates every few months, but this two-part update was quite surprising for many webmasters. The reason why two core updates were released just two months apart is that the company's planned improvements for the June 2021 update were not ready to be released in June. So this was a staggered release of one, large core update.
Page Experience Update
Soon after the roll out of the May 2020 broad core update, on May 28, 2020, Google announced the Page Experience Update. Though initially set to release in May 2021, the update has been then rescheduled from May to mid-June 2021.
The Page Experience report in Search Console offers publishers and website owners a quick way to understand how their websites fare against the page experience signals. The report summarizes the experience of website visitors, which helps website owners and publishers create pages that provide a better user experience. Google evaluates the page experience metrics for individual URLs on a website and uses them as a ranking signal for a URL in Google Search results on mobile devices.
June 2021 Core Update
Google officially released the June 2021 Core Update on Wednesday, June 2, 2021 at about 6:30pm ET. Google's search liaison Danny Sullivan announced the release of the update on Twitter, adding a note that some of their planned improvements aren't ready yet, and so, they are moving forward with the parts that are ready, and that the rest would follow in the July 2021 update.
Product Reviews Update
Google released a new search engine algorithm update known as the product reviews update on April 8, 2021. This was not a core update, but a standalone update whose goal was to encourage product reviews that don't just summarize a list of products, but rather provide in-depth research, insightful analysis, and original content. The update was designed to promote in-depth reviews in search results over superficial ones.
Google Passage Ranking Update
Google's Public Liaison for Search, Danny Sullivan, announced via Twitter that Passage Ranking update is officially live for English-language queries in the United States. While the update was originally announced in October 2020, Google confirmed that the passage ranking update was rolled out on February 10th, 2021 for queries in the US in English and that it would soon roll out for more countries and more languages.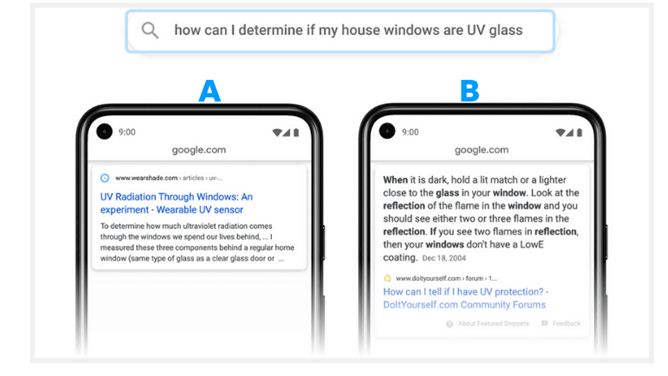 Image Source
With the passage ranking update, Google can now use artificial intelligence to index not only web pages, but individual passages (paragraphs, sentences) from those pages, which helps means that specific passages can show up as the featured snippet. Instead of making the user go through the relevant web page to find it, with this update, a user can quickly get answers to very specific queries.
Knowing what sort of Google Algorithm updates has taken place will help you to stay in line with SEO best practices, improve your rankings, and also understand the reasons behind any performance shifts.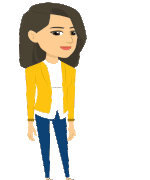 As a company offering organic search engine optimization services, we keep track of all search engine algorithmic updates and can help you prepare for them. We believe in getting you results through a full spectrum of services from SEO, content writing, to conversion rate optimization.

A strong SEO strategy with a strong execution team is what we provide.