Influencer marketing is a proven way of promoting your products and services, and this strategy that utilizes the support of prominent industry figures and thought leaders gained popularity with the increased use of social media. This indirect marketing strategy can be paid or organic, and complements your social media marketing and content marketing efforts. Influencers will promote your products via their personal social media channels; also, they will create content such as blogs and videos or mention you on social media. Marketing your business with the support of influencers helps reach out to a larger audience and earn their trust. Ideally, an influencer is a person who has a community of engaged followers. Professional providers of social media marketing services can support businesses here.
Paid vs. Organic Influencer Marketing
Though this type of marketing is proven to be highly effective, it is not a feasible option for average and small-sized companies simply because it is too expensive. It is in this context that organic influencer marketing becomes a practical alternative. Here, you have to inspire or convince influencers to engage with your business genuinely without having to pay them. Agreed, this can be a rather slow and tedious process but it can be effective in the long run.
How Influencer Marketing Works for Legal Entities
What about influencer marketing for law firms and lawyers? Just as for other businesses, this marketing strategy is effective for lawyers. Lawyers get the best clients from referrals – from satisfied clients, acquaintances, and other legal professionals. Organic influencer marketing involves inspiring such entities to spread word about you and your services, either by word-of-mouth or via their social media channels.
If you have a prominent personality endorsing your firm, you are more likely to gain high quality leads. Influencer marketing is considered reliable and therefore you are ensured a high return on investment. However, identifying the right influencers could be rather challenging and is something that has to be done with great caution, especially because the legal profession is highly sensitive.
A great place to look for influencers is social media – Facebook, Twitter, Instagram, YouTube, LinkedIn and so on. Look for your connections on your social media accounts. You need to locate strong voices in your niche who already have a large number of followers. Their audience must be receptive to your content if this strategy is to be successful.
Your content is your product you need to market. The content you publish must be unique, client-centric, educational and not merely promotional. You have to market your service by showing your prospects how you can assist them. Videos are very popular and you can create interesting videos featuring your office and staff, client testimonials, educational content about your area of law in a form that your audience can easily understand, or even provide answers to questions and doubts they may have. These can be posted on your website, or on Facebook and YouTube.
Make sure to actively engage with the influencers you have identified and be optimistic that they may share your content – whether through tweets, blogs, videos, or podcasts.
Your content should be such that it helps build trust and authority. You can share successful cases with your audience. If industry influencers can share your posts with their social media followers or mention them in their own blog posts, it reinforces your credibility as a dedicated, experienced, and capable lawyer/law firm. If your content is impressive enough, they may even invite you to write a guest post for them and share your ideas and insights with their audience.
Establishing and Building a Strong Relationship
The important thing is to build a robust relationship with your influencers, and only then can you request favors from them. That means, the relationship you cultivate must be beneficial for both sides.
On your part, some ways to bring warmth into the relationship are by inviting them to an event you are hosting – maybe a webinar or meeting, or feature them as guests in your video productions or podcasts. Many influencers may oblige because it is beneficial for them also in the sense they are getting another venue where they can share their ideas and get more followers and recognition.
Or, another great way is to share their content and promote it so that they benefit from more audience engagement.
You can be active on their social media platforms, following them, commenting on their posts and engaging in conversations. Make sure that the influencers you are trying to woo know that you value their experience and expertise.
For any influencer to promote you, the impression you create is very important. Your website and your social media profiles can help develop a positive impression regarding you and your law firm. There is no doubt that you can learn a lot from established legal professionals in this regard.
Here are 2 good examples of law firms that have a strong social media presence, and could provide some real inspiration.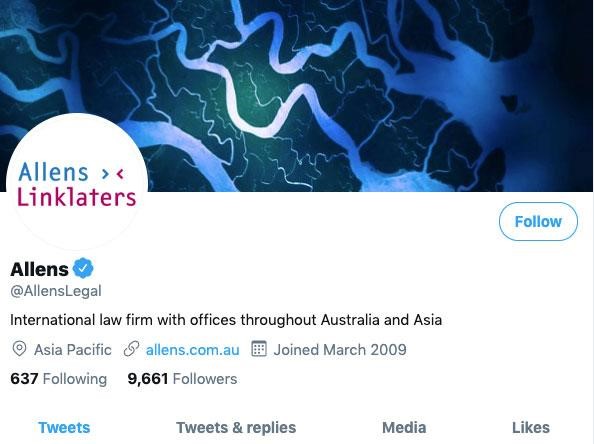 Image source:
This firm is already well established and also very well-known on social media. They send out a new tweet every couple of hours, which shows how active and dynamic they are.
Another example of a law firm doing wonderfully well on social media, in this instance, Facebook, is The Sam Bernstein Law Firm.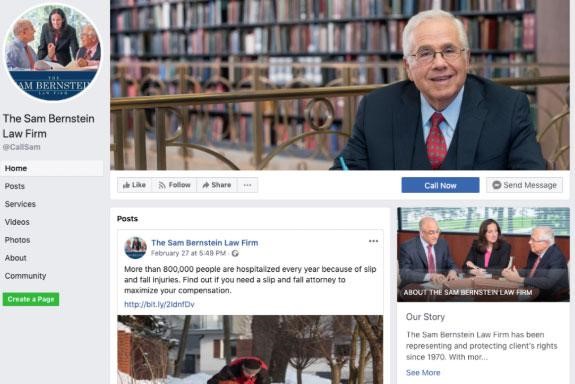 Image source:
They post on Facebook regularly several times a day, and have a clearly visible call to action. Also, they respond to viewers and followers' comments in a timely manner.
Even as a small or medium-sized law firm, if you have done your homework and If your performance is really remarkable, the influencers you target may themselves write a guest post for your blog or you can request them for that favor.
Now let us look at 2 influencers in the legal industry with a strong follower base and a powerful voice.
Bob Ambrogi is a good example of a strong influencer in the legal arena. He has a strong social media presence with an authoritative voice. He is a media and tech lawyer with more than 21k followers on Twitter.

Image source:
Nicole Black is another strong voice in the legal profession – she is a lawyer, author, analyst and speaker who describes herself as a legal technology evangelist.

Image Source:
You can find more details of legal industry influencers at https://upcity.com/blog/top-legal-industry-social-influencers/, and at https://klear.com/influencers/Attorneys.
Your Own Profile Is Important
How do you create that very important first impression and maintain it? You are a lawyer, and are knowledgeable and trained in your specific niche. But this has to be projected or put across to your audience. In other words, you need to be consistently visible. This can be achieved by following a few dedicated practices.
The most effective way to talk to your audience is via excellent quality content. So, focus on publishing unique content regularly via blog posts, articles, social media and so on. Whatever you create must be convincing enough for your prospects and influencers to take note of you and form a favorable impression. Visit your social media profiles regularly and respond to your followers' queries and comments. Provide clarifications if necessary. Let your audience have a clear and genuine picture of who you are, personally and professionally, and what services you can provide. As a small law firm or solo practitioner, you may not be able to get thousands of followers. However, you can ensure that those who follow you are dedicated and rely on your expertise and knowledge. They must also be assured that they can communicate with you any time they want.
The Important Role of Clients as Organic Influencers
For attorneys and other legal entities, influencers who can popularize their service are not the typical Instagram models, celebrities and heroes. Existing or former clients who are satisfied with the service they received could also be the best influencers for attorneys. The positive reviews and recommendations your clients post online are great promotional material that could persuade prospective clients looking for legal assistance to approach you. Your clients are organic influencers who have used your services and can be your dedicated brand advocates. Typically, they may have hundreds of thousands of followers on social media and what matters most is the trust they have in you, their credibility, and collective influence.
Your clients can act as micro-influencers and since they have a personal connection with their followers and contacts, can more effectively spread word about your law firm and services. Speaking of social media, Instagram is emerging as the most popular platform to get more traffic and sales for businesses. As pointed out in this post, influencers you associate with can include a link to your website in their bio. This will ensure extra visibility and also drive traffic to your website. This post gives the example of how Citywide Law Group gets traffic with the support of one of the leading personal injury attorneys in Los Angeles, Oliver Niami who provides a direct link to Citywide's website, a contact number, and an email to get free consultations.



ImageSource:
Request Reviews and Testimonials from Your Clients
Reviews and testimonials are most significant today with 91% of people saying that online positive reviews make them more likely to use a business. (BrightLocal's 2019 local consumer review survey)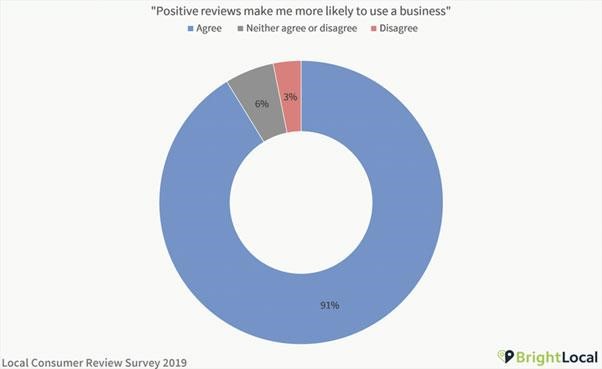 Other key findings of the survey are:
82% of consumers read online reviews for local businesses
An increasing number of consumers "always" read reviews for local businesses
52% of 18-54-year-olds "always" read local business reviews
You can request clients to give reviews that you can post on your website. You can also have client reviews posted on reputable review sites. So, what are the review sites lawyers and law office staff need to be monitoring? BirdEye gives the following recommendations.
com: This site has over 1 million lawyer reviews. It has an easy-to-use "Ask a Lawyer" section also, and here local attorneys answer users' legal questions. Users can leave reviews. No registration is needed.

Image source:
Avvo: You can view the lawyer's resume and message the lawyer directly from this site. The site has attorney endorsements; no registration is needed, and users can leave a review easily.

Image source:
FindLaw: This is a great site for legal professionals as well as clients – clients can locate a lawyer while also getting the opportunity to learn about the law via valuable content provided to them. On this site clients do not submit star-rated reviews, but can make recommendations on behalf of their lawyer.

Image source:
LegalMatch: On this site, users have to first provide information about their case, answering various questions based on the specific area of law. Attorneys can send the users responses, following which the client can compare fees, read reviews, as well as learn about the attorney's complete background. Based on the client's requirements, initial consultations are then arranged. You can leave a review on this site only after this entire above-mentioned process is over.


Image source:
Martindale-Hubbell: A highly reputable site in attorney ratings, this site provides potential clients peer as well as client review ratings. Potential clients can also chat with attorneys while reading the reviews.

Image Source:

Image source:
Apart from the above-mentioned lawyer-specific sites, reviews can be posted on Google/Google My Business and Facebook. Google is the most popularly used search engine and studies show that 46% of all Google searches are looking for local businesses. It is therefore critical that your law firm has strong reviews on Google because potential clients are likely to be frequent visitors here.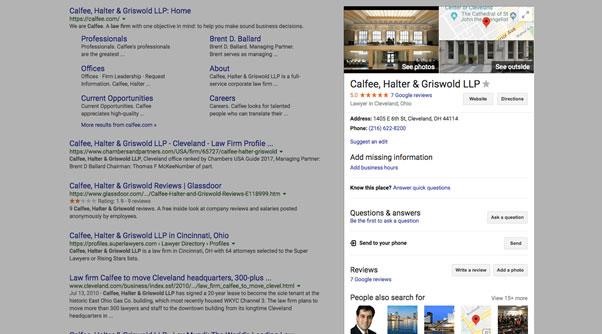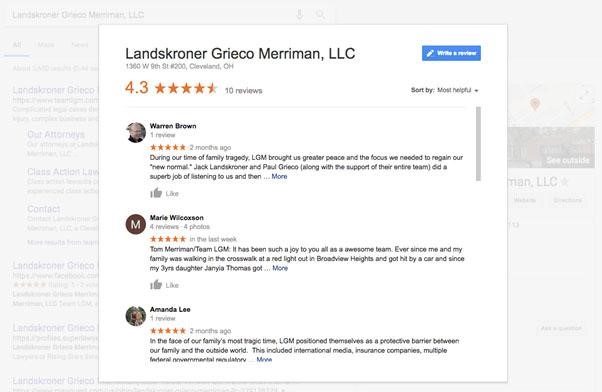 Images source:
Do you feel it is difficult to get your clients to post reviews and testimonials? It needn't be so. Here are a few recommendations suggested by Steven Thomas Kent in this post. The first step is of course to create your profiles on the above-mentioned review sites. You can send customized and friendly email reminders to clients requesting them for reviews and to make it easy for them, provide a link to the site they can easily access. Consider giving them a small discount on their legal bills or a ticket to a monthly raffle contest or some other event as an incentive in exchange for the reviews. Video testimonials provided by your clients are also a great way to boost your credibility.
Benefits of Influencer Marketing
Whether paid or organic, this marketing channel brings tangible benefits.
Acquire superior quality leads: Influencers being who they are, can convince or persuade their followers to trust their recommendations and reviews. Therefore, the leads these people generate are very likely to convert. A strong influencer – maybe a journalist who writes about your practice, a lawyer who shares your content, or another person who gives you a good review, can all bring you clients more easily than other forms of marketing.
Cost-saving option: Whether paid or organic, influencer marketing, just as email marketing, is cost-effective, as a study has shown. Moreover, with influencer marketing, you are sure that your message reaches your targeted audience.
Great ROI: Influencer marketing give you more opportunity for high returns, especially because the marketing is targeted and done by prominent persons.
Influencer marketing is a sure way of ensuring that you enjoy a strong online visibility and that your content is actually read. The success of influencer marketing hinges on the fact that people can more easily and readily relate to influencers as those who share their particular interests and beliefs. The influencers' recommendations must be personal and not forced. This is where organic influencer marketing becomes more significant because in this case the influencer is promoting something that he/she is convinced about. For startup, small and medium-sized law firms as well as solo practices, organic influencer marketing is significant in the sense that you gain visibility and secure good quality leads. Most importantly, focus on forming and maintaining genuine relationships with the influencers you identify. Only this can ensure the success of your organic influencer marketing campaign.
Let our team create a winning influencer marketing strategy for your brand.
Contact us at (800) 941-5527 for success!