In the world of digital marketing, particularly for SEO, being on top of changing trends is essential to be successful. The Google Page Experience change, however, has shown how challenging this may be. Businesses can better understand this new SEO trend and prepare their websites for it with the help of a reputable organic SEO company.
Page experience is a set of factors that evaluates how consumers feel about their interactions with websites. It consists of a variety of elements, each of which influences how Google interprets the page experience as a whole and feeds into and builds upon the others. Page experience includes Core Web Vitals, which rate a website's capacity to provide visitors with the best browsing experience with good load times, responsiveness, and visual stability on desktop as well as mobile devices.
Google Page Experience and SEO
Page Experience is a more recent Google Search ranking factor that evaluates the user experience of a website page, considering elements like the page's mobile-friendliness, responsive design, accessibility, and performance metrics known as Core Web Vitals, which determine how well the page's content renders in web browsers. Websites that deliver an amazing Page Experience to users are rewarded with prominent placement in search results.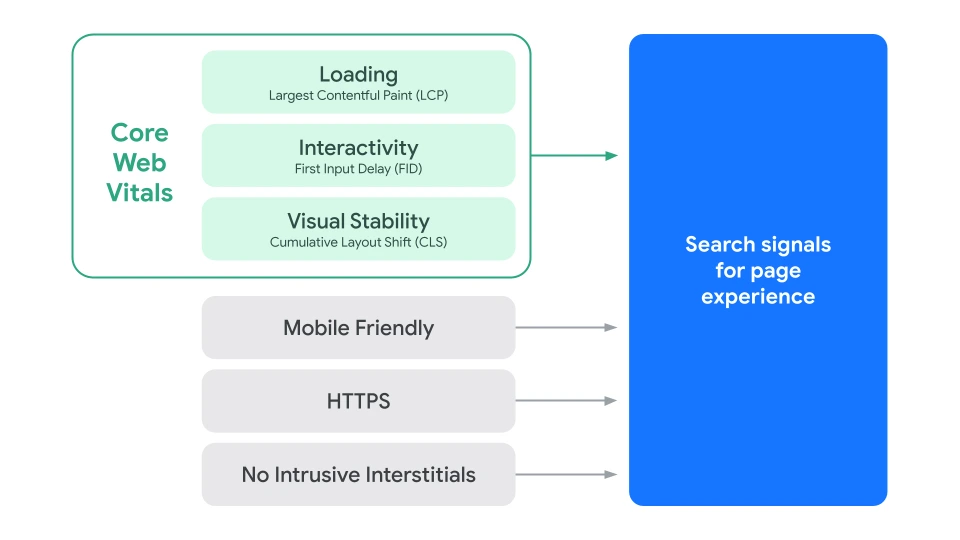 It is in Google's best interests to prioritize only the top-performing websites because doing so increases user confidence in the quality of Google's search results. Due to the fierce competition among websites to provide high-quality content that is optimized for search, Google must rank pages using factors other than the content on the pages themselves.
Google's algorithm has always prioritized highlighting distinctive and high-quality content that displays expertise, authority, and trustworthiness on a given topic, which the SEO community refers to as "E-A-T", even before mobile traffic on the web surpassed desktop traffic. More links from well-known external websites help E-A-T content websites increase their authority and trustworthiness, which also boosts their page ranks.
Latest Updates about Google Page Experience Scoring
John Mueller, a Google Search Advocate, discussed improvements to the search engine's scoring system and the effect of page experience on rankings at an online session at SEOday 2022.
One of the changes made public was the fact that Google now bases desktop search results on a website's desktop experience and mobile search results on a website's mobile experience. He also noted that the search engine uses the three Core Web Vitals criteria of largest contentful paint (LCP), first input delay (FID), and cumulative layout shift (CLS) to determine expertise scores. This is not a tie-breaker, according to Mueller. It won't make or break your website in terms of search, but it is a factor that matters when determining how well your website ranks among other results.
Simpler Way to Track Search Rankings Using Search Console InsightsThe majority of Mueller's talk was devoted to explaining the benefits of Search Console Insights. Customers can create tailored stories and obtain a unique perspective on the data by combining analytics and Search Console expertise. The use of BigQuery and Data Studio, in particular, was highlighted by him as a "means of linking different data sources together and creating pretty creative results." According to Mueller, Google is also working to expand the Search Console APIs, allowing users to integrate them into website code. Monitoring the most popular searches and checking to see if specific URLs are featured are two examples of possible uses Mueller mentioned.
Images & Videos Play a bigger part in the searchIn response to a growing demand for this type of information in search results, Google unveiled a series of video stories coming to Search Console at I/O earlier this year. According to Mueller, people appreciate videos and real photos in search results, therefore the focus should be on showing them more. He included internet tales, a collection of pages that typically contain videos, in this ascending pattern. Google now offers a WordPress plugin for generating them to make their use easier.
Rankings Take Authentic Product Reviews Into AccountThe global industry for e-commerce has been growing, and it is expected to top $5.5 trillion this year. Google's algorithm includes what Mueller referred to as "genuine reviews" to better serve online shoppers. People have high expectations for the reviews they read online, therefore Google is making efforts to specifically focus on updating the algorithms that determine how to rank these product reviews.In order to get higher Google search rankings for the keywords and topics that your site is targeting, your site must be technically optimized to promote the best user experience. This has an impact on your site's capacity to get rich results-based prominent positioning in Google's search results pages.
Google's emphasis on these Page Experience metrics is consistent with current search marketing trends and advanced technical SEO tactics that focus on enhancing the website's user experience through coding improvements. These are frequently more intricate web strategies that need web development skills for installation and maintenance. Therefore, businesses can acquire technical assistance from a reputable organic SEO company to keep their websites updated in accordance with the most recent algorithm changes.
Related Blogs